OPPORTUNITY BECKONS!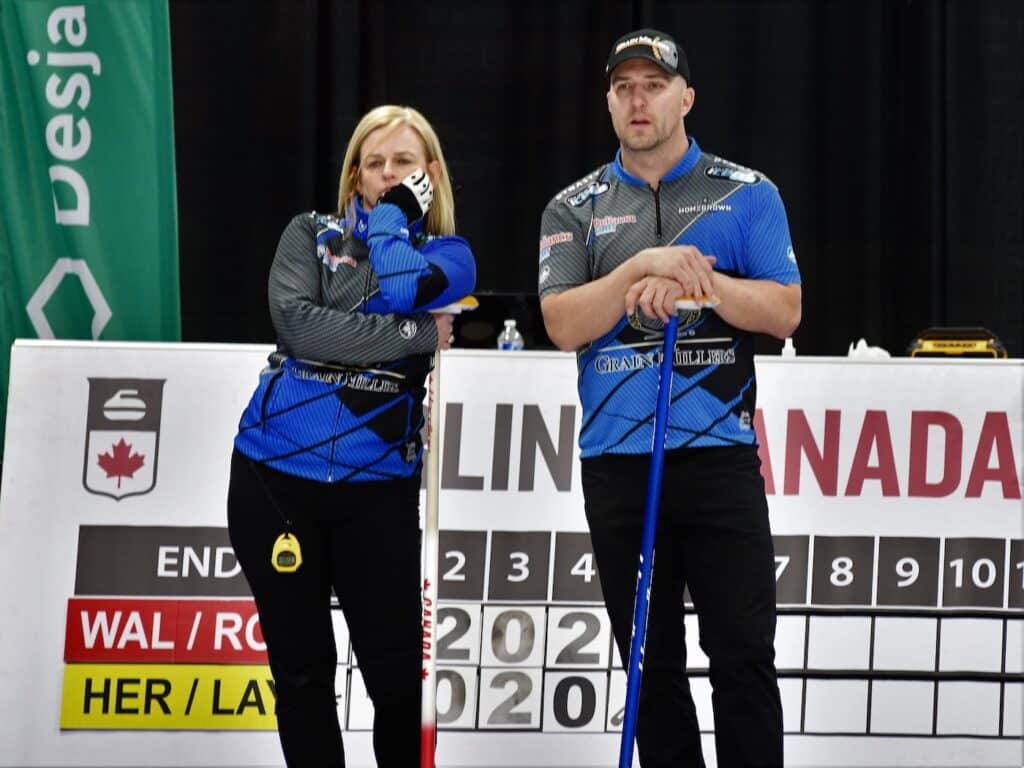 Hersikorn has rare opportunity to represent Canada twice in South Korea
For the record, the official "what-if" conversation hasn't happened between Patty Hersikorn and Steve Laycock, as the Saskatoon duo enjoys some early success at the 2023 Canadian Mixed Doubles Curling Championship.
After all, there is plenty of work to be done and plenty of teams to overcome to even make that conversation necessary. But it's certainly an intriguing possibility — that Hersikorn could win the gold-medal game on Sunday to earn herself the opportunity to play with Laycock at the 2023 World Mixed Doubles Championship next month in Gangneung, South Korea.
That would create quite the scheduling conundrum as Hersikorn already has a ticket booked to Gangneung, where she'll play with Team Sherry Anderson at the World Senior Curling Championships, which run concurrently with the World Mixed Doubles.
The two events are being staged in arenas that were used during the 2018 Winter Olympics — the Gangneung Curling Centre (mixed doubles) and the Gangneung Hockey Centre — and are about a 10 minute walk apart.
For the record, there are no scheduled round-robin games when Canada's mixed doubles and senior women's teams start at the same time, but there are certainly back-to-back games, with just two hours between start times.
"It would be a cool problem to have," said Hersikorn with a laugh, moments after she and Laycock finished off a 6-2 win over Team B.C.'s Sarah Loken and Cody Tanaka (White Rock/Richmond; 2-2) to improve to 3-1 in Pool A play at the Gerry McCrory Countryside Sports Complex in Sudbury, Ont. "I'm pretty fast, I might be able to run between both rinks (laugh). Maybe they could have a shuttle for the old girl?"
Hersikorn will throw third rocks for Team Anderson, which is rounded out by second Brenda Goertzen and lead Anita Silvernagle — by far the most successful senior women's curling team in history, with five straight national championships and two world senior championships (two world senior championships were scuttled due to COVID-19).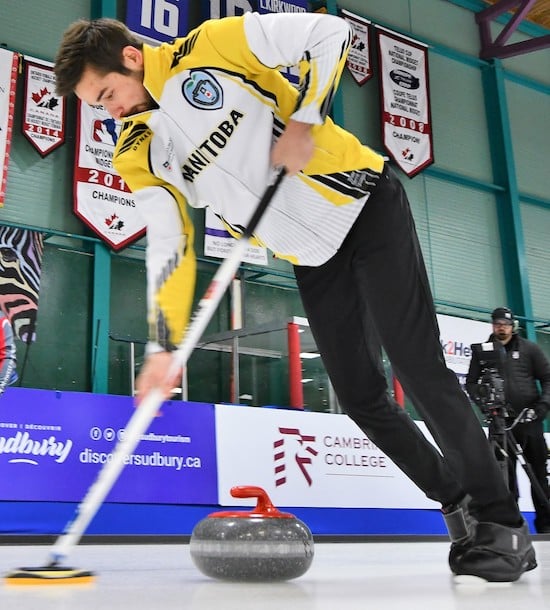 But the 2023 World Seniors are more meaningful as Team Anderson fell short of the playoffs last year in Geneva, Switzerland, and this season, Team Anderson did not defend its Saskatchewan senior title and won't play at the 2023 Everest Canadian Senior Championships.
"We are on a mission," said Hersikorn. "That last one (2022 World Seniors) stung when we didn't make the playoffs at the last worlds. You never know when you're going to get back. We've been fortunate to be there, but we didn't win our provincials this year, so we have to play our best (in South Korea). I'm not saying we have to win, but we want to go there and leave it all on the ice."
They're doing that in Sudbury as they find themselves in the mix for a playoff spot despite falling 7-5 to Rachel Homan and Tyler Tardi (4-1; Beaumont, Alta./Peachland, B.C.) in the late draw Thursday, dropping their record to 3-2.
"We've played really good at times," said Laycock, a 10-time Brier participant. "This team has a lot of potential. We've trained and practised a lot together, and I know a lot of these teams just show up and play together (after little or no practice), so I'm not surprised that we're able to play well. And I think we have a couple of gears left in us. We're sneaking out some wins and not playing our best yet."
And if they do? That conversation might actually have to happen.
"We still have a long ways to go," cautioned Hersikorn. "We're just going to concentrate on making playoffs and building on each game."
In other Pool A action on Thursday night, two-time Canadian champs Jocelyn Peterman and Brett Gallant (5-0; Chestermere, Alta.) maintained their perfect start with a 7-4 triumph over Team Yukon's Patty Wallingham and Ben Robinson (0-5; Whitehorse); Clancy Grandy and John Morris (3-2; Coquitlam, B.C./Canmore, Alta.) prevailed 6-4 over Émilie Desjardins and Robert Desjardins (2-3; Chicoutimi, Que.); and Team Alberta's Ashley Kalk and Craig MacAlpine (1-4; Edmonton) got past Team B.C.'s Sarah Loken and Cody Tanaka (2-3; White Rock/Richmond 8-7.
In the earlier Pool A games, Peterman/Gallant knocked off Kalk/MacAlpine 9-1; Desjardins/Desjardins were 12-1 winners over Wallingham/Robinson; and Homan/Tardi beat Grandy/Morris 6-2.
Pool B action Thursday night saw Chaelynn Kitz and Brayden Stewart (Saskatoon) run their win streak to five with a 9-8 extra-end win over Lauren Cheal and Greg Cheal (1-4; Sherbrooke, Que.). Meanwhile, Team Ontario's Lynn Kreviazuk and David Mathers (4-1; Ottawa) kept pace with the leaders by stealing four in the seventh end to finish off an 11-4 win over Team Nova Scotia's Karlee Everist and Bryce Everist (3-2; Bedford); Kim Tuck and Wayne Tuck (1-4; Strathroy, Ont.) hit the win column by shading Paige Papley and Evan Van Amsterdam (Leduc County, Alta./Edmonton) 8-7; and Nancy Martin and Tyrel Griffith (3-2; Saskatoon/Kelowna, B.C.) stayed in the chase with a 9-6 victory over Team Newfoundland/Labrador's Jessica Wiseman and Trent Skanes (1-4; Torbay/St. John's)
Earlier in Pool B, Kitz/Stewart rolled past Wiseman/Skanes 11-6; Kreviazuk/Mathers doubled Tuck/Tuck 10-5; Everist/Everist held off Martin/Griffith 7-5; and Papley/Van Amsterdam stole five in the second end in a 9-3 win over Cheal/Cheal.
In Pool C play on Thursday, former champs Laura Walker and Kirk Muyres (Edmonton/St. Gregor, Sask.) kept their perfect record alive with a fifth straight win, downing Team New Brunswick's Leah Thompson and Charlie Sullivan (0-5; Quispamisis/Saint John) 9-5. Also unbeaten in Pool C at 5-0 is the pairing of Laurie St-Georges and Félix Asselin (Laval, Que./Montreal), who rallied from an early 4-1 deficit to beat Jennifer Armstrong and Brad Jacobs (3-2; Saint John, N.B./Sault Ste. Marie, Ont.) 9-4. Also, Brittany Tran and Aaron Sluchinski (3-2; Calgary/Airdrie, Alta.) were 10-6 winners over Veronique Bouchard and Jean-François Charest (1-4; Chicoutimi, Que.); and Team Quebec's Emily Riley and Jesse Mullen (2-3; Pincourt, Que./Jonquière, Que.) doubled Team P.E.I.'s Jenny White and Edward White (1-4; Summerside)
Earlier Thursday in Pool C, Walker/Muyres doubled White/White 10-5; St-Georges/Asselin stole one in the eighth end for a 9-8 victory over Thompson/Sullivan; Riley/Sullivan doubled Bouchard/Charest 10-5; and Tran/Sluchinski cruised to a 10-4 victory over Armstrong/Jacobs.
The tandem of Jennifer Jones and Brent Laing of Horseshoe Valley, Ont., is the only unbeaten team in Pool D. Jones and Laing improved to 5-0 on Thursday, scoring deuces in the seventh and eighth ends for an 8-5 win over Melissa Adams and Alex Robichaud (2-3; Hanwell, N.B./Fredericton).
Two teams are tied for second at 4-1 after Team Manitoba's Kadriana Lott and Colton Lott (Winnipeg Beach) and Lisa Weagle and John Epping (Ottawa/Toronto) posted wins. Lott/Lott were 10-3 victors over Lauren Wasylkiw and Shane Konings (0-5; Stouffville, Ont.), while Weagle/Epping sailed to a 9-3 win over Team Northwest Territories' Margot Flemming and Jamie Koe (1-4; Yellowknife).
The early Pool D games on Thursday saw Jones/Laing roll to a 9-3 win over Flemming/Koe; Fleury/Horgan thumped Wasylkiw/Konings 9-3; Weagle/Epping needed an extra end for a 6-5 win over Bukurak/Bukurak; and Lott/Lott earned a 10-3 triumph over Adams/Robichaud.
Action from the 2023 Canadian Mixed Doubles Curling Championship resumes Friday at 10 a.m. (all times Eastern) with additional draws at 1 p.m., 4 p.m and 7 p.m.
Selected games from the 2023 Canadian Mixed Doubles Championship will be streamed live on Curling Canada's new streaming platform, Curling Canada+.
Schedule information can be found on the event website, www.curling.ca/2023mixeddoubles/.
For ticket information, CLICK HERE.