Pressure Packed Playoff Picture!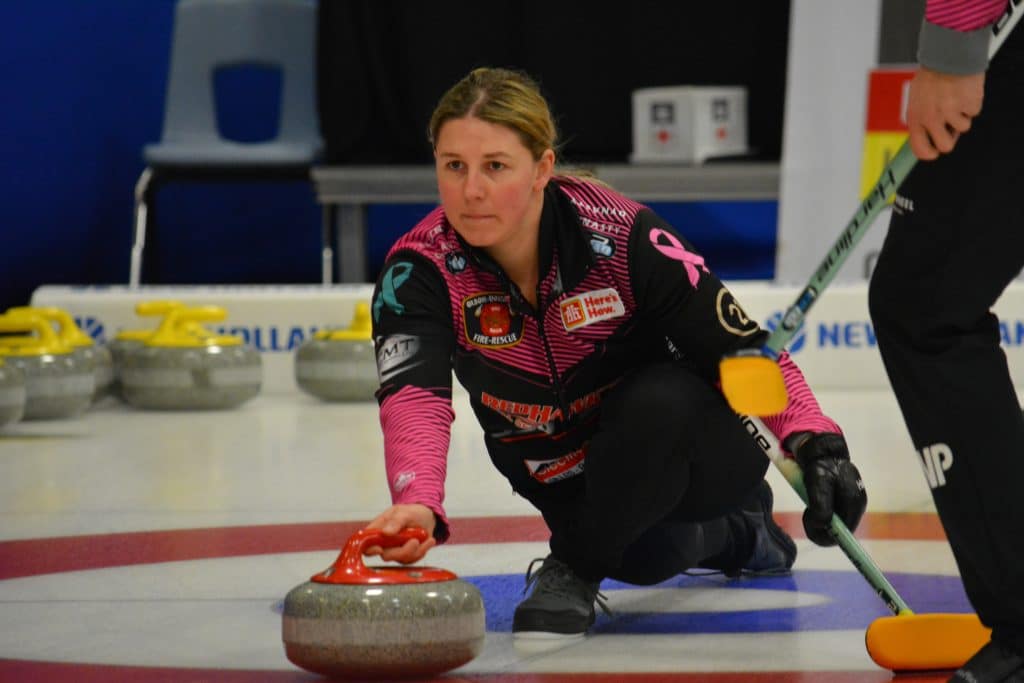 Chaelynn Kitz and Brayden Stewart battle through highs and lows to earn playoff berth at 2023 Canadian Mixed Doubles Curling Championship
To say the air has been electric at the 2023 Canadian Mixed Doubles Curling Championship would be an understatement.
Buzzing crowds have been packing seats to watch their favourite curlers from across Canada compete at the Gerry McCrory Countryside Sports Complex in Sudbury, Ont.
But as the finish line of pool play slowly came into focus on Friday night, tension was on the rise.
Only twelve of the initial 32 team field will qualify to see the playoff picture while the remaining 20 will be cast from the championship picture. The top four teams of each pool earn a direct berth into a quarter final, while the remaining eight will play an elimination game that feeds into the quarters.
It's a brutal cut; one that teams are all too cognizant of as the on ice atmosphere between teams on the edge of qualification went from focused, even jovial at times, to downright anxious.
Though the palpable shift in ambiance can be felt in the urgency of shot calling and communication, some teams began to separate themselves from the heap qualifying top of their pools early in the day.
Chaelynn Kitz and Brayden Stewart (6-1; Saskatoon) are among the teams who cemented their quarterfinal berth with a 7-4 win over Kim and Wayne Tuck (1-5; Strathroy, Ont) on Friday afternoon, securing pool B's top spot in the process.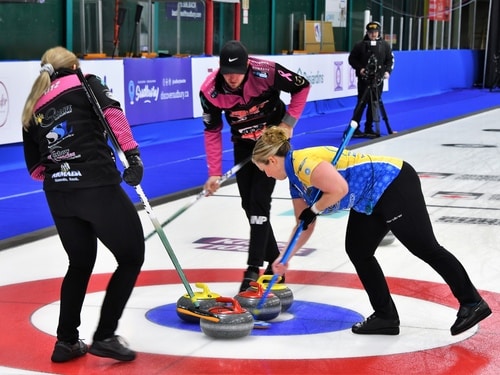 The win would be best described as gritty, chaotic and challenging, but Kitz/Stewart know that grinding through the rough patches is what wins championships.
"I try to keep (Stewart) on saying we're a back-half team," said Kitz of her team's back and forth performance. "Be grind-y out there. Mixed doubles, it's so up and down, wishy washy and it goes both ways. Just grind and it comes down to the last shot."
The Tuck/Tuck tandem lead Kitz/Stewart by a 3-2 score at the fourth end break before the duo from Saskatoon would rally back for the 7-4 win.
"Kim and Wayne are just veterans of mixed doubles, and they make those good draws lots of the time," said Stewart about the 2014 Canadian Mixed Doubles Curling Champions. "Even if you're sitting good, they're going to come back. You have to put the rocks in good spots or else they're going to make you pay."
Kitz and Stewart won't change their game plan no matter who they face in the playoffs, but the undefeated pair are looking to find another gear headed into the sudden death matchups.
"We're still not playing as sharp as we'd like," said Stewart after the victory. "But 6-0 is great and we know we can be playing a little bit better as we go into the playoffs."
Kitz/Stewart would be served their first loss 7-4 on Friday evening at the hands of Martin/Griffith (5-2; Saskatoon/Kelowna, B.C.)
Meanwhile in pool A, Jocelyn Peterman and Brett Gallant also claimed a quarter final berth as they concluded pool play with a perfect 7-0 record.
Though the grind of pool play is present for Peterman/Gallant, it takes on a different flavour for the Chestermere, Alta., pair and earning the direct bye to the quarterfinal grants them an extra game off.
"That's good for us," said Peterman of the additional rest. " I'm seven months pregnant and Brett is doing a lot of sweeping, so it was nice to make sure that we got an extra game off."
Though team Peterman/Gallant won their final pool play match 6-4 over Desjardins/Desjardins (2-5; Chicoutimi, Qué) Friday evening, they locked their quarterfinal berth on Friday afternoon with a 7-6 win over Clancy Grandy and John Morris (3-4; Coquitlam, B.C./Canmore, Alta.).
It marked one of the tightest contests of the week with Peterman and Gallant playing some of their best curling to date at the event.
"That was great. Jocelyn made a bunch of big shots with her last stone," said Brett Gallant of his partner's performance. " We were in trouble a few ends and she made some fantastic ones to really give us a chance to win. That's a big confidence boost to see those big shots being made."
Pool C featured a classic "win and you're in" faceoff for a quarterfinal berth between team Laura Walker/Kirk Muyers (7-0; Edmonton/St. Gregor, Sask.) and team Félix Asselin/Laurie St-Georges (6-1; Laval, Qué/Montréal) headed into action late Friday afternoon.
Though both teams were guaranteed a playoff berth before the showdown, Walker and Muyers felt the importance of clinching the first place pool finish.
"For us, it's important for us to clinch that first place and to continue on what we're doing," remarked Muyers after clinching the top spot in pool C. "Through the front door, keep the hammer down. I find if you let off the gas a little, it sets the tone for the weekend, so hammer on the gas, just keep going, and that sets us up well for the playoffs"
The direct bye to the quarters is welcomed by the duo, but they won't waste any opportunity to collect information for a competitive advantage.
"It'll be nice to sit back, watch the ice and see what everyone else is doing before our match," Walker mentioned
The Jones/Laing squadron (7-0; Horseshoe Valley, Ont.) rallied off an undefeated record in pool play earning top honours in pool D and a direct bye to a quarter final.
In the first round of sudden death playoffs, Weagle/Epping (5-2; Ottawa/Toronto) will take on team Manitoba's Lott/Lott (5-2; Winnipeg Beach). Team Homan/Tardi (6-1; Beaumont, Alta./Peachland, B.C.) are set to face Hersikorn/Laycock (5-2; Saskatoon) while team Nova Scotia's Everist/Everist (5-2; Bedford) combo will square off versus team Ontario's Kreviazuk/Mathers duo (5-2; Ottawa) and St. Georges/Asselin will be pitted against team Tran/Sluchinski (Calgary/Airdrie, Alta.).
Action from the 2023 Canadian Mixed Doubles Curling Championship resumes Saturday at 1 p.m. (all times Eastern) with the quarterfinals at 7 p.m.
The semifinals will follow on Sunday at 9 a.m. with the gold medal match set for 1 p.m.
Selected games from the 2023 Canadian Mixed Doubles Championship will be streamed live on Curling Canada's new streaming platform, Curling Canada+.
Schedule information can be found on the event website, www.curling.ca/2023mixeddoubles/.
For ticket information, CLICK HERE.