Then and Now!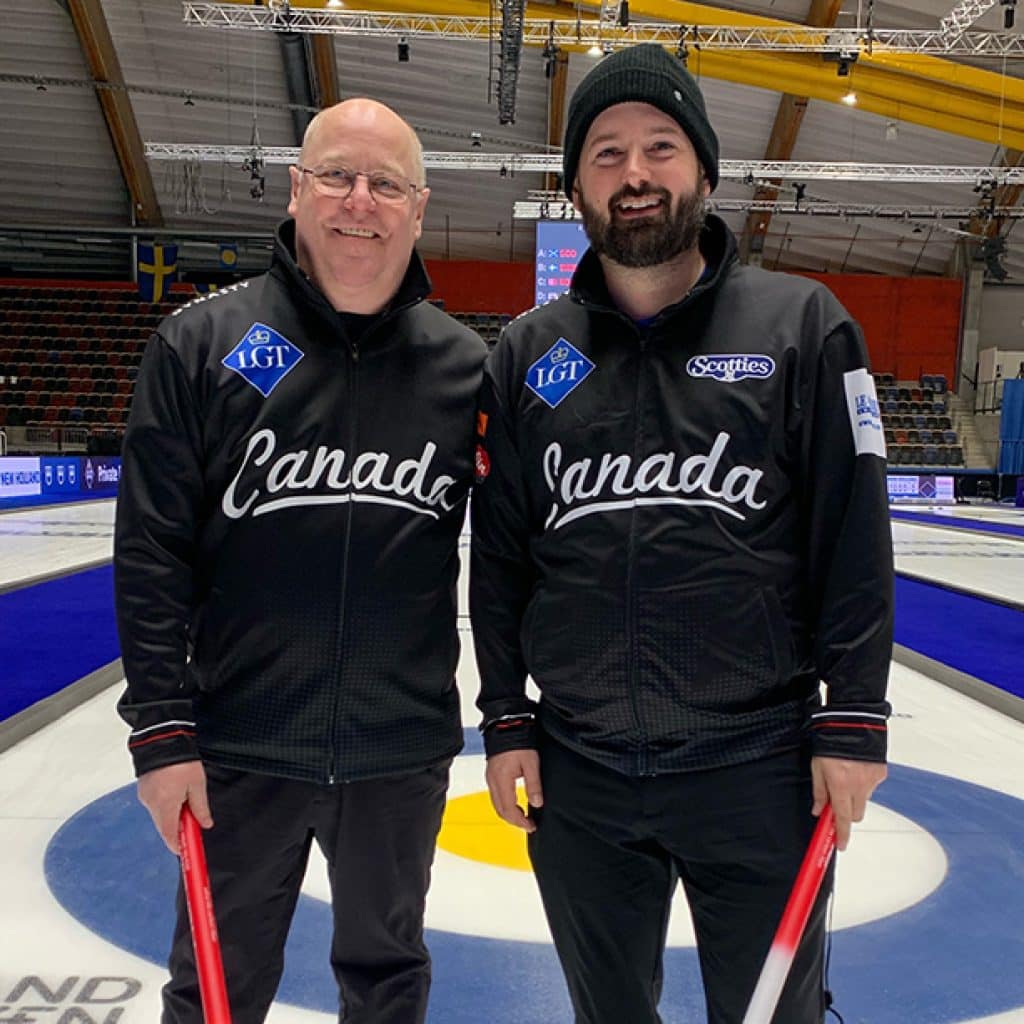 A full-circle moment for coaches Carruthers and Meakin at 2023 LGT World Women's Curling Championship
Canadian coach Reid Carruthers has been in many scenarios over his years in curling. But coaching with coach? That's a new one.
Carruthers has guided Team Kerri Einarson through the ebbs and flows of the 2023 LGT World Women's Curling Championship, presented by New Holland. This year in Sandviken, Sweden, the team is getting support from Carruthers's role model, his men's team coach Rob Meakin, who has been part of his curling career for the past 15 years.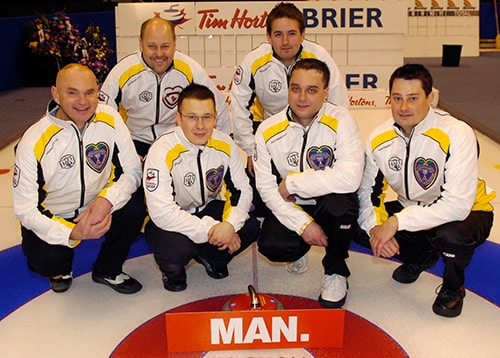 Meakin is in the stands tracking rocks, matching them during evening practices and working through the pre-game practice routine with Team Einarson. It's a role that Jeff Hoffart usually takes on with Team Einarson, but he was unavailable this year.
With Carruthers throwing technically similar to Team Einarson, Meakin was an excellent fit to bring in this week at Goeransson Arena. He's been able to jump right into the role and give skip Kerri Einarson, vice-skip Val Sweeting, second Shannon Birchard, lead Briane Harris and alternate Krysten Karwacki feedback on their throws.
"I've learned a calm and relaxed approach and keeping it light as much as possible while injecting some fun in there when needed," Carruthers said. "He's a really good team guy and good with team dynamics. That's the biggest thing I've taken away from him over the years."
Given his familiarity with Carruthers and Team Einarson, they asked Meakin to join them on the trip to Sweden.
Meakin, the 1995 Brier and world men's champion, started working with Carruthers in 2008. Since then, the pair have been nearly inseparable in the men's game.
Meakin was returning to the men's game with Kerry Burtnyk and the team qualified for the hometown Tim Hortons Brier in Winnipeg. An injury forced him to the coach position, but it left room on the team for an alternate.
"We wanted to give a young player an opportunity and Reid was wet behind the ears," Meakin recalls. "I still remember his excitement when we were on the bench and I told him to get ready because he was about to play in the Brier."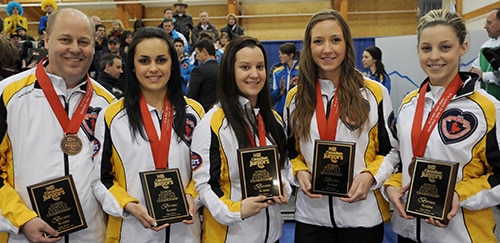 Carruthers doesn't remember the exact details of his first experience on the Tim Hortons Brier ice (for what it's worth, he was called in for one end of relief duty in a loss to Saskatchewan, making two out-turn draws). Still, he remembers the feeling of stepping out on that ice for the first time during a game.
"I'm excitable on the bench now, so I can only imagine back then. If we were to look at some video footage of us on the bench at that event, I'm sure I was driving him nuts," Carruthers joked. "It's a cool full-circle moment to be back and coaching with him here now."
Meakin turned his attention to junior curling and coached notable Manitoban teams such as the 2009 world junior silver-medallists Team Kaitlyn Lawes and then his daughter Breanne Knapp's team in 2010 and '11, among which current Canadian members Harris and Karwacki were part of.
Carruthers and Meakin have been nearly inseparable since, with Meakin taking on a coaching role with Carruthers during his run as vice-skip for Mike McEwen and now as skip of his own team once again.
"He loves to be the leader and he's done his best to play every role on a team. He buys into the team and he's a great teammate. I've seen him mature over the years into a great player and coach, someone who you want to have on your team," Meakin said.
Carruthers started working with Team Einarson last season, winning a gold medal at the 2022 Scotties Tournament of Hearts and a bronze medal at the 2022 world women's championship.