Gritty playoff win!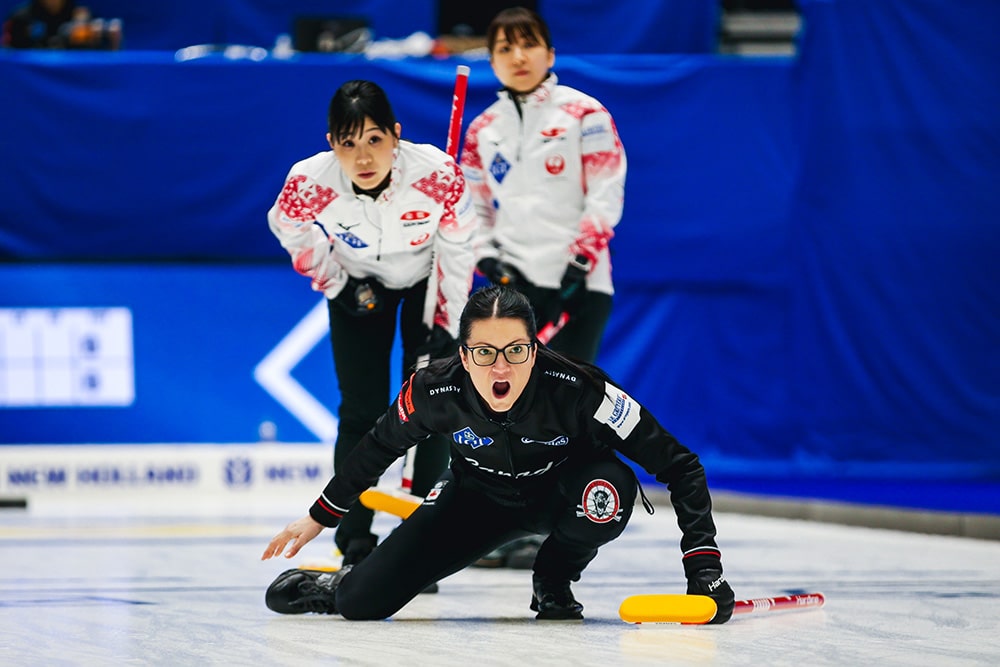 Canada defeats Japan in extra end and advances to semis at world women's
SANDVIKEN, Sweden — Gritty. Tenacious. Plucky. All those adjectives describe Canada's qualification game win at the 2023 LGT World Women's Curling Championship, presented by New Holland.
Canada's Team Kerri Einarson of Gimli, Man., has advanced to the semifinals at Goeransson Arena in Sandviken, Sweden, following its 6-4 extra-end victory on Saturday afternoon against Japan's Team Satsuki Fujusawa.
Skip Einarson, vice-skip Val Sweeting, second Shannon Birchard, lead Briane Harris, alternate Krysten Karwacki, coach Reid Carruthers and national coach Renée Sonnenberg scored two in the decisive 11th end, and booked its spot in the semifinal against Norway's Team Marianne Roervik later today at 11 a.m. (all times ET).
"It's been a bit of a gritty week with ups and downs, but we've put ourselves in a good position now," said vice-skip Sweeting, whose team finished third overall in the standings with a 7-5 record. "We just have to keep rolling and keep our opportunities coming. If we set ourselves up and capitalize, I think we'll be good. We're comfortable in this situation."
Heading into skip stones in the extra end, Canada sat shot with a Japan stone overlapped. Team Einarson froze onto Japan's second-shot stone, eliminating an easy path for Japan to remove it. It forced Team Fujisawa to play a challenging raise, leaving Canada sitting two and with no need to throw its last.
"That was a pistol draw. I found that the ice was quick for the front end, but then it was even faster for Kerri and I, the fastest we've seen in some of those spots. I felt like I was crawling out of the hack and it was still in. We know that going forward and how fast it will be, so we know we need to leave it to our brushers because they'll get it there," Sweeting said.
With ice conditions changing throughout the game, both teams got caught up with errors they would have rather not commit. Canada missed opportunities for multiple-point scores early in the game, including a crotch double under-curl in the fourth and a rollout in the fifth.
"We got caught a couple of times where the weight and throw were good and it would just run. We really had to pay attention to the paths and how they played. At the end of the game, it flipped. If you threw a path that had been straight but hadn't been played in a while it curled a bit. It was one of those gritty wins. We fought hard out there and I think at one point it felt like we were down more than we were," Sweeting said.
Canada received a shot in the arm in the sixth during a topsy-turvy end where Japan went from attempting to score two to giving up a steal of one. Team Fujisawa tried to come in off its stone in the eight-foot and into a Canadian stone sitting second shot. Japan hit it too thick and nudged Canada's stone further into the button to score.
"[Fujisawa] was playing a hard one, so I said to Kerri we may get out of this end with a force, then we can regroup because we're right in this thing. We battled and we fought hard," Sweeting said. "That was a huge swing. I knew if she caught it a little thick, it would be possible. I figured she would be pretty close to the double. They made a lot of great freezes and they had a lot of great angles on us. It was just one of those back-and-forth games."
In the other qualification game, Sweden's Team Anna Hasselborg bested Italy's Team Stefania Constantini 4-3 and will play Switzerland's Team Silvana Tirinzoni's undefeated team from Switzerland in the second semifinal at 11 a.m.
The winners advance to the gold-medal game on Sunday at 9 a.m. The losers compete in the bronze-medal game scheduled for 4 a.m.
For Team Canada updates, go to www.curling.ca. Follow us on Twitter, Instagram and Facebook.
TSN/RDS2, the official broadcast partners of Curling Canada's Season of Champions, will provide live coverage of Canada's round-robin games and all playoff games. CLICK HERE for their complete broadcast schedule.
The list of teams, schedule information and live scoring can be found on the event website.
The French version of this story will be posted as soon as possible at www.curling.ca/?lang=fr.