Fighting for position!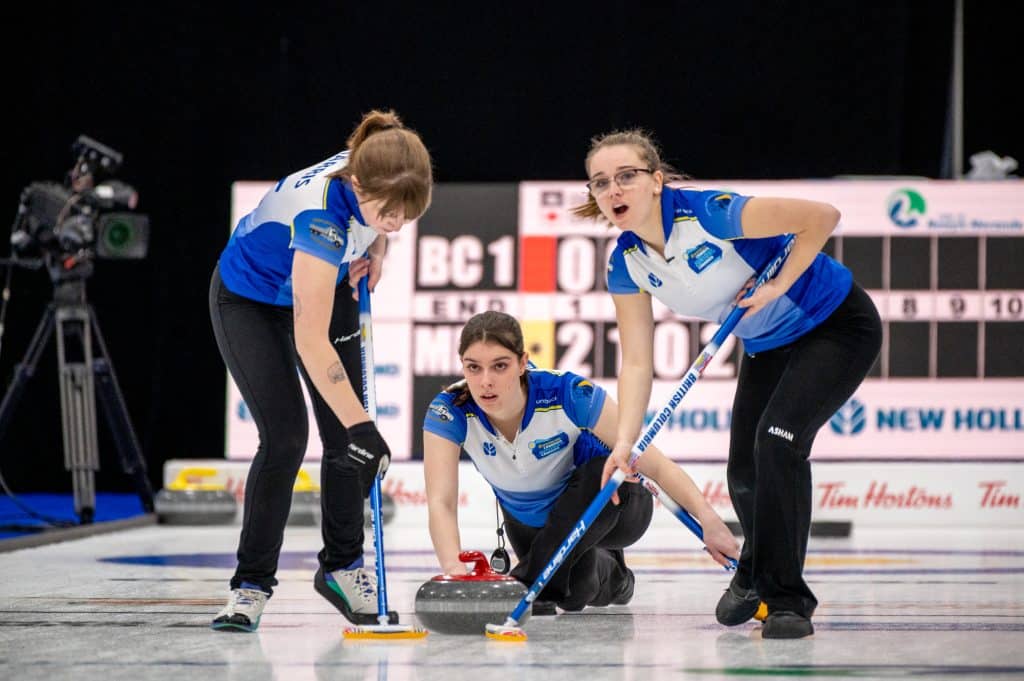 Four teams cling to pool B playoff hopes at 2023 New Holland Canadian Under-21Women's Curling Championship
As Thursday evening action drew to a close and the playoff picture begins to manifest at Aréna Jacques Laperrière in Rouyn-Noranda, Qué., more questions remained than answers resolved at the 2023 New Holland Canadian Under-21 Women's Curling Championship.
Teams at the U-21 national event play an 8 game round robin within their pool seeing the top three teams qualify for the playoffs. The second and third rank teams in each pool cross and face off in a quarterfinal while the top seed from each pool earns a bye, awaiting those winners in a semifinal.
Pool B already has two teams assured a playoff berth in the likes of Alberta #1's Myla Plett (6-0; Airdrie/Sherwood Park) and Manitoba #1's Zoey Terrick (6-1; Winnipeg), but their order is yet to be determined with two draws of pool play remaining.
What lies beneath the two prairie teams on the rankings board, however, is an ocean of teams leagues deep at three losses.
Amidst the logjam, British Columbia's Emily Bowles (3-3; Victoria) snuck out an extra end steal to earn a win over the Yukon's Bayly Scoffin (1-6; Whitehorse) on Thursday evening to stave off a dreaded, and terminal, fourth loss.
It's a game that it potentially could have lost as Scoffin's final draw to win in the eleventh would end up heavy, cementing a steal and the 7-6 win for the Victoria Curling Club representatives.
"Very intense, very suspenseful," described Bowles of her team's win. "Really gritty."
Bowles and her B.C. foursome of vice-skip Meredith Cole, second Mahra Harris, lead Sasha Wilson and coach Paul Tardi were up against the wall trailing the Yukon 5-1 at the fifth end break before they would surge to tie the game at 6-6 in the tenth to force an extra.
"Honestly, it was just at the fifth end break going into the sixth, coming together and reset, move past it, refocus and make our shots," said Bowles about the team's tipping point when the rally back on the scoreboard began. "We all pulled together. Lots of supporting each other, lots of positivity and that's what helped us."
The win keeps B.C.'s playoff hopes alive.
"I think we just got to keep building on it," mentioned Bowles of the momentum of a come from behind win, saving their playoff hopes. "That's our big goal and we just have to do our best. It's not a guarantee if we win all our games, but that's all we can do is do our best to win ours and hope for the best."
British Columbia has ample company in the three loss column on the bubble of elimination. Alberta #2's Clair Booth (3-3; Calgary), Québec's Elizbeth Cyr (3-3; Point Claire/Laval-sur-le-lac) and Nova Scotia #2's Ally MacNutt (3-3; Halifax) all have matching records, each with two games remaining, and will be clawing their way through the remaining pool play games to catch the third and final playoff berth.
Conversely, Manitoba #1's Zoey Terrick scored a huge 10-4 win over Alberta #2's Claire Booth on Thursday evening to guarantee them a playoff berth, having defeated all three loss teams head to head.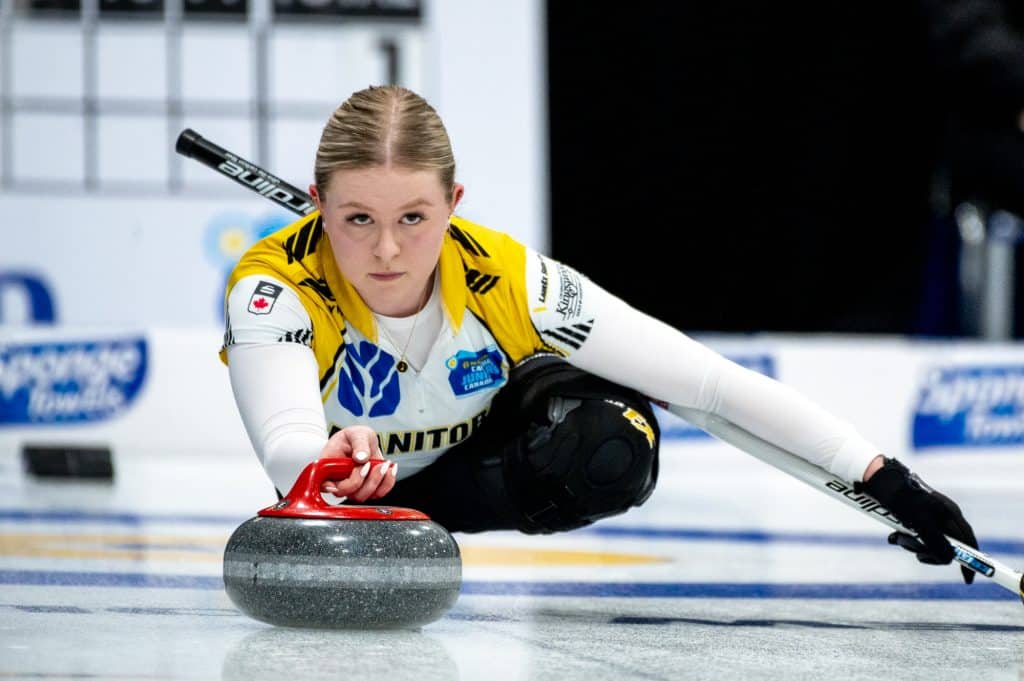 While they'll be in the mix come playoff time, their ranking is yet to be determined as they'll face pool leader Myla Plett of Alberta #1 Saturday at 9 a.m., (all times Eastern) in their final pool match, which is assuredly a showdown for pool B's top spot.
Manitoba #1 second Jensen Letham says the win only put them that much closer to their ultimate goal of a Canadian championship.
"We knew that three losses could keep us in contention, but two losses keeps us at the top," remarked Letham of her team's playoff potential. "We have one more game left to go, and hopefully we'll close it out good."
While Letham and Manitoba #1 is meeting the team's goals set out before the competition, Letham feels there's more untapped potential from her team.
"It seems like we're getting there. We just want to keep shooting well and doing better," said Letham of her team's play thus far. "We still haven't played our super best game yet. We've all had good games, each other, but we still have more to do."
Manitoba #1 has a rest day on Friday; one which is welcomed at this stage of the competition.
"Today, I'm a little tired, I have to admit," conceded Letham about how much gas her team has in the tank. "We have a day off tomorrow, a bye tomorrow. So we'll come firing out on Saturday."
Pool A women's rankings have Newfoundland and Labrador's Mackenzie Mitchell (6-0; St. John's) at the top with Ontario #1's Tori Zemmelink (6-1; Navan) and Nova Scotia's Sophie Blades (5-1; Chester) in tow.
Action from the 2023 New Holland Canadian Under-21 Curling Championships continues on Friday with draws at 9 a.m., 2 p.m. and 7 p.m.
For event info, scores, and draws, please visit: https://www.curling.ca/2023under21/
Select games will be streamed live on Curling Canada+.For streaming information, visit: https://plus.curling.ca/schedule?competitionId=8135&idx=2