Back on track!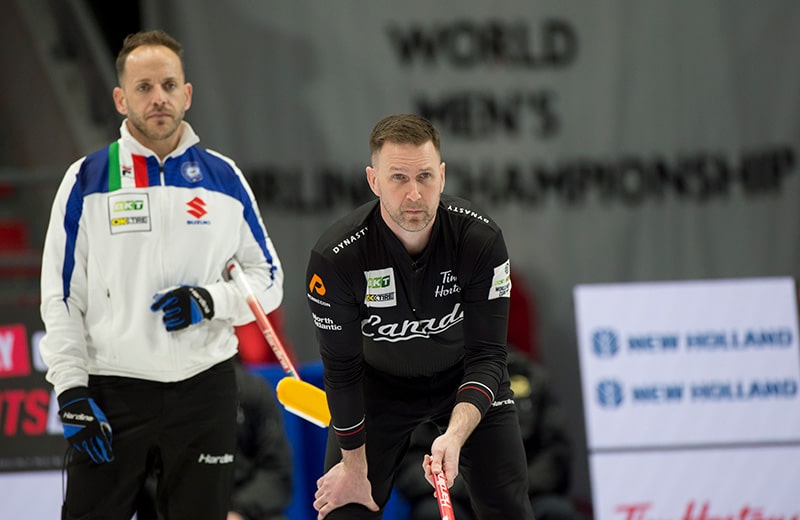 Team Canada rebounds from loss to defeat Team Italy at men's worlds
The days of Team Italy not being a threat in men's curling on the world stage are over.
Team Canada skip Brad Gushue and his teammates from the RE/MAX Centre and St. John's Curling Club in Newfoundland & Labrador didn't need to be reminded of that Saturday evening as they had their hands full with the Italians for the first six ends at the 2023 BKT Tires & OK Tire World Men's Curling Championship at TD Place in Ottawa. The Canadians eventually pulled away late to score a 10-6 win in Draw 2 of the world event.
"It wasn't the cleanest game, but honestly with the ice conditions it was almost as good as you could hope for. It was really challenging after the frost started to creep in. We handled it well," said Gushue, who recovered from an opening-draw loss to even his record to 1-1 in the 13-team rock fest. The Canadians lost 8-3 to skip Yannick Schwaller's Team Switzerland earlier in the day as the event broke from the starting gate.
There was some quiet relief from Gushue and Co. — vice-skip Mark Nichols, second E.J. Harnden, lead Geoff Walker, alternate Ryan Harnden, team coach Caleb Flaxey and national coach Jeff Stoughton — after their evening win. Their usual machine-like game had made some serious clanking noises against the Swiss, so the concern was in the air entering the evening gig.
But there was no need to worry. The Canadians were close to their regular game, even though the Italians (0-2), skipped by Joel Retornaz challenged until the roof caved in on them in the seventh end.
"To go out there tonight against a really, really good team and win to go to 1-1, I'm happy," said Gushue. "We didn't expect to come in here and go undefeated. You're going to have some bumps along the road. The bounce-back win and play the way we played was good."
The Italians have become no slouches in recent years. The Italians showed they were the real deal by winning up the bronze medal at last year's championship in Las Vegas, the first medal for the country in men's curling.
So the Canadians needed to be on their toes.
The Canadians hit the ground running with a well-crafted deuce in the first end, finished off with an open takeout by Gushue.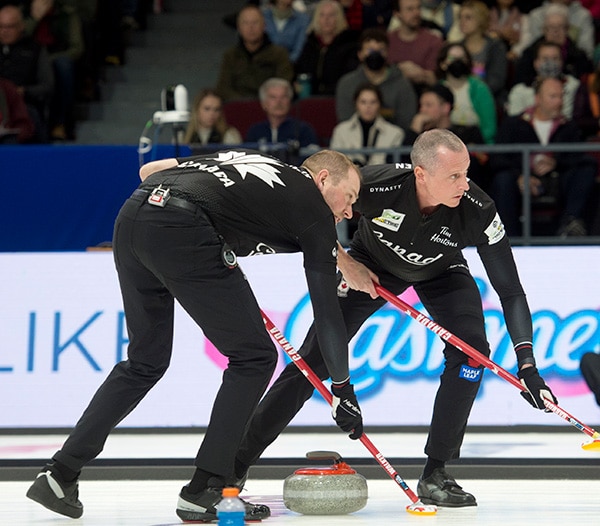 Gushue made some key shots throughout the game, but perhaps his best came as early as the third end with the Canadians in some trouble. Drawing against three Italian rocks spaced in the four-foot, Gushue drew down with the in-turn to lie second shot, nibbling the button. With no way to remove it, Retornaz had to make a delicate out-turn tap back on his own rock to score two and tie the game.
"The third end I skipped us into a bit of jail there," said Gushue. "We didn't make many shots either, but I had to kind of go all-in there. If we tried to bail it was a guaranteed three. Maybe four. Fortunately, I made two good shots on my last and the guys swept it perfectly. You need one or two of those each games to be successful."
The Canadians upped their advantage in the fourth, taking advantage of a mistake by Retornaz to score two.
Team Canada also avoided trouble in the fifth end with back-to-back doubles to clean things up but was gifted with a steal of one after Retornaz flashed with his last trying to blank.
Team Italy climbed back in the game with a deuce in the sixth, but disaster struck when the Italian skip was a touch heavy with his final stone in the seventh, allowing Gushue to draw for three and take an 8-4 lead.
The evening draw featured five teams — U.S.A., Norway, Japan, Turkey and the Czech Republic — making their debuts after sitting out the afternoon session. Skip Magnus Ramsfjell's Team Norway started strong, defeating Team U.S.A., skipped by 2018 Olympic Games gold-medal champion John Shuster, 8-5. Turkey, skipped by Ugurcan Karagoz and making their world debut, showed some spunk but lost a 4-3 heartbreaker to Team Japan, skipped by Riku Yanagisawa, in an extra end.
Meanwhile, Team Czech Republic, skipped by Lukas Klima, sent Team New Zealand, skipped by Anton Hood, to its second straight loss after posting an 8-1 win.
The top six teams advance to the playoffs.
The final goes Sunday, April 9.
The 2023 BKT Tires & OK Tire World Men's Curling Championship continues Sunday with draws at 9 a.m., 2 p.m. and 7 p.m. draw at 7 p.m. (all times ET).
Live scoring, standings and statistics for the 2023 BKT Tires & OK Tire World Men's Curling Championship are available by CLICKING HERE.
TSN and RDS will provide coverage of the 2023 BKT Tires & OK Tire World Men's Curling Championship. CLICK HERE for the complete schedule.
For ticket information for the 2023 BKT Tires & OK Tire World Men's Curling Championship, go to www.curling.ca/2023worldmen/tickets/
This story will be available in French as soon as possible at www.curling.ca/2023worldmen/nouvelles/?lang=fr