Race to the Finish!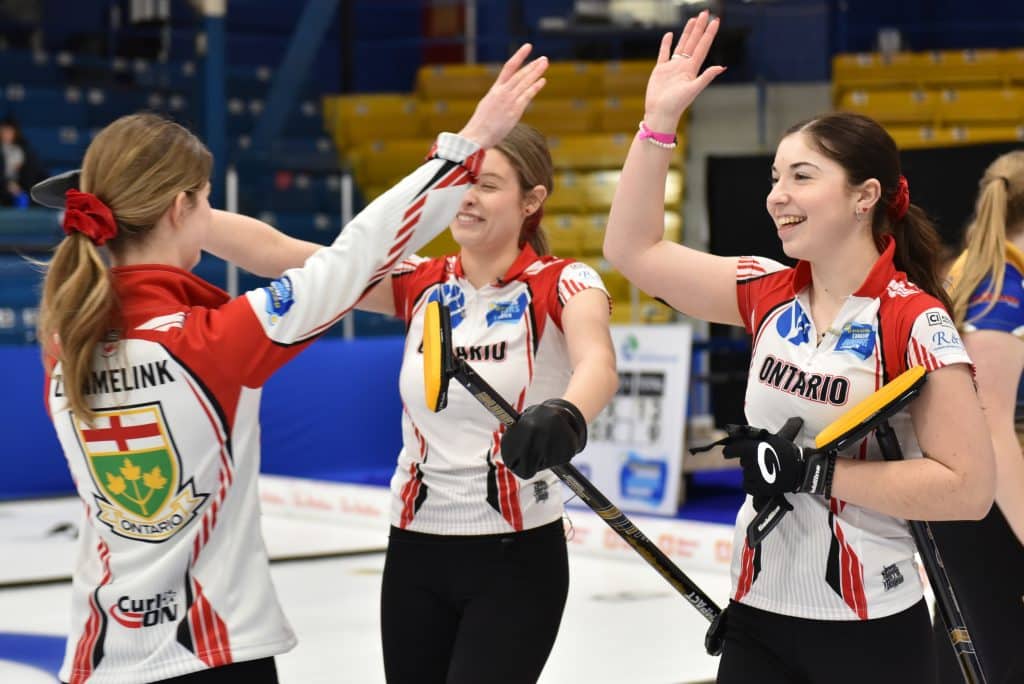 Ontario's Tori Zemmelink grinds out extra end win in quarterfinal at 2023 New Holland Canadian Under-21 Women's Championship
It's not about how you start, rather, it's how you finish.
While it may have taken a few ends for all cylinders on Tori Zemmelink's Ontario squad to get firing in unison on Saturday evening, once it reached an adequate gear, the engine purred like a kitten in an 7-6 extra end quarterfinal victory over Alberta #2's Claire Booth (5-4; Calgary).
There were sputters at times and maybe a few missed gears along the way during the elimination playoff contest at Aréna Jacques Laperrière in Rouyn-Noranda, Qué., but nothing that wouldn't buff out.
After all, Zemmelink carried a very strong 6-2 record into the playoffs, earning a second place finish in pool A. Zemmelink had proven she had a steady hand at the wheel qualifying Ontario for the quarterfinal.
The Navan Curling Club rink of vice-skip Paige Bown, second Kailee Delaney, lead Scotia Maltman, alternate Emma Artichuck and coach Matt Wilkinson played a patient game to begin the playoff match, biding time and leveraging opportunities when possible, but couldn't get rocks to land in perfect spots scoring only 2 points in the first five ends.
While lack of offense is often an issue, it's only a problem if your defence is lacking. Thankfully the Ontario rink was rather robust as they navigated the chicanes and sinuous roads of a messy fourth end all while keeping Alberta at bay to the tune of a 2-2 score after five ends.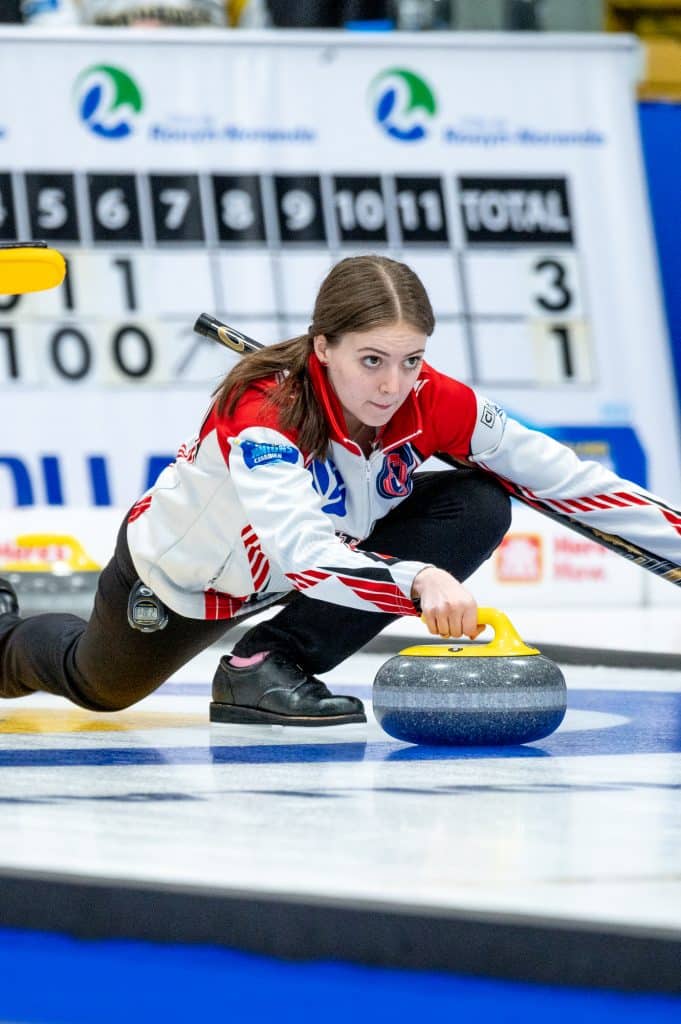 It wouldn't be until the seventh that Ontario would punch the clutch and throw the engine in higher gear. After surrendering a steal of a single in the sixth end, vice-skip Paige Bown would make two beautiful back-to-back peel weight shots on a mess of stones around the four-foot steering Ontario towards a score of three.
"They were great," said Bown of her game defining shots in the seventh end. "Tori had the broom in the right place and the girls swept it great, so couldn't ask for better team shots."
Alberta #2 wouldn't roll over, however. Booth and company would muster a score of two before stealing a single to take a 6-5 lead after nine, forcing Zemmelink to draw the four foot with her last in ten, prompting an extra.
"I was actually pretty calm," said Bown of her nerves in the extra end. "I have a lot of confidence in Tori throwing the last rock and the other two sweeping."
Both teams would jockey for position before a nosed peel on behalf of Alberta would eventually leave Zemmelink some cover to hide behind on a last ditch come around to set up a steal. The Ontario skip made no mistake, dropping the stone on the top of the four-foot behind cover, forcing Booth to draw for the win.
The Booth offering wound up heavy and overshooting her mark, securing the win and semifinal berth for Ontario.
The Ottawa foursome will now face the undefeated Alberta #1 rink skipped by Myla Plett (8-0; Airdrie/Sherwood Park), but won't change how they approach their game plan.
"I think there room we can improve on," remarked Bown of her team's ongoing performance. "But I thought this was a solid game overall."
In additional women's action, Nova Scotia's Sophie Blades (6-3; Chester) was felled 13-9 by Manitoba #'1s Zoey Terrick (7-2; Winnipeg) in the other quarterfinal match Saturday evening, setting up a semifinal versus Newfoundland and Labrador's Mackenzie Mitchell (7-1; St. John's).
In men's play, Dallas Burgess (7-3; Thunder Bay) needed an extra to knock off Manitoba #1's previously undefeated Jordon McDonald (8-1; Winnipeg) by a 7-6 score. They'll face Alberta #2's Johnson Tao (8-1; Edmonton) in the final after Tao downed Ontario #2's Landan Rooney (6-4; Mississauga) by a 7-1 score in the opposing semifinal.
Women's semifinals are scheduled for 9 a.m., Sunday with the gold medal match set to begin at 3 p.m., (all times Eastern).
The men's gold medal final will begin at 11 a.m.
For event info, scores, and draws, please visit: https://www.curling.ca/2023under21/
Select games will be streamed live on Curling Canada+. For streaming information, visit: https://plus.curling.ca/schedule?competitionId=8135&idx=2