Alberta Adorned in Gold!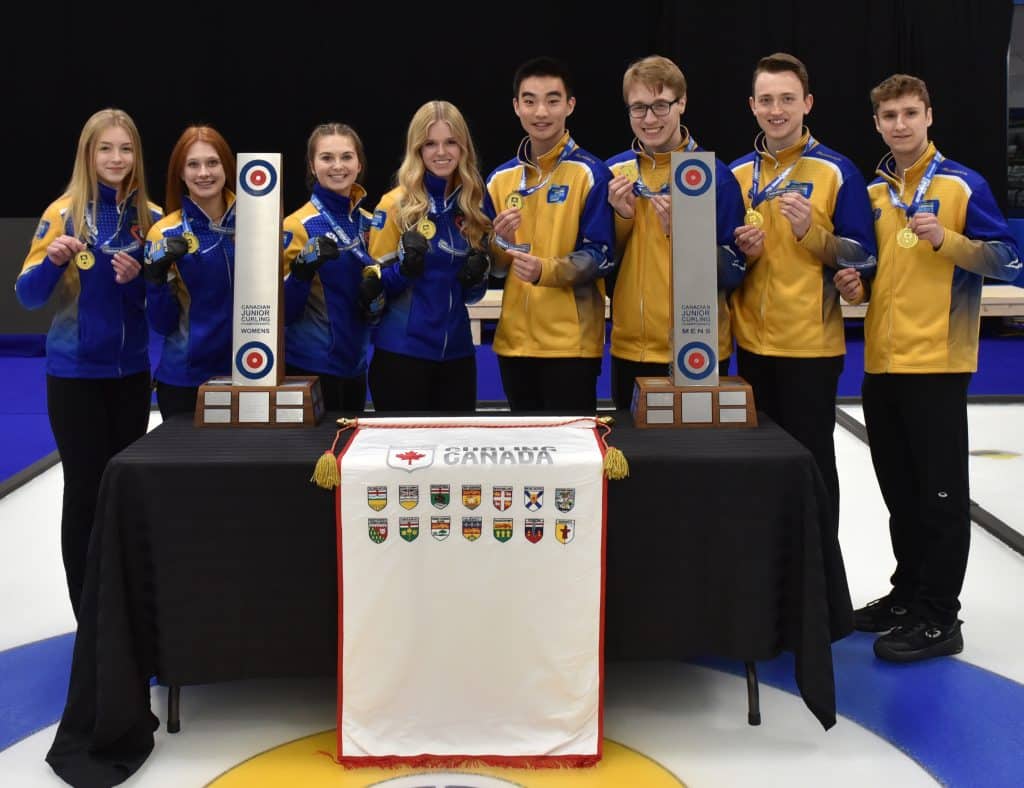 All Alberta sweep atop podium at historic 2023 New Holland Canadian Under-21 Curling Championships
Alberta #1's Myla Plett made history at the 2023 New Holland Canadian Under-21 Women's Curling Championship on Sunday with a 10-4 gold-medal victory over Newfoundland and Labrador's Mackenzie Mitchell (8-2; St. John's).
The Airdrie, Alta./Sherwood Park, Alta., rink is the first team to ever capture a New Holland Canadian Junior Women's Curling Championship as well as the Canadian Under-18 Girls Curling Championship in the same season.
Team Plett's victory capped a perfect Sunday for Alberta teams, as Johnson Tao's Alberta #2 team captured the men's gold medal.
It's another chapter in an astonishing and ongoing championship run for Plett, vice-skip Alyssa Nedohin, second Chloe Fediuk, lead Allie Iskiw and coach Blaire Lenton, who were also the Canadian Under-18 Girls Championship gold medallists in 2022 at Oakville, Ont, as well silver-medal finishers at the Canada Winter Games in Summerside, P.E.I., in February.
The historic feat is something that Plett wasn't aware of before entering the final at Aréna Jacques Laperrière in Rouyn-Noranda, Qué., but is thrilled to have cemented her name in the history books.
"I didn't actually know that so that's really unbelievable," said Plett shortly after winning the New Holland U-21 gold. "It's a big honour for us. We worked really hard for it."
Hard work paid dividends as Plett quickly jumped out to a 7-1 lead after just five ends of play in the gold-medal final, before cruising to a 10-4 win capping off an undefeated campaign with a 10-0 record.
It would have been easy to lose focus with such a significant lead at the break, but Plett credits her teammates for staying grounded and supporting one another right through until the end.
"The girls are always trying to keep my focus up," said Plett of her support network on the ice. "After a long week, it's really hard to pay attention to the game. Your brain is a bit frazzled from all the games. The team really helps with keeping each other up and keeping focused."
The win is a very large exclamation point on what has already been a dream season for the Alberta foursome, as they'll now represent Canada at the 2024 World Junior B Women's Curling Championship Dec. 8-19, 2023, in Lohja, Finland, with the goal of qualifying for the World Junior A Division, which will be contested in February, also in Lohja.
"It's unbelievable," said Plett of her team winning the national title. "We just played really well all week. We're super excited to represent Canada. It's a dream come true for all of us."
The win marks Alberta's 11th women's junior title since the event's inception in 1971, tying Saskatchewan for the overall lead.
Meanwhile in men's play, Tao was a man on a mission this week at the 2023 New Holland Canadian Juniors.
There was fire in the young skip's eyes all week and for good reason. The Alberta #2 skip had some unfinished business having lost the final in 2022 to Ontario's Landan Rooney at Stratford, Ont., just one year ago.
It's been a long year of contemplative reflection over the disappointing defeat, but that can all be laid to rest now as Tao and his Alberta #2 rink of vice-skip Jaedon Neuert, second Ben Morin, lead Adam Naugler and coach Skip Wilson defeated Northern Ontario's Dallas Burgess (7-4; Thunder Bay) by a 7-4 score on Sunday afternoon.
While Rooney was a deserving champion, Tao was not satisfied with the silver-medal finish in 2022.
"That silver medal was heartbreaking last year," said the newly crowned Canadian Champion. "We came so close. The boys put so much into it this year and put so much into this win. It just means so much for us."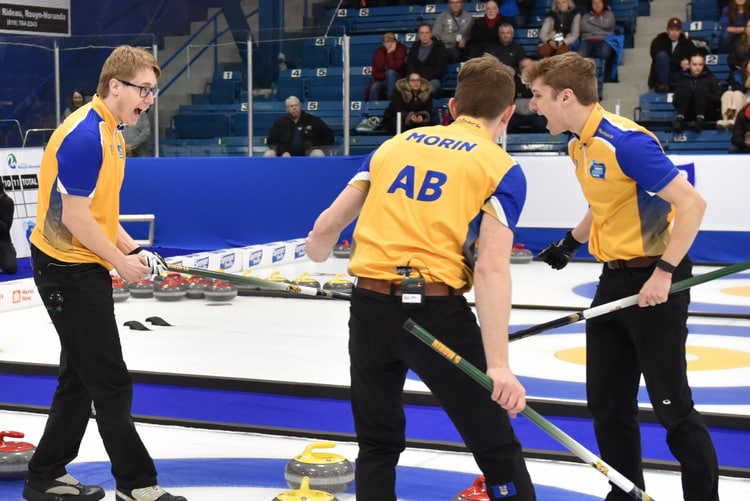 Winning a New Holland U-21 Canadian championship is something Tao has dreamed of growing up and has since pursued incessantly.
"It's surreal," said Tao of the satisfying victory. "We all grew up watching the Canadian Juniors on TV every year and just to be on this stage for the last couple of years has been amazing. But to finally be able to stand on the top of the podium, especially after getting silver last year, it's just surreal. It's a dream come true."
Tao was born in Beijing and hails from Richmond, B.C., but the 2021 For the Love of Curling youth scholarship recipient now makes his home in Edmonton as a student at the University of Alberta.
"It's amazing to be able to represent any province," said Tao of wearing the blue and gold for Alberta. "Just to be here on this stage, that's what matters to us. We know that we have fans back home in Alberta and B.C., cheering us on, so it means a lot to us."
Tao will now trade in his usual uniform for the Maple Leaf at the 2024 World Junior B Men's Curling Championship in Lohja.
And though it's Tao's first time wearing the Maple Leaf, he can lean on vice-skip and 2020 FTLOC youth scholarship Jaedon Neuert, who was a member of team Canada's Youth Olympic Games team, skipped by Nathan Young in 2020 at Lausanne, Switzerland.
The 2023 Junior title marks Alberta's 17th men's title, three ahead of Saskatchewan in second place overall.
A podium finish for Team Canada at the men's or women's event respectively will earn a berth at the 2024 World Junior Curling Championships scheduled for Feb. 17-24, 2024 in Lohja, Finland.
For event info, scores, and draws, please visit: https://www.curling.ca/2023under21/