'S' for Sensational!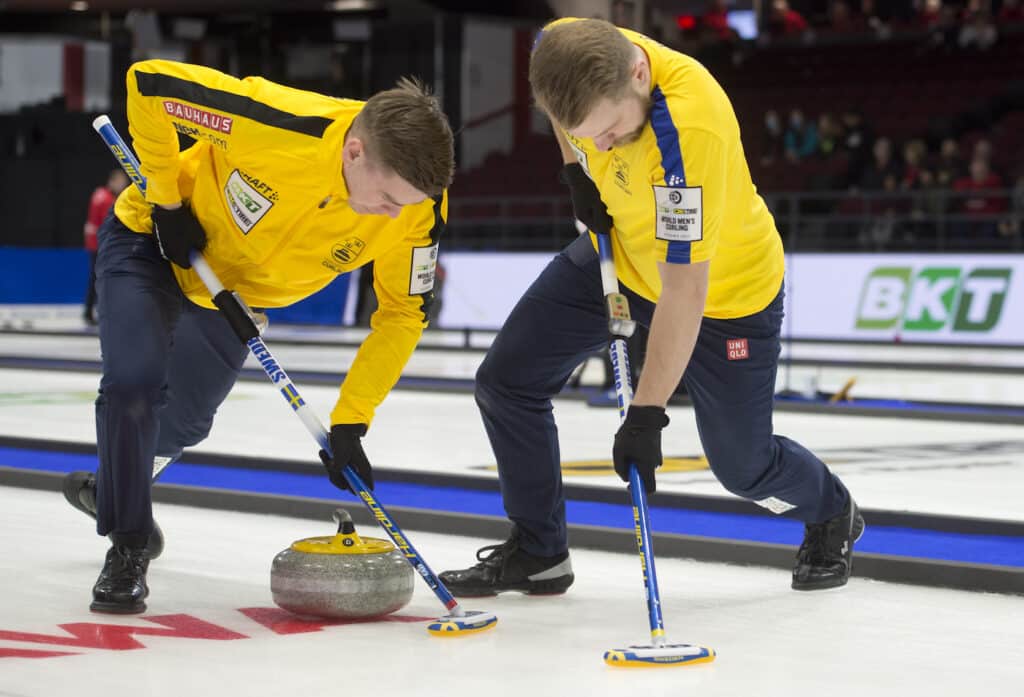 Swedes, Scots and Swiss in four-way tie for first at world men's
It was a great Sunday morning to be a country with the first letter 'S' at the 2023 BKT Tires & OK Tire World Men's Curling Championship in Ottawa.
Three teams — Sweden, Switzerland and Scotland — were among six European squads scheduled to hit the ice in Draw 3 at TD Place, and when the rocks came to rest a few hours later, the S's had won.
Better yet, all three moved into a first-place tie in the round-robin standings with 2-0 records. Joining them at the top of the hill was Team Norway, which also won on the morning draw.
It was no coincidence that Scotland, Sweden and Sweden were among the early favourites to win it all this week.
The Swedes and Scots won in a breeze.
Team Sweden skip Niklas Edin, back to defend his title and win an unprecedented seventh world championship, looked primed to do just that as his lineup rolled to an 11-6 win over Team United States (0-2) skipped by John Shuster.
Edin said his team is playing well and feeling comfortable.
"Super good. A terrific start," said Edin. "The ice is close to perfect, the rocks are very close to perfect. Overall feeling really good out there."
The Americans, who won the 2018 Olympic men's gold medal, let the game slip away when they gave up a crucial steal of two in the fifth end to fall behind 7-2.
But Edin pointed to the end before when his team scored three to go up 5-2.
"When we were up three they really have to force the issue," he said. "A steal can come into play so easily when you do that. The three is what opened it up."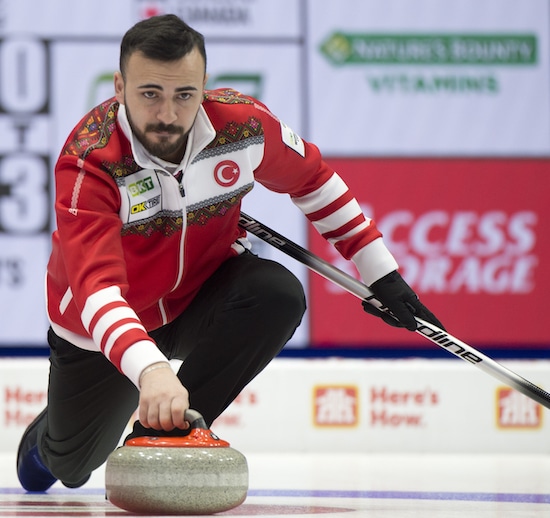 Team Scotland, skipped by Bruce Mouat, kept pace with an 8-1, six-end triumph over Team Turkey (0-2), making its debut at the world championship. The Turks, skipped by Ugurcan Karagoz, showed they are game enough but appear a step behind the big shooters.
It was more of a life-and-death struggle for skip Yannick Schwaller's Team Switzerland, who had a tiger by the tail in Team Czech Republic skipped by Lukas Klima, who put on an impressive shooting display.
But the Swiss finally broke through in the eighth when Benoit Schwarz, who throws skip stones, played a delicate tapback in the button area to score two to go up 6-4. The Swiss went on to post a 7-4 victory.
The Norwegians, skipped by Magnus Ramsfjell, won a big game against skip Byeongjin Jeong's Team South Korea (1-1). The Norwegians didn't give the Koreans much breathing room en route to a 6-2 win.
Team Canada gets back into action Sunday afternoon with a tilt against Team New Zealand (0-2).
The top six teams advance to the playoffs.
The final goes Sunday, April 9.
The 2023 BKT Tires & OK Tire World Men's Curling Championship continues Sunday with draws at 2 p.m. and 7 p.m. (all times ET).
Live scoring, standings and statistics for the 2023 BKT Tires & OK Tire World Men's Curling Championship are available by CLICKING HERE.
TSN and RDS will provide coverage of the 2023 BKT Tires & OK Tire World Men's Curling Championship. CLICK HERE for the complete schedule.
For ticket information for the 2023 BKT Tires & OK Tire World Men's Curling Championship, go to www.curling.ca/2023worldmen/tickets/
This story will be available in French as soon as possible at www.curling.ca/2023worldmen/nouvelles/?lang=fr