Canadians punching back!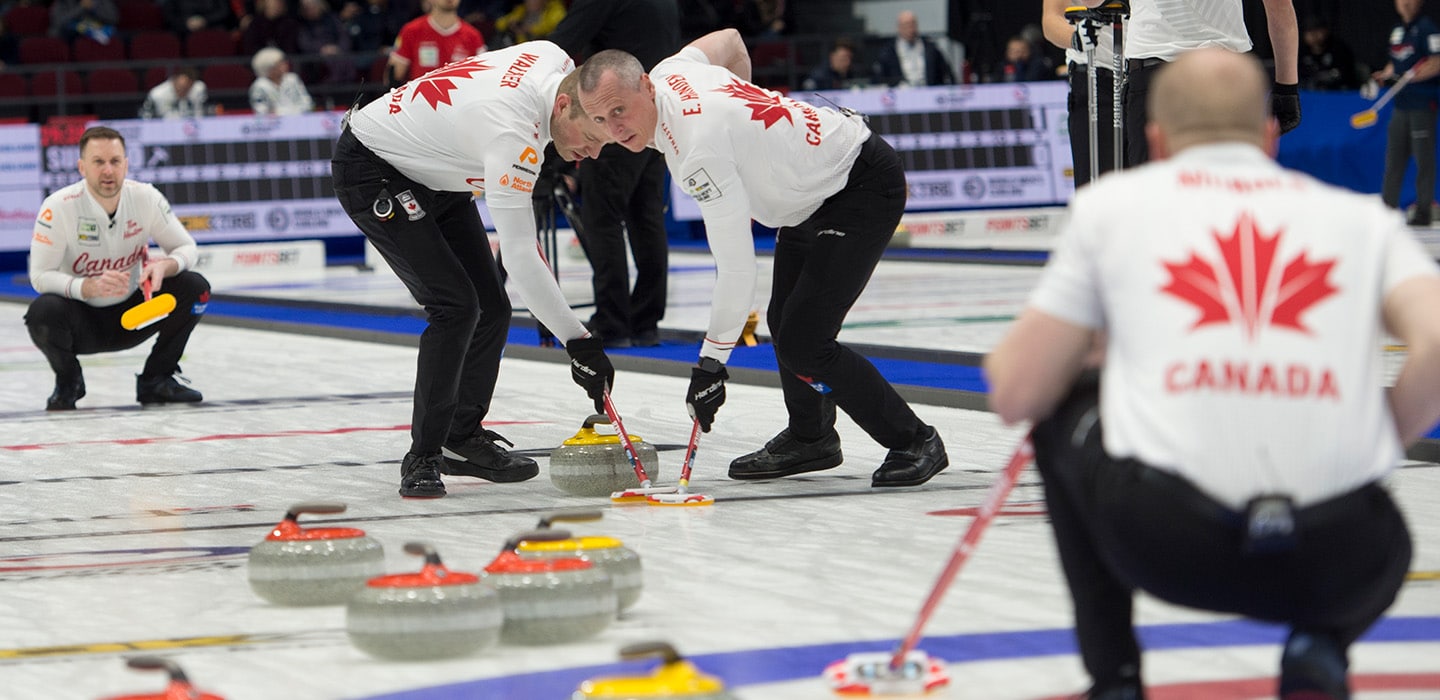 Team Canada fights its way back near top of the standings at world men's
Much like a fighter who took a first-round punch and went down to the canvas, Team Canada got back up, cleared the cobwebs, and started throwing haymakers at the 2023 BKT Tires & OK Tire World Men's Curling Championship at TD Place in Ottawa.
Team Canada, which dropped its opener Saturday to Team Switzerland, has come back punching, winning six of its next seven rounds to climb back into the discussion of which team will wear the world heavyweight curling belt this year.
The latest to receive a loss from the Canadians were the curlers wearing Team United States uniforms. The Canadians, playing their second game of the day, defeated the Americans, skipped by John Shuster, 9-6 Wednesday evening and improve to 6-2. Team Canada is moving within striking distance of the leaders in the 13-team round-robin.
Skip Bruce Mouat's Team Scotland (6-2) stayed abreast of the Canadians with a 9-3 win over Team South Korea (1-8) skipped by Byeongjin Jeong. The Scots hit South Korea with a five-spot in the third end en route to the victory.
The top six teams qualify for the playoff round, with the top two receiving a bye while the remaining four play in the first round.
Gushue agreed it was one of his team's best performances this week … but.
"Got to clean some stuff up, some sloppiness," said Gushue. "When we play someone like Scotland or Sweden or some of the top teams that are playing well, we're going to get burned.
"Fortunately John's team isn't playing their best this week, and got some half-misses, and we got away with it."
Gushue, who is appearing in his fourth world championship has never lost to Shuster, the 2018 Olympic gold-medallist, on the international stage. He won twice at the 2022 Olympics (including the bronze-medal game) and again in 2006 when Gushue threw fourth stones for Canada and Shuster was lead for Pete Fenson. Then in 2017, the year Gushue won the world title, the Canadians defeated Shuster's Team U.S.A.
The loss was the death knell for the Americans (3-6) who fell in the well by losing their first three games and could never climb out.
The win was key for Gushue and his support lineup — vice-skip Mark Nichols, second E.J. Harnden, lead Geoff Walker, alternate Ryan Harnden, team coach Caleb Flaxey and national coach Jeff Stoughton. A loss would have put a serious crimp in their effort to clinch a top-two spot, especially with games looming against two tough teams — Sweden and Scotland.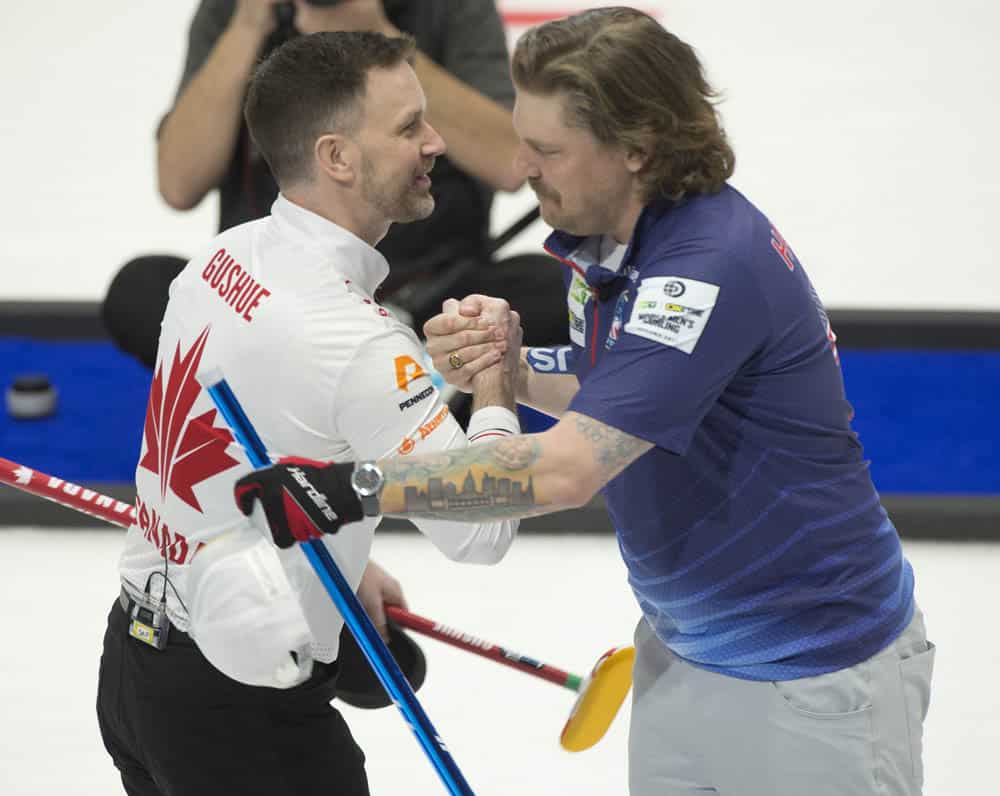 The Canadians didn't wait long to pounce. After a blanked first, Gushue worked a corner guard and a front stone to set up a count of three in the second end, helped by a sweeping error by the Americans.
Team Canada led 5-3 after at the break, but a long-range double for two by Gushue in the sixth widened the lead considerably.
From there the Canadians kept the Americans at bay until the finish line.
"Those (three-enders) are always great," said Gushue. "They free you up to take a risk or two. If you give up a two you're still in the lead."
The outright lead belongs to skip Yannick Schwaller's Team Switzerland which cruised to a 7-5 win over Team New Zealand, skipped by Anton Hood. The Swiss have an 8-1 record, one win better than both teams Sweden and Norway at 7-1.
The Norwegians, skipped by Magnus Ramsfjell, had the bye while the Swedes climbed up to join them in second place with a 10-3 victory over Team Czech Republic, skipped by Lukas Klima.
Team Sweden, skipped by Niklas Edin, is defending its title in Ottawa and Edin is attempting to win an unprecedented seventh world championship.
Gushue said he's going to need some help over the next two days.
"As I've said all week, we want to get to that one-two," he said. "It's looking less and less likely with Switzerland kinda running away, and Norway, and they've beaten us. It's out of our hands now."
Teams Japan and Italy, which enjoyed the evening bye, are tied for sixth place with 5-3 records and still alive for a playoff spot.
The Canadians have two more games on the docket Thursday, including a matchup against Team Scotland in the evening.
The 2023 BKT Tires & OK Tire World Men's Curling Championship continues Thursday with draws at 9 a.m., 2 p.m. and 7 p.m. (all times ET).
Live scoring, standings and statistics for the 2023 BKT Tires & OK Tire World Men's Curling Championship are available by CLICKING HERE.
TSN and RDS will provide coverage of the 2023 BKT Tires & OK Tire World Men's Curling Championship. CLICK HERE for the complete schedule.
For ticket information for the 2023 BKT Tires & OK Tire World Men's Curling Championship, go to www.curling.ca/2023worldmen/tickets/
This story will be available in French as soon as possible at www.curling.ca/2023worldmen/nouvelles/?lang=fr