HEAT CHECK!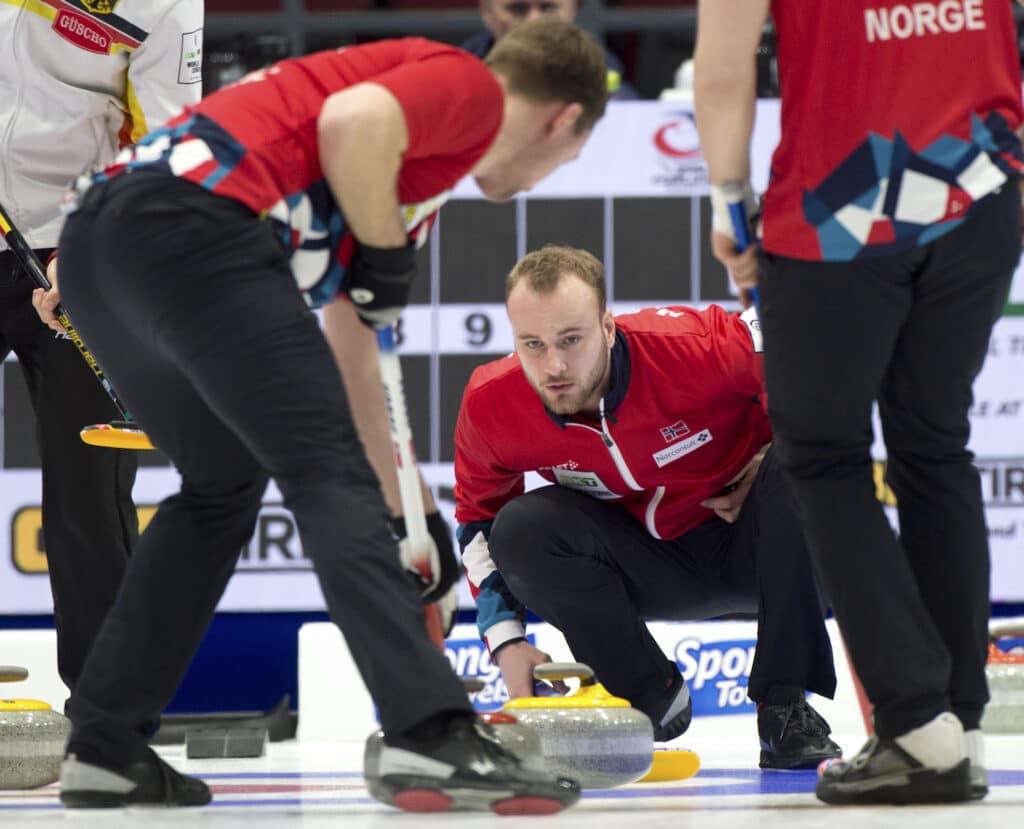 Norway gets hot as cold spell freezes Ottawa
Persisting and freezing rain wouldn't be particularly unusual for a bonspiel at this time of year; that is, if teams were playing at Trondheim Curlingklubb in Norway.
And while the icy conditions continued to create chaos for commuting Ottawans, it was business as usual for Magnus Ramsfjell's team from Norway in Draw 13 of the 2023 BKT Tires & OK Tire World Men's Curling Championship at TD Place in Ottawa.
The Norwegians, whose team consists of Ramsfjell, third Martin Sesaker, second Bendik Ramsfjell, lead-rock thrower and vice-skip Gaute Nepstad, alternate Wilhelm Naess, and coach Thomas Lovold, reign supreme in the standings alongside Switzerland at 7-1 after winning a 5-3 decision Wednesday afternoon over Sixten Totzek's German team (2-6).
Ramsfjell joked about feeling right at home with the slushy weather in Ottawa, but stayed humble about his team's success up to this point in the competition.
"Yeah, it's just like home, y'know?" laughed Ramsfjell. "I think we're just having fun, honestly. We've loosened up, we're playing well and it's hard not to enjoy yourself when it all comes together like that."
During the 10th end of Wednesday morning's 8-7 nail-biting win against Niklas Edin's team from Sweden, Ramsfjell had the best seat in the house to a seemingly impossible shot from Edin that sent a shock wave across the curling world. But Ramsfjell didn't let it rattle him.
"What's the saying? 'God giveth and God taketh?'
"Situations like that can go both ways, because he made a great shot there but threw a heavy draw the end prior. I think it was good that we got the measure because we got to pump each other up and basically get prepared for that extra end."
In what could prove to be a costly fifth loss for the Americans, skipped by John Shuster, Joel Retornaz's hot-and-cold Italian team (5-3) showed every ounce of its potential horsepower when firing all cylinders in an 11-4 win against the United States.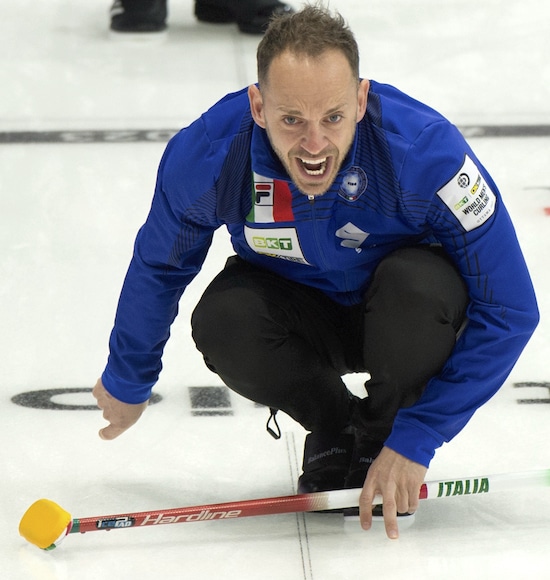 The loss drops the United States to 3-5, and in desperate times if it wants any shot at keeping a playoff dream alive.
Team Japan, skipped by Riku Yanagisawa, is glued in a tie for sixth place with Italy at 5-3, after navigating past Lukas Klima's team from the Czech Republic (3-5) in a 9-3 victory.
Yannick Schwaller's surging Swiss dynamo (7-1) beat Turkey, skipped by Ugurcan Karagoz, 8-2, as Turkey (0-8) continues the search for its elusive first-ever win world men's championship.
Switzerland and Norway are deadlocked for first place. Sweden lurks closely in the shadows at second (6-1) but has a game in hand on the top two, as Edin chases an unprecedented seventh world championship title.
Brad Gushue's Canadian team from the RE/MAX Centre/St. John's Curling Club, in Newfoundland & Labrador remains tied for fourth overall with Scotland, skipped by Bruce Mouat, at 5-2.
Canada waits in anticipation of its North American rivalry matchup Wednesday night versus the United States.
Gushue is a perfect 3-0 when he's been toe-to-toe with Shuster on the international stage. Their only meeting at worlds was in 2017, when Canada won its round-robin game over the U.S. in commanding fashion, en route to Gushue's first world title.
The top six teams qualify for the playoff round, with the top two receiving a bye while the remaining four play in the first round. The medal games will be played Sunday.
The 2023 BKT Tires & OK Tire World Men's Curling Championship continues Wednesday with the evening draw at 7 p.m. (all times ET).
Live scoring, standings and statistics for the 2023 BKT Tires & OK Tire World Men's Curling Championship are available by CLICKING HERE.
TSN and RDS will provide coverage of the 2023 BKT Tires & OK Tire World Men's Curling Championship. CLICK HERE for the complete schedule.
For ticket information for the 2023 BKT Tires & OK Tire World Men's Curling Championship, go to www.curling.ca/2023worldmen/tickets/
This story will be available in French as soon as possible at www.curling.ca/2023worldmen/nouvelles/?lang=fr