One step closer!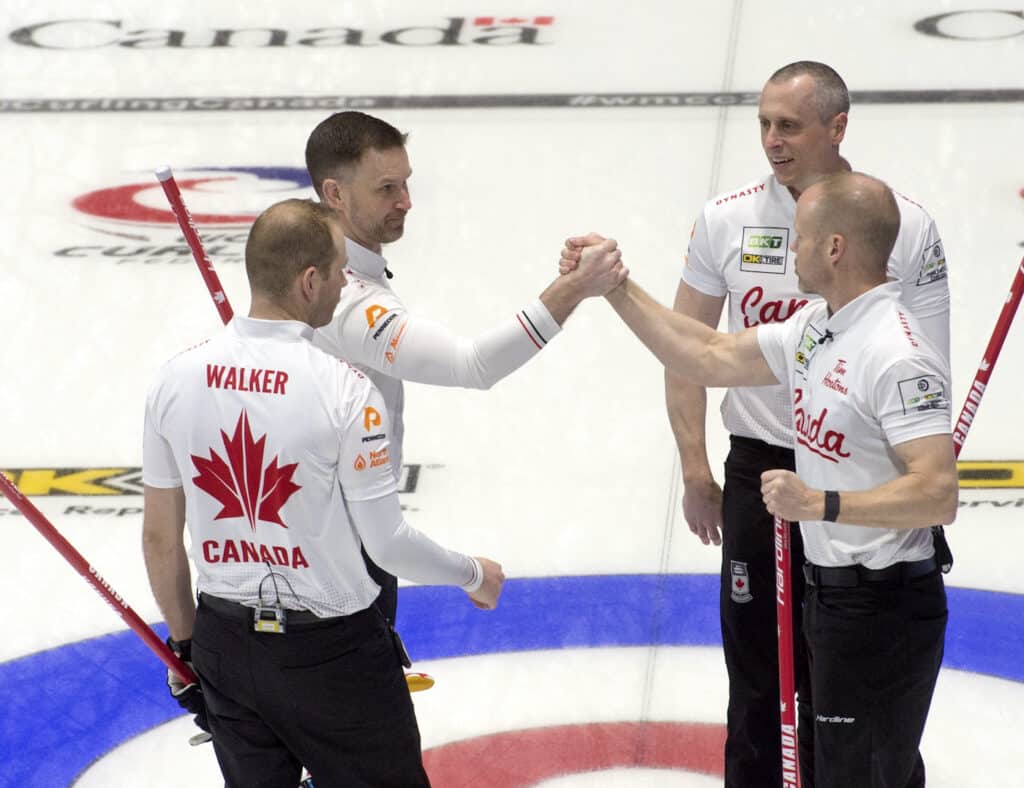 Team Canada closing in on playoff spot at world event
Skip Brad Gushue has his Team Canada well-positioned in the standings at the 2023 BKT Tires & OK Tire World Men's Curling Championship at TD Place in Ottawa.
Now the task is to finish with a flourish and qualify for the playoffs.
That final push begins tonight when the Canadians square off against Team Scotland in a huge game that will likely determine if either team can finish in the coveted top two placing in the 13-team round-robin.
"It was pretty solid," said Gushue, who improved his team's record to 7-2 with a well-earned 9-4 victory Thursday morning over Team Germany (2-7) to jump into fourth place alone behind the three front-runners. "We didn't push too hard to get a big end out there. We gots some twos and we were happy with that. That was one of the few games where we didn't get in a whole lot of trouble and have to bail ourselves out."
Team Scotland, skipped by Bruce Mouat, had the morning bye and remains at 6-2 but could move into a tie with the Canadians with a win in the afternoon against Team Norway.
That will be a tough assignment. The Norwegians, skipped by Magnus Ramsfjell, have been strong all week and moved into a three-way tie for first place with teams Sweden and Switzerland, all with 8-1 records, after dumping skip Riku Yanagisawa's Team Japan 7-4 Thursday morning. Defending champions from Sweden, skipped by Niklas Edin, cruised to an 8-2 win over skip Joel Retornaz and Team Italy (5-4).
Skip Yannick Schwaller's Team Switzerland had the morning bye.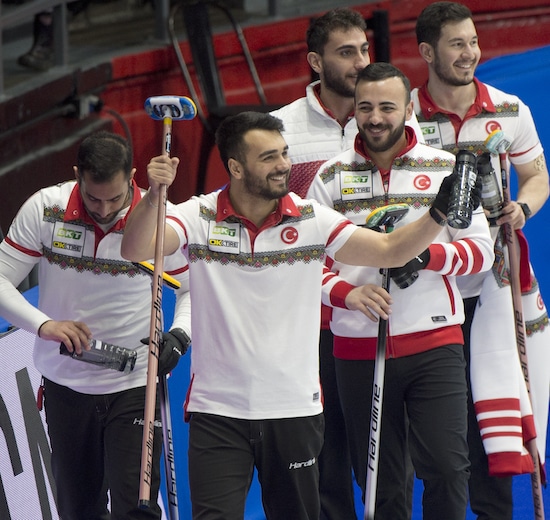 The morning draw was highlighted by the first-ever win by a Turkish men's team at a world championship. Team Turkey (1-8), skipped by Ugurcan Karagoz, celebrated mightily after scoring an 8-5 win over Team New Zealand (1-8), skipped by Anton Hood.
No matter what happens to the Scots in the afternoon draw, their game in the evening against Canada will be highly anticipated. It will be a battle of different styles, and a throwback to the origins of world curling when Canadians and Scots would play in the Scotch Cup (1959-60).
Nichols said he likes his team's position going into the game.
"You can't control what's going on on the other sheets," he said. "We still have two of the top teams to play, so we're in control of our own destiny. If we make shots like we did today, we're going to give ourselves a good chance."
Gushue says the afternoon bye will be good for his team but the Scots get something out of playing in the afternoon.
"We saw frost out there in the morning draw which was a little concerning," he said. "That's likely going to get worse this afternoon, and worse again tonight. They're going to get a chance to see that (ice) progression and we have to jump right into it. That's a disadvantage for us, but certainly the chance to get a couple hours of rest and play tonight is going to be helpful."
The top six teams qualify for the playoff round, with the top two receiving a bye while the remaining four play in the first round.
The Canadians, who have been picking up steam after a slow start to the world event, were on point against the Germans, skipped by Sixten Totzek, who came in with high hopes but just haven't had it this week.
Team Canada opened with a deuce, and usually when the Canadians have the lead, they are loathe to give it away.
They also scored two points in the fourth and sixth to go ahead 6-1 and shut the door after that. The deuce in the sixth end was a doozie as Gushue needed to make a up-tempo flat double in the button area.
The Canadians have two more games scheduled Friday as the round robin comes to a close, including a huge matchup against Team Sweden in the evening.
The 2023 BKT Tires & OK Tire World Men's Curling Championship continues Thursday with draws at 2 p.m. and 7 p.m. (all times ET).
Live scoring, standings and statistics for the 2023 BKT Tires & OK Tire World Men's Curling Championship are available by CLICKING HERE.
TSN and RDS will provide coverage of the 2023 BKT Tires & OK Tire World Men's Curling Championship. CLICK HERE for the complete schedule.
For ticket information for the 2023 BKT Tires & OK Tire World Men's Curling Championship, go to www.curling.ca/2023worldmen/tickets/
This story will be available in French as soon as possible at www.curling.ca/2023worldmen/nouvelles/?lang=fr