Down to the wire!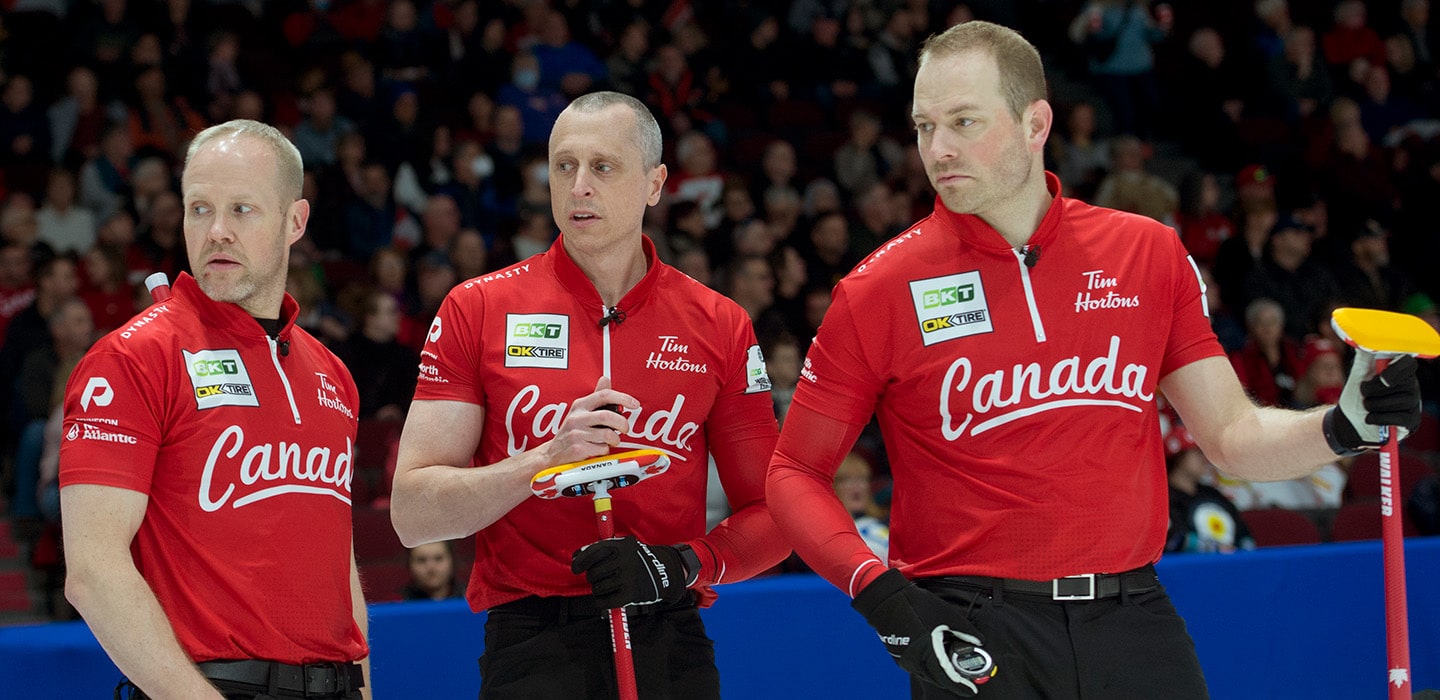 Team Canada solidifies its standing with a win over Turkey
A playoff spot already secured, Team Canada tried to work out the kinks Good Friday morning against Team Turkey at the 2023 BKT Tires & OK Tire World Men's Curling Championship in Ottawa.
Those kinks showed up unexpectedly Thursday night in a rather tepid performance in a high-stakes game against Team Scotland.
The Turkish game didn't help matters much. Team Canada, skipped by Brad Gushue and supported by vice-skip Mark Nichols, second E.J. Harnden, lead Geoff Walker, alternate Ryan Harnden, team coach Caleb Flaxey and national coach Jeff Stoughton, added to its win total with a 9-5 victory at TD Place, but the performance wasn't Grade A.
The win lifted Team Canada, from the RE/MAX Centre, St. John's Curling Club, to an 8-3 record and solidly in fifth place. The Canucks finish off their 12-game schedule this evening against defending champions Team Sweden (9-1), skipped by Niklas Edin.
The top six teams make the weekend playoffs, with the top two getting a first-round bye.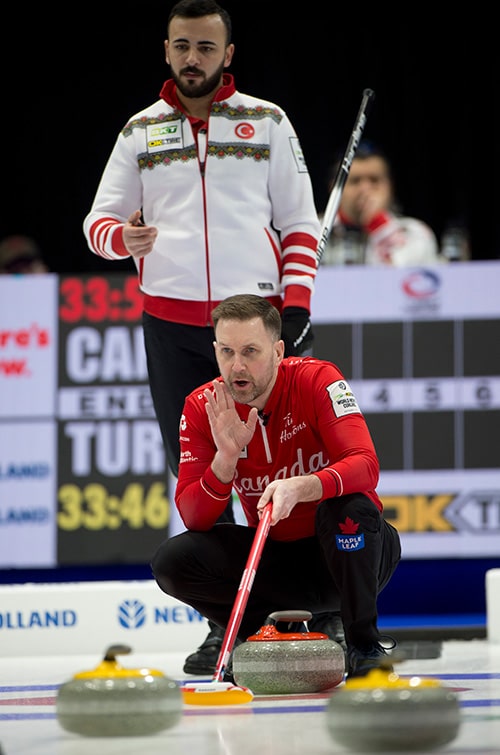 Gushue wasn't satisfied his team had corrected enough errors after the win over skip Ugurcan Karagoz's Team Turkey (2-9).
"To be honest, not the bounceback I was hoping for this morning," said Gushue, who won't find out until after the round-robin ends who will be his team's first-round playoff opponent. "I think it was a win. I wouldn't say it was solid. There were still quite a few ends we were behind."
Team Canada got out of the gate quickly as Gushue made two high-quality shots to score an opening deuce.
It wasn't until the fifth end that the Canadians could pull away. Karagoz made a couple of half-shots with his stones, leaving the door open for Gushue to hit and stick for four and a 7-3 lead.
Gushue is looking at tonight's game against the Swedes two ways.
"We'll have to see how much tonight matters, whether we're playing for hammer or not," he said. Teams with the better record in playoff games start with the last-stone advantage. "If we're not, then it's an opportunity for us to gear up for the weekend on some of the technical issues we're seeing out there.
"But if we're playing for hammer, then it's 100 per cent all in.
"Even with the things we're seeing, we're still capable of winning. Just have to make our shots and zero in on those big misses we're seeing in the last two games."
There was plenty of drama attached to games on adjoining sheets in the morning. Among the biggest was the battle between Team Italy and Team Japan, fighting like dogs over an old shoe for the sixth and final playoff spot.
Team Italy, skipped by Joel Retornaz, closed the door on skip Riku Yanagisawa's Team Japan with a 12-5 win. The Italians, who opened with two losses, improved to 7-4 while the Japanese fell to 5-6 and into next year territory.
Meanwhile, Team Norway (9-2), skipped by Magnus Ramsfjell, moved into third place alone with an 8-6 victory over Lukas Klima's Team Czech Republic (3-8) to stay right behind the leaders.
Skip Yannick Schwaller's Team Switzerland (10-1) sits atop the table, followed closely by the Swedes. Both teams had the morning bye but collide in a key game in the afternoon draw.
In the only other game this morning, Team U.S.A. (4-7), skipped by John Shuster, posted a 12-4 win over skip Sixten Totzek's Team Germany (3-8).
Team Scotland (8-2), which thumped Team Canada 6-3 Thursday night, finishes off its schedule on the final day of round-robin play with games against the Czechs and Team New Zealand (1-9).
The 2023 BKT Tires & OK Tire World Men's Curling Championship continues Friday with draws at 2 p.m. and 7 p.m. (all times ET).
Live scoring, standings and statistics for the 2023 BKT Tires & OK Tire World Men's Curling Championship are available by CLICKING HERE.
TSN and RDS will provide coverage of the 2023 BKT Tires & OK Tire World Men's Curling Championship. CLICK HERE for the complete schedule.
For ticket information for the 2023 BKT Tires & OK Tire World Men's Curling Championship, go to www.curling.ca/2023worldmen/tickets/
This story will be available in French as soon as possible at www.curling.ca/2023worldmen/nouvelles/?lang=fr