It's on to the semis!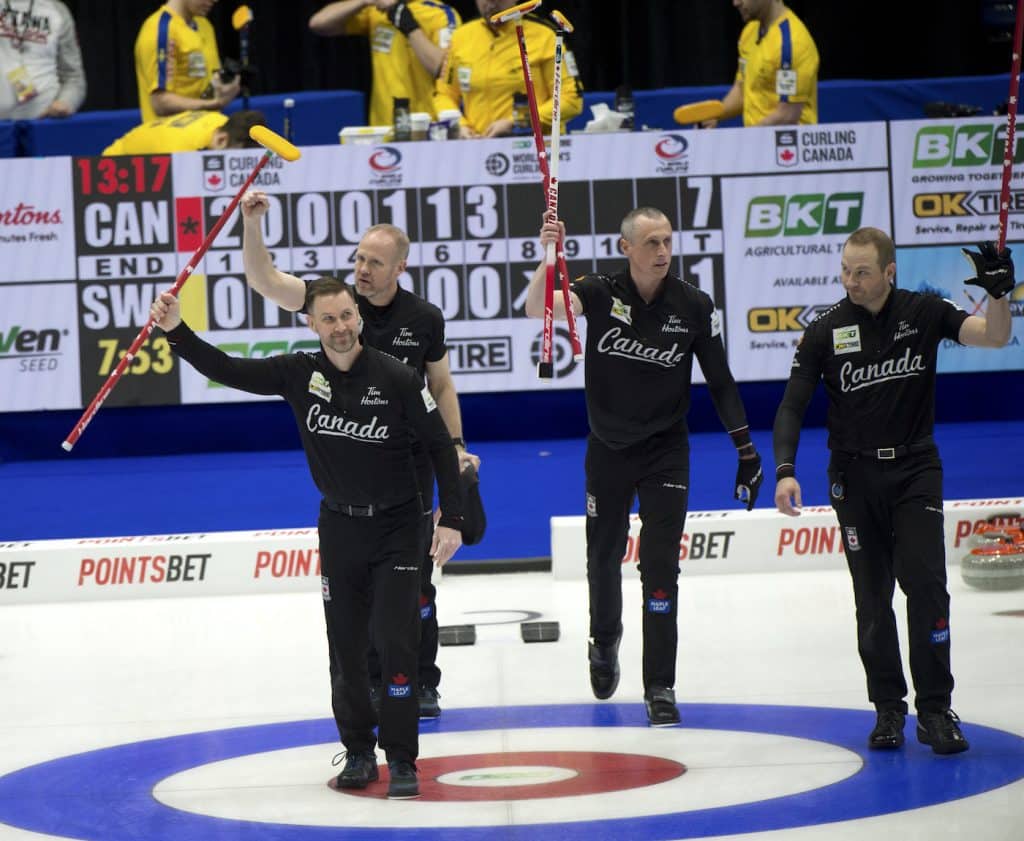 Canada bounces defending champs in elimination game
Skip Brad Gushue and Team Canada gave a national TV audience and fans at the TD Place in Ottawa a roller-coaster ride at the 2023 BKT Tires & OK Tire World Men's Curling Championship this week.
Saturday the trajectory was up.
In a huge game that started with high tension and a raucous crowd cheering their every big shot, the Canadians vanquished old nemesis Team Sweden 9-1 Saturday afternoon in one of two playoff qualification games.
The victory advances the Canadian team from the RE/MAX Centre/St. John's Curling Club into Saturday night's 7 p.m. (all times Eastern) semifinal against Team Switzerland. The Swiss, skipped by Yannick Schwaller, finished first in the round-robin with an 11-1 record and earned the afternoon bye.
"That was a little more lopsided than we anticipated," said Gushue, supported by third Mark Nichols, second E.J. Harnden, lead Geoff Walker, alternate Ryan Harnden, team coach Caleb Flaxey and national coach Jeff Stoughton. "Obviously the crowd energy continued today."
It was the second win in two days for Team Canada over skip Niklas Edin's Swedes. They scored an impressive 9-5 win the night before in the final round-robin game.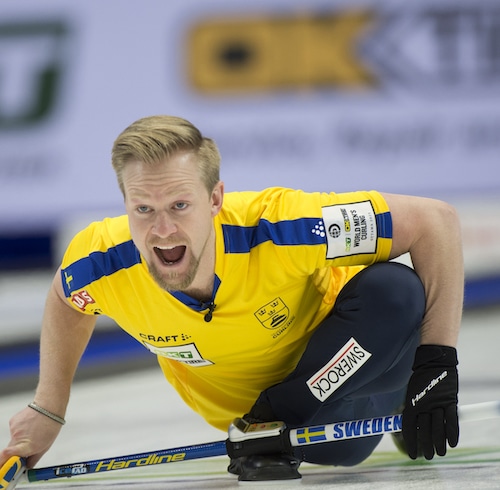 The Canadians had three big things going for them Saturday — the crowd, Gushue's sharpness and the doubles-making ability of third Mark Nichols, which had the TD Centre throng rocking through the eight ends Canada took to complete the win. The Canadians were energized by the fans' positivity and noise. Gushue was solid as a rock and Nichols cleaned up any potential problems with his ability to blast out enemy rocks.
"We were making some more shots," said Gushue. "They (Sweden) felt a bit of urgency to push a little harder than they needed to and created a few opportunities for us."
The Canadians got the start they wanted with the hammer, getting a break in the opening end when Edin jammed a straight-back double takeout, allowing Gushue to draw for two.
The Swedes were forced to take one in the second, and after two straight blanks, Gushue made his first mistake when he nosed a blank attempt.
Edin returned the favour in the sixth when he clipped a front stone going after the Canadian shot biting the four-foot, corner frozen to a Swedish stone. There was the potential for three points if made, but all of that went out the window and left Canada with a steal of one.
"That was the only end I felt we were struggling," said Gushue. "I think that's what forced the call in seven."
The game was decided in the seventh end when the Swedes, facing three Canadian stones, decided a draw for one and resorted to a raise triple takeout in a desperate attempt for two. Edin missed and his amazing run on the world stage was all but over.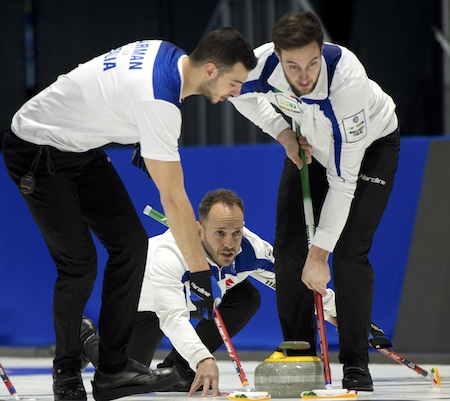 "We felt that was the only thing that could change the momentum enough to win this game," explained Edin. "They (Canada) played really solidly, for sure. They deserved to win this time."
The Swedes, as expected, were disappointed by the loss. Edin, vice-skip Oskar Eriksson, second Rasmus Wranå, lead Christoffer Sundgren, alternate Daniel Magnusson and coach Fredrik Lindberg, were riding high after going 9-1 over the first 10 games, with stretches where they dazzled.
Then it all came undone with two straight losses to finish their round-robin schedule, and then the playoff loss to Team Canada.
"We can't be too disappointed. We've had a few really good years," said Edin, who was attempting to win a record fifth straight world title, and seventh in total. "We played pretty well this week but the Switzerland game (on Friday morning), where we lost out of nowhere, kind of turned the tables a little bit.
"Rough last third of this event but I feel it could have been way different."
In the other qualification game, Team Italy, skipped by Joel Retornaz, continued on a heater, defeating skip Magnus Ramsfjell 8-4. The Italians will take on skip Bruce Mouat's Team Scotland in Saturday night's other semifinal. The Italians lost their first two games of the competition, but have lost only twice since.
The semifinal winners will play for gold Sunday at 4 p.m., while the losers play for bronze at 11 a.m.
Live scoring, standings and statistics for the 2023 BKT Tires & OK Tire World Men's Curling Championship are available by CLICKING HERE.
TSN and RDS will provide coverage of the 2023 BKT Tires & OK Tire World Men's Curling Championship. CLICK HERE for the complete schedule.
For ticket information for the 2023 BKT Tires & OK Tire World Men's Curling Championship, go to www.curling.ca/2023worldmen/tickets/
This story will be available in French as soon as possible at www.curling.ca/2023worldmen/nouvelles/?lang=fr