Curling legend passes away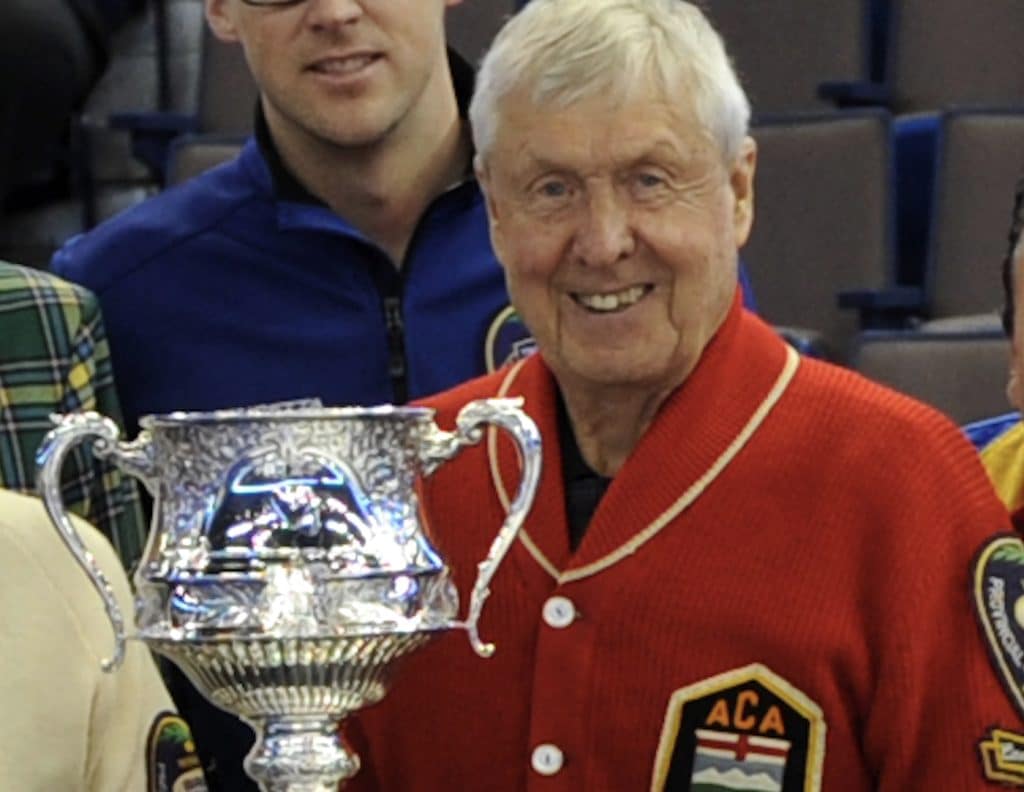 Former Brier champ and sliding trendsetter Matt Baldwin dies at 96
Sports has always had its innovators. They see something that others do not.
Matt Baldwin saw something others did not in curling. Thanks to Baldwin, the game was turned on its ear with his long slide, popularized in the 1950s. He also introduced some colour into the game, an aspect that was sorely missing.
Did Baldwin invent the long slide? No. But he certainly was the trendsetter, bringing it to the forefront at the Brier for all to see.
Baldwin not only revolutionized the game with the long slide, he was also one of the Canadian game's great players and characters, and his death April 8 at age 96 was felt by the curling community across the country.
Baldwin did for curling what Arnold Palmer did for golf: he created a sports boom in many ways. He changed curling's image of an old man's game into something more excitable/watchable, and laid the groundwork for what we have today as a first-class spectator sport.
Baldwin was born and raised in Blucher, Sask., just outside of Saskatoon. He claimed he was 'conscripted' to play at a young age because, with most of the adult males off fighting World War II, curlers were in short supply.
He fell in love with the game and its environment almost immediately.
Education and work eventually took him to Alberta where he brought his enthusiasm for the sport with him, and the rest, as they say, is history.
Baldwin made his name in curling and the petroleum business in Edmonton. He burst on the scene in 1954 at age 27 by winning the Brier in his own home town's Edmonton Gardens with such precision and flair that older curlers weren't sure what to make of him. He was tall, slim, well dressed, with an impish grin that told you he was up for some fun on and off the ice.
And that slide! He wowed the cheering Edmonton crowd by sliding two-thirds down the sheet of ice when throwing his final rock of the Brier, a move that was legal under the curling rules at the time.
His breakout year in 1954 was exceptional. Besides becoming the youngest skip to win the Brier, he won two other prestigious events — the Alberta Curling Association Bonspiel Grand Aggregate, and the Edmonton ACT car bonspiel — all within the space of two months.
Curling was changed forever.
He went on to play in four more Briers, winning in 1957 and 1958, and along the way made friends everywhere he went.
Warren Hansen was just a young boy when he saw Baldwin slide at the '54 Brier and was enthralled.
"Ken Watson started the idea but Matt Baldwin took it to the next step," said Hansen, who went on to win a Brier in 1974 as second for Hec Gervais and eventually worked for Curling Canada as director of event operations, among other roles over the years. "Nobody had ever done it before 3,000 fans.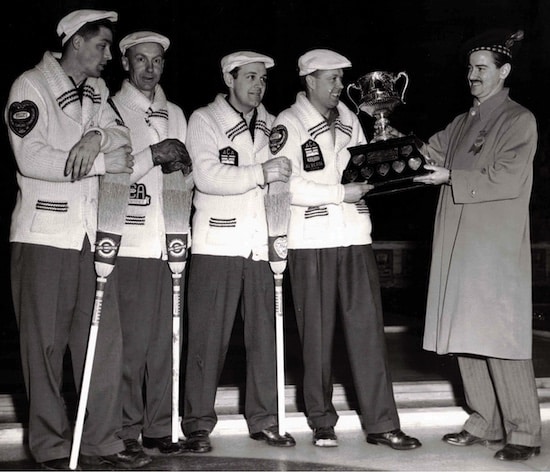 "It had such a profound impact on the sport, particularly in Edmonton. Here you had a guy who was 27 years old who won the Brier. At that point he was decades younger than people who were skipping teams in the Brier. It was such a change from where the sport was. It took the game in a new direction.
"Following that Brier, in a matter of a few years, several more curling clubs were built in Edmonton."
Hansen said there was never a crowd that Baldwin didn't like.
"He was very flamboyant. Matt was a showman," he said. "He played the crowd. In the '60s he was at the point where he won three Briers and half the time he was showboating with the shots he'd try."
Baldwin loved to party. Many agree he was just about the most fun-loving curler in history.
"I figured curling was a helluva sport," he once recalled. "Four guys can get together and drink, play cards and have a great time. I figured it was too good for just the old guys."
He also loved a prank. A storm turned out the lights in the middle of the games at the 1971 Quebec City Brier, and lo and behold, after they came back on, all eight Alberta rocks were in the four-foot.
Baldwin was behind it, of course, rearranging the stones in the darkness.
He would also be known for using a chair to sit down on between shots if he was feeling the effects of partying the night before.
Hansen believes that Baldwin could have won more than three Briers if he put some of the fun stuff aside.
"That was one of the things that killed him in the '60s," he said. "He became quite a party animal. You could tell in the way he played at times. He cared, but he didn't care enough."
Baldwin was exceptionally successful off the ice. He did well financially with the oil patch company he founded, and is recognized as a pioneer in the oil-well servicing industry. At one point he was president of the Canadian Football League's Edmonton Eskimos (now Elks) board of directors.
Baldwin has been honoured countless of times, and is in the Edmonton, Alberta and Canadian Sports halls of fame as well as the Canadian Curling Hall of Fame.
He also received the Order of Canada for his 'philanthropy and entrepreneurship and for his prowess as a champion curling skip.'
He is survived by his wife of 72 years Betty-Jean, daughters Sally and Leslie, five grandchildren, and four great grandchildren.