Two more wins!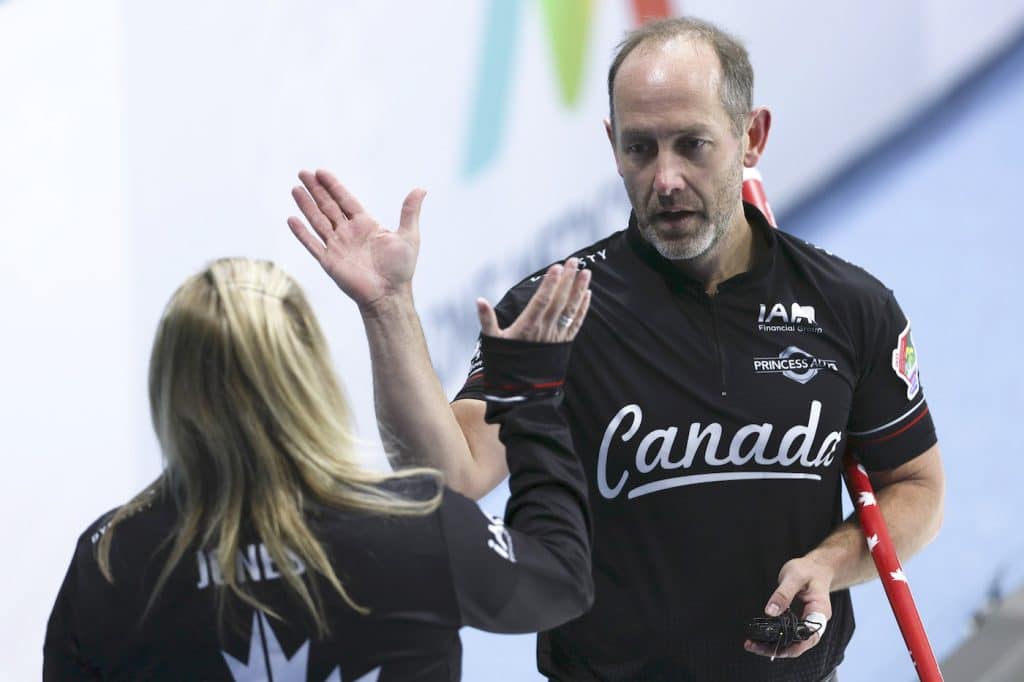 Jones, Laing sweep to a pair of Monday victories at World Mixed Doubles
Jennifer Jones and Brent Laing have proven themselves as more than able to handle a little adversity three days into the 2023 World Mixed Doubles Curling Championship in Gangneung, South Korea.
The reigning Canadian mixed doubles champions from Horseshoe Valley, Ont., had a disappointing Sunday at the Gangneung Curling Centre, losing to Estonia, but rallied back emphatically with two solid victories on Monday over medal-hopeful teams — 8-4 over Italy's Stefania Constantini and Sebastiano Arman, and then 11-6 over Australia's Tahli Gill and Dean Hewitt.
With the wins, Jones and Laing improved to 4-1 and part of a three-way tie for top spot in their 10-team round-robin pool with Estonia's Marie Kaldvee and Harri Lill, and Scotland's Jen Dodds and Bruce Mouat.
"Two big wins," said Laing. "I mean, two teams that were at the top or near the top of the standings and coming in as favourites, so any time you can win both games in a day, it's been a great day."
Against the Aussies, coached by Edmontonians Laura Walker and Jessica Amundson, Canada controlled almost the entire game, and were in cruise control after a steal of two in the fifth end to take a 6-2 lead.
But in the sixth, as can happen in the mixed doubles discipline, the game suddenly turned around. Laing missed a shot when his stone caught some debris, and then Hewitt made a wonderful double takeout, and Gill finished off a stunning four-ender with a draw to tie the game.
But Canada fired back immediately with five in the seventh end to prompt handshakes from Australia.
"We played well this game and just had one bad end but we put together a really good end after," said Jones, before adding with a laugh, "If you're going to give up four, taking five (in the next end) is a good way to do it."
"The good news was that it wasn't the first time we've done that," added Laing. "We've been there before. It sucked, but it was nice to bounce back."
In the early game, Canada had to withstand a slow start that saw Italy steal single points in the first two ends, and it could have been worse had Jones not made a marvellous double-takeout with her last rock of the second end to cut Italy down to one.
"Really big shot," said Laing. "Huge shot. It's not always about getting points; sometimes it's about limiting points."
An end earlier, Jones had a draw for two to open the game but was heavy and narrow and ended up bumping an Italian stone into shot position for the steal.
But Canada would manufacture deuces, essentially out of thin air, in the third and fifth ends to take back control of the game, and then used a power play for a seventh-end deuce, leaving Italy down two coming home. Canada played a perfect eighth to finish off with a steal of two.
"We did show some character," said Jones. "After I botched my first shot or my last shot in the first end, I was really disappointed and Brent was great. We just had to keep plugging away. We made some really good shots coming home to win that game."
"The first two ends were disappointing, we missed a bunch of shots," added Laing. "But Jen is not known to quit. I don't think either of us is, and we'll never do that. We hung around and tried to give ourselves a chance to win and here we are standing with a big 'W'. It feels pretty good."
Jones and Laing have a single game on Tuesday, at 2 p.m. (1 a.m. ET) against the Czech Republic's Julie Zelingrova and Vit Chabicovsky (2-3).
"We're feeling pretty good," said Jones. "I'd like to kind of play just that little bit better; we just want to keep getting better as the week goes on. But all in all, 4-1 after today is a pretty record, and we're happy with it."
The World Curling Federation's live-streaming platform The Curling Channel will be the only to watch games from the World Mixed Doubles Championship, and all sheets will be shown. More information is available by CLICKING HERE.
For the latest scores, draw and list of teams, visit the event website.
The French version of this story will be posted as soon as possible at www.curling.ca/?lang=fr.