Playing for bronze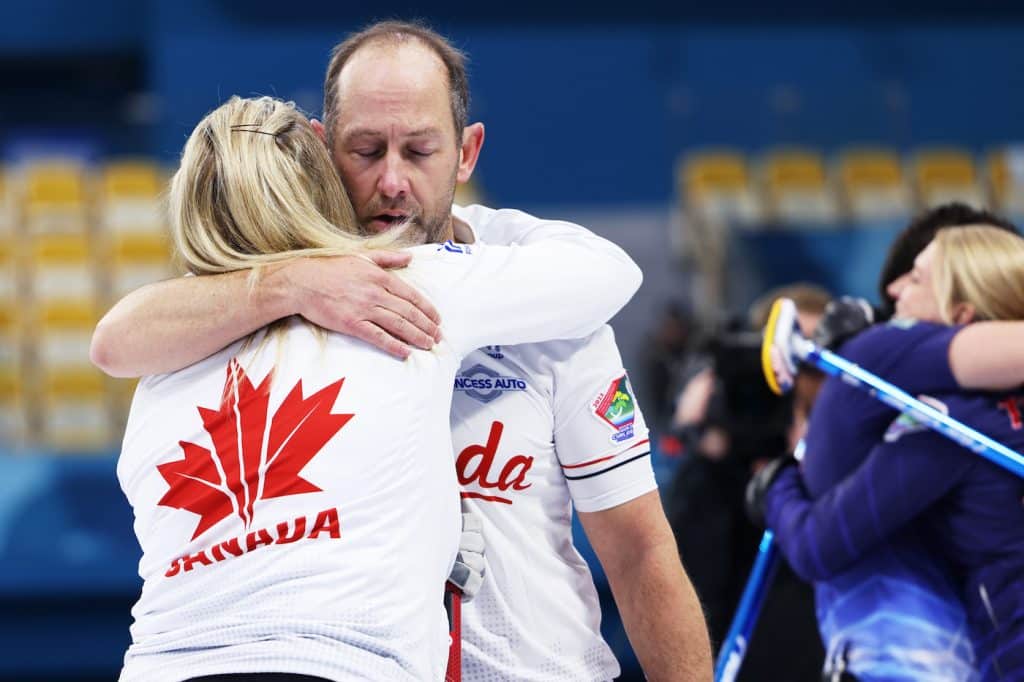 Jones and Laing fall to United States in World Mixed Doubles semifinal
Stolen points made all of the difference in propelling Cory Thiesse and Korey Dropkin of the United States to a 6-2 win over Canada's Jennifer Jones and Brent Laing in Friday's semifinal at the 2023 World Mixed Doubles Curling Championship.
The U.S. stole crucial single points in the first and sixth ends, and then a crushing two in the seventh, to end Canada's gold-medal hopes at the Gangneung Curling Centre.
As a result, Jones and Laing, from Horseshoe Valley, Ont., along with team coach Glenn Howard and national coach Scott Pfeifer, will take on Norway's Martine Roenning and Mathias Braenden in the bronze-medal game Saturday at 10 a.m. (9 p.m. Friday ET).
"They played very, very well," said Jones of Team U.S.A. "We didn't put as much pressure as we would have liked. And you know, it just started off with that steal. If I make that draw in the first end, maybe it changes the game a bit. But we're still really happy with our week, and we had fun out there. We'll see what we can do tomorrow morning."
The U.S. — which like Canada has never won a gold medal in the World Mixed Doubles — curled lights out on Friday, shooting a combined 92 per cent. In round-robin play, teams were better than 90 per cent just four times out of 180 recorded team scores over the past week.
The single-point steals were both the result of draws from Jones that came up just heavy.
After the first-end steal, the teams would trade singles the next four ends in a low-scoring affair until the sixth end when Jones again was heavy on her draw.
And in the seventh, Jones was trying a risky, last-gasp double-takeout to score a pair, but she wrecked on a guard to give the U.S. the stolen deuce.
"We played much better in the second half of the game, but all the credit to (Thiesse and Dropkin)," said Laing. "I don't think she missed a shot. I don't know what the stats say but she never really gave us an opening. The better team won, and unfortunately that wasn't us today."
The U.S. will play Japan's Chiaki Matsumura and Yasumasa Tanida for gold Saturday at 2 p.m. (1 a.m. ET). Japan shaded Norway 5-4 in the other semifinal with a stolen point in the eighth end.
Jones and Laing will be looking to win Canada's fifth medal at the World Mixed Doubles Championship since its inception in 2008.
"It is important," said Jones. "When you're here, you definitely want to be on the podium. We're going to try to get some rest and come up really sharp tomorrow."
The World Curling Federation's live-streaming platform The Curling Channel will be the only to watch games from the World Mixed Doubles Championship, and all sheets will be shown. More information is available by CLICKING HERE.
For the latest scores, draw and list of teams, visit the event website.
The French version of this story will be posted as soon as possible at www.curling.ca/?lang=fr