Early Scotties qualifiers!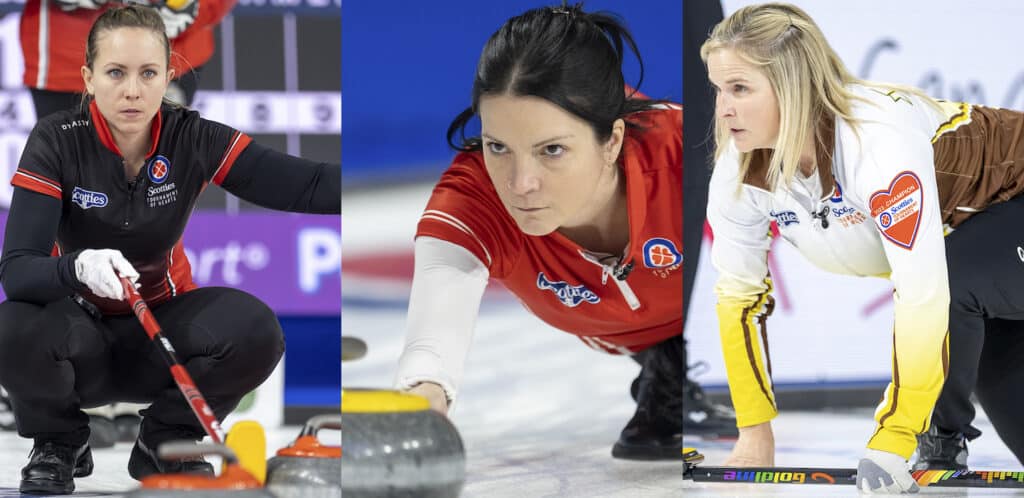 Teams Homan and Jones confirmed as 2024 Scotties pre-qualified teams
Three of the 18 teams that will play at the 2024 Scotties Tournament of Hearts next February in Calgary have been confirmed.
Four-time defending champions Team Kerri Einarson of Gimli, Man., clinched the first berth into the 2024 Scotties, set for Feb. 16-25 at the WinSport Event Centre in Calgary, by capturing the 2023 Scotties title earlier this year in Kamloops, B.C.
And today, Curling Canada confirmed that Team Rachel Homan of Ottawa and Team Jennifer Jones of Winnipeg will be part of the 2024 Scotties field as pre-qualified teams based on their 2022-23 Canadian Team Ranking System performance.
It will be the first time three teams have pre-qualified for the Scotties this far in advance of the event. The changes to the qualifying for the Scotties and Brier, as well as the Canadian Curling Trials, were announced in April.
Team Homan — the team is rounded out by vice-skip Tracy Fleury, second Emma Miskew and lead Sarah Wilkes — finished second in the CTRS this past season thanks to a pair of victories on the Pinty's Grand Slam circuit — the HearingLife Tour Challenge in Grande Prairie, Alta., and the Kioti Tractor Champions Cup in Regina — and posted a 50-17 record overall.
Team Jones — with third Karlee Burgess and front-enders Emily Zacharias and Lauren Lenentine — was third in the CTRS standings. Team Jones, representing Manitoba, captured the silver medal at the 2023 Scotties and also won the inaugural PointsBet Invitational last September in Fredericton, N.B. Team Jones finished the 2022-23 season with a 68-35 record.
There will be a fourth pre-qualified team for the 2024 Scotties in Calgary as the top non-qualified team on the 2023-24 CTRS standings at the conclusion of the provincial and territorial playdowns will earn a trip to Calgary.
Those four teams will compete with the 14 Member Association champions for the right to represent Canada at the 2024 World Women's Curling Championship March 16-24 in Sydney, N.S.
Ticket sales for the 2024 Scotties have been strong, particularly for the championship weekend, and fans will need to act quickly to nail down their preferred seats.
A variety of ticket packages are now available, including:
Full Event Package ($408-$444): A single ticket to every draw of the 2024 Scotties Tournament of Hearts.
Championship Weekend Package ($198-$228): A single ticket to every draw from Friday, Feb. 22, to Sunday, Feb. 24.
Opening Weekend Package ($108-$132): A single ticket to all draws from Friday, Feb. 15, to Sunday, Feb. 17.
Weekday Package ($60-$69): A single ticket to all three draws on either Monday, Tuesday, Wednesday, or Thursday.
All ticket packages are subject to standard facility and ticket service fees.
Tickets are available online through Ticketmaster at curling.ca/tickets. There is no on-site box office at WinSport before the event. All ticket inquiries should be sent to [email protected] or by phone at 587-885-0953.
Single-draw tickets will go on sale in October or November after television and draw schedules have been finalized.
Pre-qualified teams for the 2024 Brier, presented by AGI, next March in Regina will be announced next week.