Breaking barriers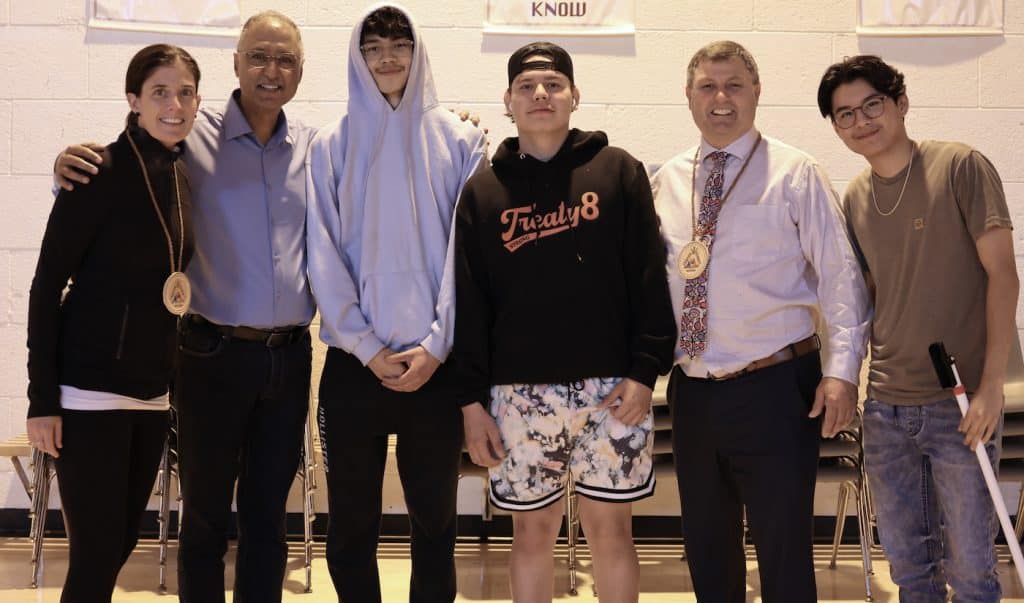 Indigenous youth enjoy Egg Farmers Rocks & Rings at Youth Tee Pee Summit
By Scott Cruickshank
Curling is a game that often measures success in high percentages, but, on this day, perfection was not the target.
At the 2023 Youth Tee Pee Summit — an annual three-day event in St. Albert, Alta., organized by the First Nations Health Consortium — kids and young adults had the chance to participate in a pilot project.
Offered Aug. 25 was an interactive schedule, featuring Egg Farmers Rocks & Rings, presented by Curling Canada FloorCurl; HEROS (Hockey Education Reaching Out Society); and NHL STREET.
Taking advantage of the free introduction to curling in the Poundmaker's Lodge gymnasium were 100 Indigenous youngsters.
And there is little doubt that curling — steeped in fun, health, and teamwork — made an impression on all of the newcomers. The aim, though, was not to immediately turn everyone into curling fanatics, but to showcase the game and its upside, to inspire young leaders to bring the off-ice version of the game to their communities where it can be enjoyed in schools, recreation centres, and even seniors homes.
"That's the hope. That's why we do lots of these opportunities," said Nolan Thiessen, Executive Director, Marketing and Fan Experience, for Curling Canada. "But it's not something where we say, 'OK, we're going to do this in front of a hundred kids, and a hundred kids are going to join a curling club.' You've got to be realistic.
"If we get two, three, four people who say, 'This was my first exposure to curling and now I want to try it,' well, that's a win."
Even more of a win? If two, three, four people say they want to take curling — in the form of FloorCurl — back to their communities. That's the goal.
Because this was not intended to be a one-and-done experience. First Nations Health Consortium is willing to purchase and ship all Rocks & Rings necessities — at no cost to the communities — to encourage and amplify the benefits of sport. But there is a catch.
"The sweat equity of running the program," said Rob Kerr, community outreach advisor for the First Nations Health Consortium. "We want youth leaders on the ground who will run it. We want rec directors or education directors to sign off and support it. We want chief and council to support it.
"It's not enough to buy equipment and send it out there and hope and pray it gets used. We want to make that investment so we can show Curling Canada proof of performance. We want them to see how that programming actually makes a difference."
Abbie Darnley, as program director of Egg Farmers Rocks & Rings and FloorCurl organizer, would like to be a part of future expansion, especially into rural centres. "Recreation is key to long-term health. So it's, 'How can we engage you? What sports can get people moving in your communities?' "
She's willing to customize FloorCurl programming and show local go-getters how to manage the operation.
"Rocks & Rings allows you to immediately get into schools," said Kerr. "The program has a built-in curriculum, so you can go to the schools and teachers can do math and science programming based on the Rocks & Rings game. And there's no reason we can't take this into seniors homes and do it with the Elders."
That's the beauty of curling — its broad appeal.
"One of the few sports that people of all ages, abilities, and backgrounds, can play," said Darnley. "I can play against my 12-year-old daughter with no changes, with no problem. I can have a wheelchair curler beside me, no problem. You can all actually play equally together and it's a level playing field."
It had been Darnley who helped to deliver the game to the kids that afternoon in St. Albert. On four sheets in the gym, dozens were engaged by the activity.
Fair to say it was a hit.
"Laughing and joking — everyone was trying it," said Kerr. "It's a pilot project, yes. But, boy oh boy, we're running, we're not walking here. The roll-out was a huge success. It's been a really good launch. Now the pressure is on me and my staff to make sure that we get these programs into the communities and they're up and running."
As Egg Farmers Rocks & Rings proves, an introduction to curling can be facilitated in a variety of ways, including inside a gymnasium during a warm summer day. Another significant piece of the outreach, according to Thiessen, is inclusivity. That means reshaping preconceived notions.
"We want to ask people, 'What is your barrier to trying our sport? And what can we do to break down that barrier?' " he said. "For us, it's about listening to people, then trying to break down those barriers as opposed to just trying to shoehorn people in, like there's only one way to do it.
"We know it's a bit of a process. We just want to provide lots of those opportunities."