By a razor's edge!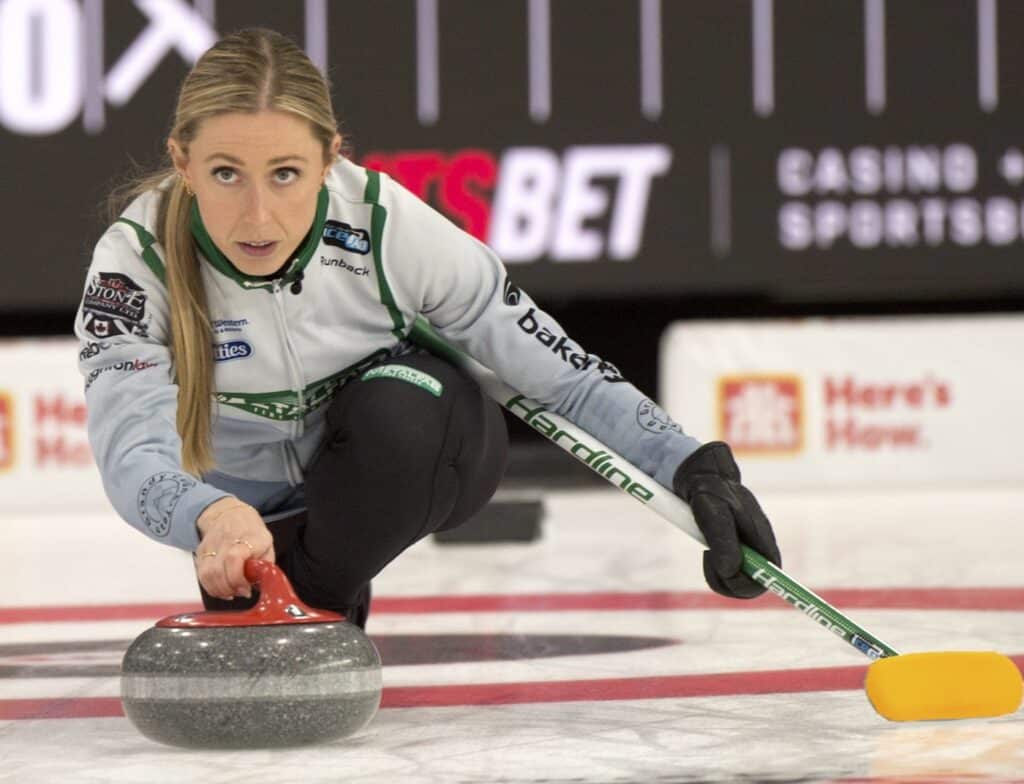 1.5-cm tiebreaker margin downs Duncan, vaults Grandy into Elite 8
If four sheets of women's Sweep 16 action at the 2023 PointsBet Invitational proved anything, it's that not all wins are created equally.
On one hand, Team Clancy Grandy of Vancouver fought tooth and nail in what could be this event's grittiest contest for a 6-5 tiebreaking draw-to-the-pin win over Team Hollie Duncan (Woodstock, Ont.). The win earns Grandy's rink an additional $3,000 and a berth into the women's Elite 8 at the Sixteen Mile Sports Complex in Oakville, Ont.
The back-and-forth feature saw both teams knotted at five after the conclusion of 10 ends of play and PointsBet Invitational rules stipulate that extra ends are a no-go. Instead, a sudden-death draw to the pin is used to settle ties keeping hearts racing and fans on the edge of their seats.
The winning draw saw Grandy's offering stop biting the back of the button; a mere 1.5 centimetres better than Duncan's draw, which rested on the tee line but overcurled across the button to the four-foot.
For Grandy, backed up by vice-skip Kayla MacMillan, second Lindsay Dubue, lead Rachel Brown (filling in for Sarah Loken) and coach Katie Witt, the sudden-death win felt like a premonition come true.
"I had this weird feeling that we'd maybe have a draw to the button one of these games," said a glowing Grandy after her first PointsBet Invitational win. "Happy to come out with a win."
A win is a win, even if by only a razor's edge, and they're especially valuable when every move forward along the bracket means more cash in a team's pocket.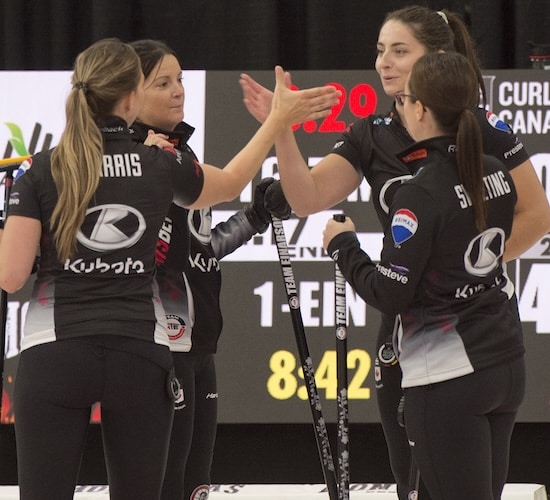 "I didn't realize it was as quite close as it was," laughed Grandy, who appeared almost cavalier as the rock came to a stop just barely biting the back of the button. "It was less than two centimetres but I felt pretty good when I threw it and I felt the girls managed it pretty well."
The match's metronome-like momentum swings were reflected on the scoreboard with Grandy's winning squadron never posting anything more than a single point in an end.
"We got a steal so that equated in a sense," said Grandy about the lack of multiple-point production. "But then we gave up the two, so it was really back and forth the whole way. I had an opportunity for two in nine and unfortunately missed that one. So happy I could make that last one to make up for it"
Meanwhile on Sheet D, a slugfest of a different flavour was taking place with Team Danielle Inglis (Ottawa) falling 7-6 to Team Kayla Skrlik of Calgary. Both skips pulled out all the stops, putting on a wild show of shot-making prowess.
And though Skrlik managed to earn the win, early bettors on the Alberta foursome may have been spooked as they fell into a quick 4-0 hole after three ends.
"We knew it was going to be a single knockout, so we had to stay really positive," said skip Kayla Skrlik. "It's out first time on arena ice (this year) and we just tried to stay positive out there and be patient."
Patience paid off for Skrlik, who mounted a substantial rally on the back of great shot making from the No. 8 seed rink, scoring five points in four ends to tie the match after seven ends.
"Single knockout is tough," laughed Skrlik when commenting on her team's resolve. "Great to win this one. We can just look at the rankings and know that Danielle was going to be a good team. She already has a spiel win under her belt this season. Going down four in the early parts was tough but we stayed with it."
Though two sheets featured all-out-battles on Wednesday afternoon, the other two sheets were a perfect contrast to the grit and pressure.
It was roses and sunshine for top-ranked Team Kerri Einarson (Gimli, Man.) as her rink cruised to a comfortable 15-3 win over No. 16 Team Josie Zimmerman of the University of Alberta-Augustana Campus Vikings. Similarly, No. 4 seed Team Kaitlyn Lawes of Winnipeg was tested by No. 13 Team Abby Marks of Edmonton, but Lawes' mettle proved true in a tidy eight-end performance, winning 11-5.
Team Einarson is now set to face Team Skrlik while Team Lawes earns a matchup versus Team Grandy in the women's Elite 8. Both matches are scheduled for Friday at 11:30 a.m. (all times Eastern).
The 2023 PointsBet Invitational continues with the opening men's draw Wednesday at 7 p.m.
Live scoring, standings and statistics for the 2023 PointsBet Invitational are available by CLICKING HERE.
TSN and RDS will provide coverage of the 2023 PointsBet Invitational. CLICK HERE for the complete schedule.
For ticket information for the 2023 PointsBet Invitational, go to www.curling.ca/2023PointsBetinvitational/tickets/
This story will be available in French as soon as possible at www.curling.ca/2023PointsBetinvitational/nouvelles/?lang=fr