Rock of Ages!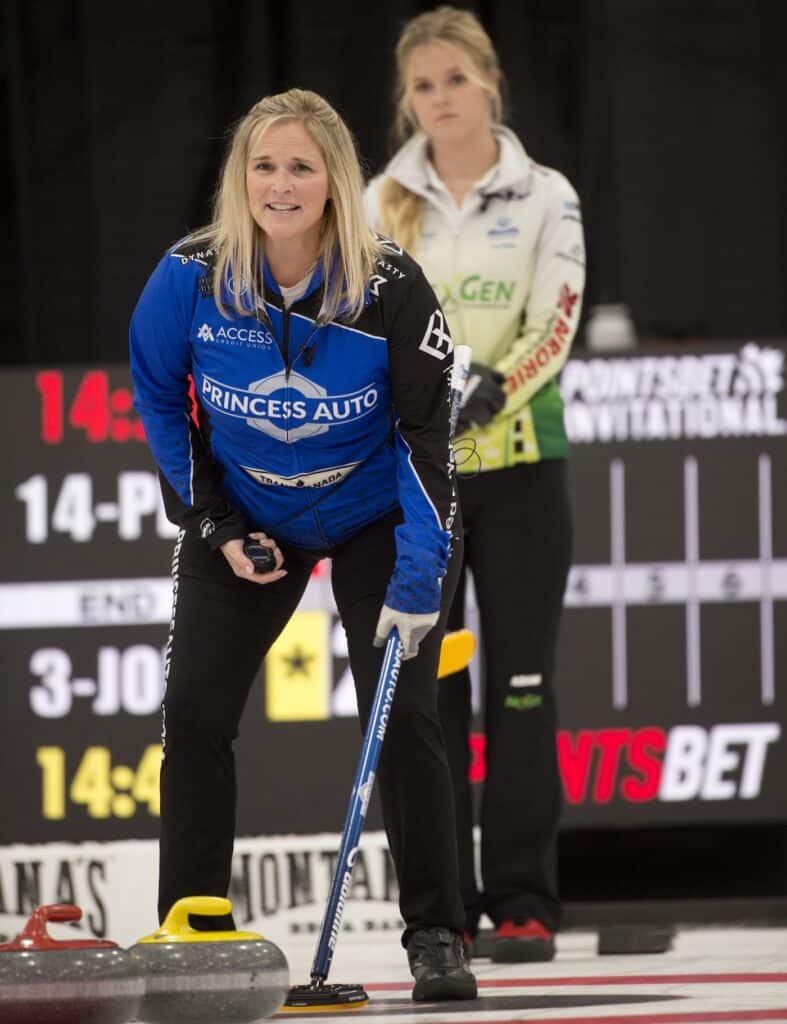 Rising stars Team Plett falls to Team Jones in PointsBet Invitational Sweep 16 showdown
When gazing through a lens at the future of women's curling in Canada, it's hard to imagine a landscape without Myla Plett doing amazing things.
At just 18 years old, Plett is brimming with talent. She and her Sherwood Park/Airdrie, Alta., collective of third Alyssa Nedohin, second Chloe Fediuk, lead Allie Iskiw and coaches David Nedohin and Blair Lenton are undeniably surging stars of the roaring game who boast success in back-to-back U-18 Canadian Women's championships in 2022 and 2023, topped off by a New Holland Canadian U-21 Championship earlier this year at Rouyn-Noranda, Qué. It's the first team to claim both the U-18 and U-21 Canadian crowns in the same season.
The U-21 national championship victory comes with a series of perks, too. Not only will the Plett rink be wearing the Maple Leaf at the Women's World Junior B Curling Championship at Lohja, Finland, in December, it also earned them a Thursday afternoon Sweep 16 bout at the 2023 PointsBet Invitational at the Sixteen Mile Sports Complex at Oakville, Ont.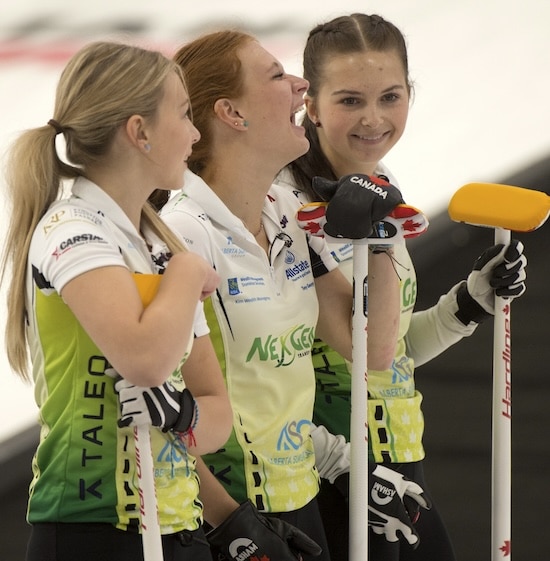 The only bad news? Plett would have to square off against one of the greatest to ever take the ice in six-time Scotties champion Jennifer Jones.
No easy feat and it wasn't for lack of effort, but Plett and company held their own for 10 ends before being served a 10-6 loss at the hands of Winnipeg's Team Jones.
Plett and her team looked comfortable in the situation, however, and their emotional discipline was up to the task.
"It was a really good game," said Plett of her team's performance. "The girls played really well. We took what we've been doing all season and put it into the game and put up a fight against them."
Plett never boasted a lead in the close contest, which was only broken open in the seventh end when Jones would lock a score of three in thanks to a Plett miss.
Plett would end up shooting 81 per cent, nearly matching Jones' 82, to which Plett credits her team's effort. Staying on level statistically with was a point of pride.
"The girls kept my shots pretty easy, so I think my percentage was definitely based off of them," said the modest Plett, who made several key shots to keep pace with Jones, including a difficult tap-split in the eighth end to score two.
With the Plett foursome now eliminated from the 2023 PointsBet Invitational, its efforts shift towards representing Canada at the world junior stage, seeking a berth in the World Junior Championships, which also take place in Finland in February.
"It's great to play against such an amazing team; just to get that experience" said Plett of the opportunity to face Jones prior to Women's World Junior B event.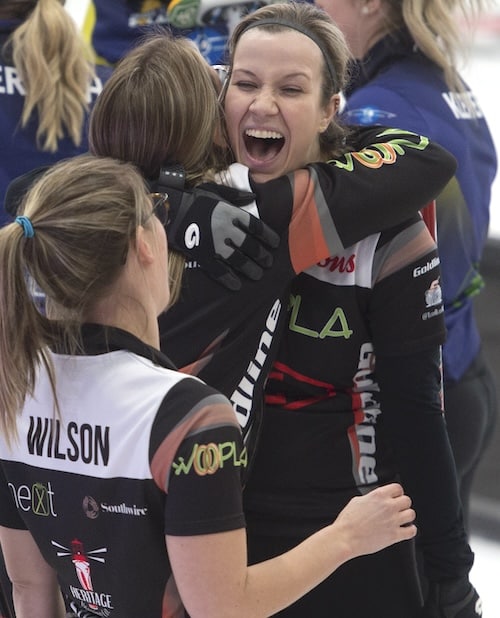 Jones's team boasts a young core of its own, with third Karlee Burgess, second/vice-skip Emily Zacharias and lead Lauren Lenentine having won the 2020 New Holland Canadian Women's U-21 Curling Championship at Langley, B.C., and the ensuing world juniors in Russia, with skip Mackenzie Zacharias representing Manitoba.
Jones sees the congruencies between her team and Plett's.
"It's great to have so many great young players at this event and see the future of Canadian curling in action," said Jones. "I know I've been really impressed with my team and then to see the next generation come up, it's a lot of fun."
Despite the closeness of the contest overall, Jones does note one distinct difference between the two teams; one that may be the catalyst to why Jones bested Plett.
"We just have a wily old veteran on our team," laughed Jones.
In additional women's Sweep 16 action, Dartmouth, N.S.'s Team Christina Black won a thriller with a clutch shot for two points in the 10th end to secure an 8-7 win over Team Nancy Martin of Martensville, Sask. Team Rachel Homan of Ottawa was all business in an 11-1 thumping of 2023 Everest Canadian Women's Curling Club Champion Team Shaelyn Park of Moncton; and a key score of three in the seventh end lifted Team Isabelle Ladouceur (Whitby, Ont.) to a 8-6 victory over University of Alberta Pandas' Team Serena Gray-Withers.
The 2023 PointsBet Invitational continues Thursday evening with four men's Sweep 16 games at 7 p.m. (all times ET).
Live scoring, standings and statistics for the 2023 PointsBet Invitational are available by CLICKING HERE.
TSN and RDS will provide coverage of the 2023 PointsBet Invitational. CLICK HERE for the complete schedule.
For ticket information for the 2023 PointsBet Invitational, go to www.curling.ca/2023pointsbetinvitational/tickets/
This story will be available in French as soon as possible at www.curling.ca/2023pointsbetinvitational/nouvelles/?lang=fr