Locking up first place!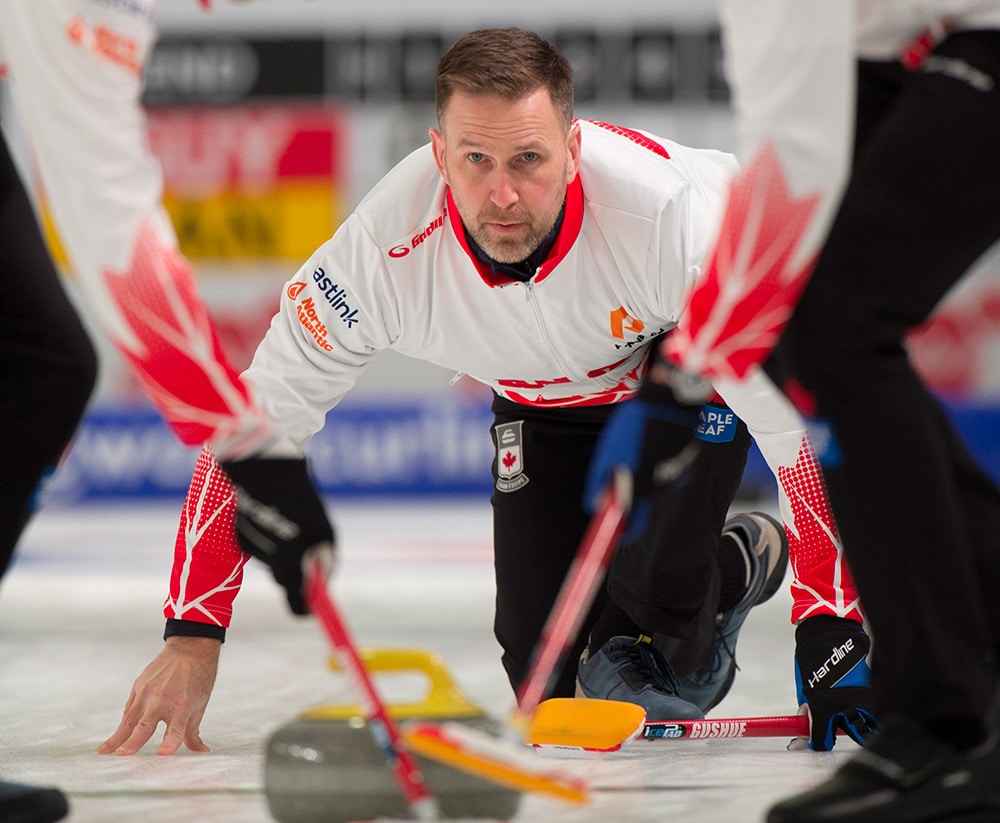 Canada's Team Brad Gushue clinches top playoff spot at 2023 Pan Continentals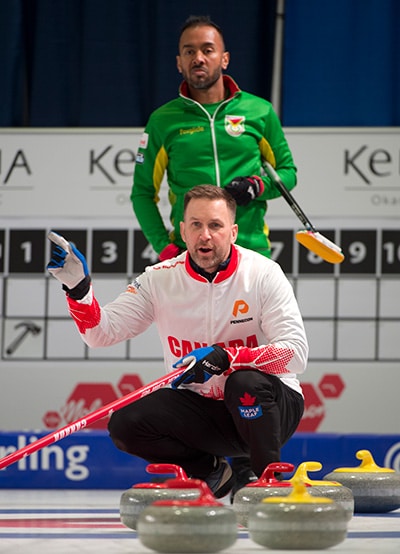 Canada's Team Brad Gushue earned the top seed in the playoffs on Thursday at the 2023 Pan Continental Curling Championships at Kelowna Curling Club in British Columbia.
The team from St. John's, N.L., dispatched Guyana's Team Rayad Husain 11-1 in the final men's round-robin draw. The win lifted Gushue, vice-skip Mark Nichols, second E.J. Harnden, lead Geoff Walker, alternate Jim Cotter, coach Caleb Flaxey and national coach Caleb Flaxey to 6-1 in the standings and tied with Japan's Team Riku Yanagisawa (6-1) for first place.
The Canadians receive the top seed based on their head-to-head record with the Japanese. On Tuesday, Team Gushue doubled Team Yanagisawa 6-3 during the round robin to earn the top spot and ensure hammer in the first end during the semifinals.
Canada started the game against Guyana with hammer and capitalized with a three-ender. Guyana, led by skip Husain from Brampton, Ont., blanked the second end and hoped for greener pastures in the third, but Team Gushue stole three for an early 6-0 lead.
"The focus for us in the first couple ends was to go out and play strong, get some rocks in play, make some good shots and hopefully get a bit of a lead. We did that and I thought we played pretty well. Once you get up 6-0, you try and keep it as simple as possible without getting yourself in trouble," Gushue said.
Guyana and Canada exchanged singles in the fourth and fifth ends. At the start of the fifth, Gushue handed alternate Cotter the keys to the running car. Gushue subbed out of the game, Nichols moved up to skip and Cotter slotted into the vice-skip role.
"We wanted to give him another chance to get in. He's taken a week away from his life and work to support us this week," Gushue said. "Once we got up, we knew we were probably pretty comfortable putting him in. E.J. wanted to stay in the lineup and we had already taken Geoff out, so it was up to me or Mark. Mark's come out a bunch of times over the years and I've come out the least, so it was my turn."
With Cotter in the lineup, the Canadians scored four in the sixth, which triggered the Guyana-initiated handshakes and forfeit.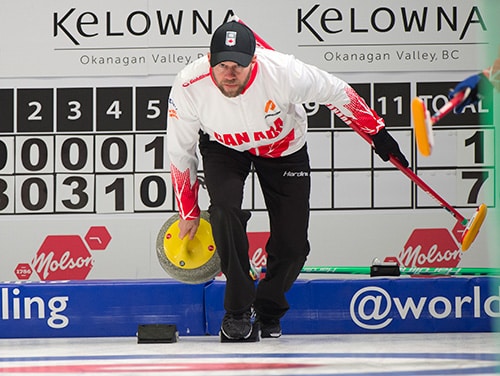 "It felt great. The guys have been great and I know they've been trying to get me in there," said Cotter, who resides in nearby Vernon, B.C. "You come here (Kelowna Curling Club) and know so many people by name. I curled with guys from Kelowna and we practised here a lot. It was kind of one of my home clubs, both Vernon and Kelowna, so this feels like home."
It wasn't until later in the draw that Canada's top-seed finish could be confirmed. Japan's 10-5 win knocked South Korea's Team Jongduk Park (5-2) down in the standings. The South Koreans were the only team that could have bested Canada in any playoff tiebreaking scenario.
The men's semifinals are on Friday at 9 a.m. (all times PT).
Canada takes on Team Andrew Stopera of the United States (4-3), which won a do-or-die game by a score of 7-2 against New Zealand's Team Anton Hood (4-3).
In the other semifinal game, Japan's Team Yanagisawa will have a rematch against South Korea's Team Park.
While New Zealand did not qualify for the playoffs, it has once again secured its spot at the 2024 LGT World Men's Curling Championship alongside the four playoff teams in Kelowna.
The semifinal winners play for gold on Saturday at 3 p.m., while the losers compete for bronze on Friday at 7 p.m.
Guyana's loss relegates the team to the B division for the 2024 Pan Continental Curling Championships and will be replaced by the winner of this year's B championship.
In other closing men's round-robin action, Australia's Team Jay Merchant improved to 2-5 with a 6-3 win against Team Randy Shen of Chinese Taipei (1-6)
The women's Pan Continental playoffs begin tonight at 7 p.m., when Canada's Team Kerri Einarson takes on South Korea's Team Eunji Gim for a spot in the gold-medal game.
Live scoring, standings and statistics for the 2023 Pan Continental Curling Championships is available by CLICKING HERE.
TSN.ca and the TSN App will be carrying selected Canadian games from the 2023 Pan Continental Curling Championships. CLICK HERE for the full schedule.
Other games are being streamed live on World Curling TV. CLICK HERE for details.
Ticket information for the 2023 Pan Continental Curling Championships is available by CLICKING HERE.
This story will be posted in French as soon as possible at www.curling.ca/category-all-posts-fr/?lang=fr