Red-hot bluenosers!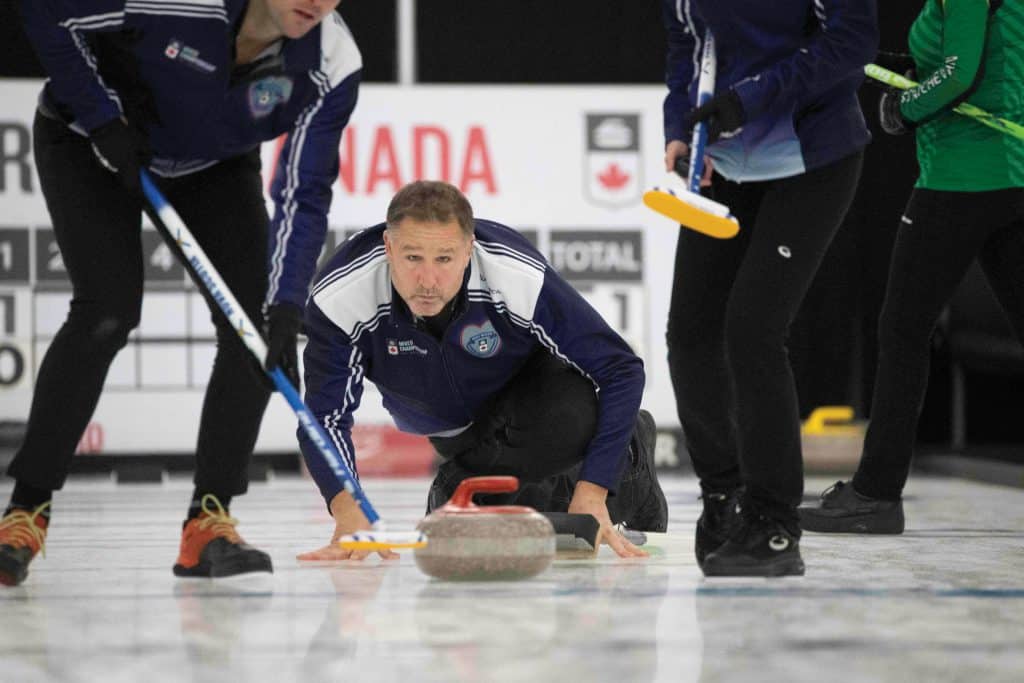 Nova Scotia claims 8-6 opening draw victory over host Saskatchewan at 2023 Canadian Mixed Curling Championship
Since Nova Scotians are known for hospitality and great taste in cuisine, it's no surprise that the secret to a winning recipe, both on and off the ice, is often a little patience and some quality ingredients.
And with the table set for the opening draw of the 2023 Canadian Mixed Curling Championship Sunday afternoon at the Swift Current Curling Club in Saskatchewan, Nova Scotia may have left a bit of a sour taste in the hometown fans' mouths, defeating the host representative Shaun Meachem (0-1; Swift Current) by an 8-6 score.
Skip Paul Flemming, alongside his Halifax Curling Club collective of vice-skip Marlee Powers, second Luke Saunders and lead Colleen Jones, got off to a searing-hot start in the opener but needed to let their winning recipe simmer, requiring some last shot heroics in the eighth to seal the victory for Nova Scotia.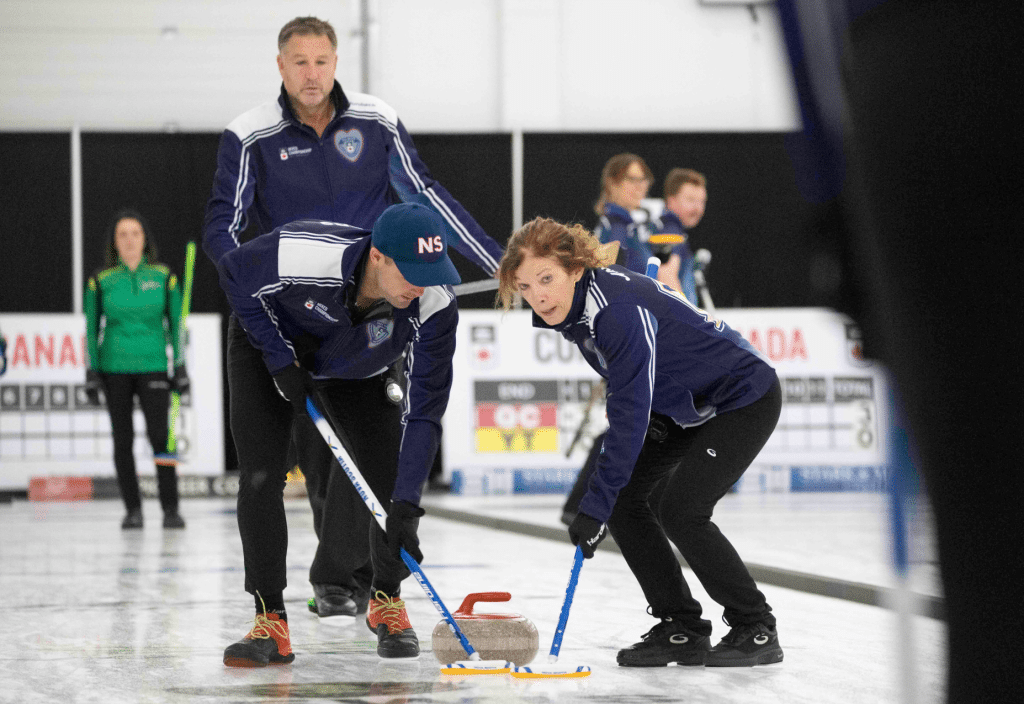 Nova Scotia found itself trailing Saskatchewan 5-3 after five ends of tightly contested play before making some key adjustments and scoring three in the sixth end to take a 6-5 lead. Saskatchewan would have a shot at scoring two in the seventh end with hammer but ended up forced to a single, marking a tie game entering the eighth.
Saskatchewan's Meachem would put together a quality eighth end and needed a nose freeze on his final stone in an effort to steal the victory, but his offering was mere centimeters off being perfect. Flemming needed only to blast the Saskatchewan stone sideways off the slightly staggered freeze to score two and earn the 8-6 win.
It's familiar territory for Nova Scotia lead and Canadian curling legend Colleen Jones, who won the 1993 Canadian mixed crown at Swift Current with her husband Scott Saunders all the while being pregnant with her son and teammate Luke.
"To be back in Swift Current 30 years after we won it, my husband and I, and being pregnant with Luke, is just beyond anything I could have written up," said Jones of the current mixed experience. "It's just a full circle moment. Love being back in Swift Current."
The bluenosers are also coming off a tough travel day that saw them fly cross country to Calgary, then back to Regina, before making the drive to Swift Current. The team had less than twelve hours to get settled and sleep before being at the rink for first practice.
"I think I'm holding up," laughed Jones. "I think the old gal is holding up but you just knew you were going to be tired. It's a long 48 hours but I'm so thankful to be here. You could send me out there to play again."
Nova Scotia lead Luke Saunders is embracing the opportunity to play front end with his mother.
"It's actually a fun dynamic," said Saunders. "It's just a little bit of pressure off and I'm able to talk to her more during the game so it's been great."
And while the 29 year old Saunders may have the advantage of youth when it comes to sweeping, there's little debate it's a collective effort from both front-end members.
"Great judger," said Saunders of Jones' sweeping abilities. "And she's got a good handle on line. We're trying to figure out a couple switches just to get the most out of her sweep for curl, but it's just fun more importantly."
In other 2023 Canadian Mixed Curling Championship opening draw action, Québec's Pierre-Luc Morrisette (1-0; Jacques-Cartier) earned a comfortable 8-4 win over the Yukon's Terry Miller (0-1; Whitehorse), the Northwest Territories' Jamie Koe (1-0; Yellowknife) was tested but not bested, earning an 8-7 win over Nunavut's Peter Van Strien (0-1; Iqaluit) and Alberta's Evan Van Amsterdam (1-0; Edmonton) outlasted British Columbia's Cameron de Jong (0-1; Victoria) by an 8-6 sore.
Action at the 2023 Canadian Mixed Curling Championship continues Sunday evening at 5:30 p.m. (all times Central).
Live-streaming coverage of the 2023 Canadian Mixed Curling Championship will be available on Curling Canada's streaming platform, Curling Canada +. All sheets will be available to stream, with select draws to feature commentary.
For the event, team and draw information, visit the event website.
Draws and live scores are available on Curling Canada's scores page.