The Field is Set!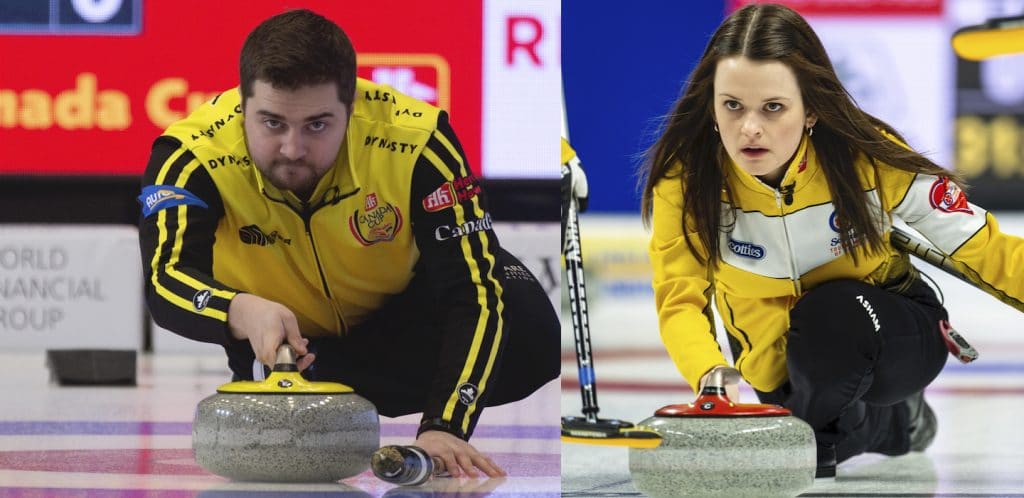 Teams Fleury and Dunstone grab last berths into 2019 Home Hardware Canada Cup
A pair of teams off to hot starts in the 2019-20 curling season can book their tickets to Leduc, Alta., to play in the 2019 Home Hardware Canada Cup, presented by Pioneer.
Tracy Fleury's team from East St. Paul, Man., and the Regina-based team helmed by Matt Dunstone will be in Leduc to contest the 2019 Home Hardware Canada Cup, scheduled for Nov. 27-Dec. 1 at Sobeys Arena at the Leduc Recreation Centre.
They were the top-ranked squads on the Canadian Team Ranking System as of Monday that hadn't already qualified for the 2019 Home Hardware Canada Cup.
Fleury's team is rounded out by vice-skip Selena Njegovan, second Liz Fyfe and lead Kristin MacCuish, while Dunstone is backed up by vice-skip Braeden Moskowy, second Catlin Schneider and lead Dustin Kidby.
Both teams were victorious at the season-opening Grand Slam event, the Masters in North Bay, Ont., which propelled them to the Home Hardware Canada Cup berths.
But they'll need to bring that hot form with them to Leduc, where they'll find an elite field of Canadian teams chasing not only a significantly increased purse from last year, but also the first available berths into the 2021 Tim Hortons Roar of the Rings — the event that will decide Canada's four-player teams for the 2022 Winter Olympics in Beijing.
Fleury joins a women's field that is led by reigning Scotties Tournament of Hearts champion Chelsea Carey of Calgary, and also features defending Home Hardware Canada Cup champ Jennifer Jones of Winnipeg, three-time Scotties champ Rachel Homan of Ottawa, Casey Scheidegger (Lethbridge, Alta.,), Robyn Silvernagle (Saskatoon) and Kerri Einarson (Gimli, Man.). Scheidegger's team will be skipped in Leduc by Cheryl Bernard, as Scheidegger is due to give birth to her second child this month.
Dunstone, meanwhile, will be challenged hard by the likes of current Tim Hortons Brier champion Kevin Koe of Calgary, defending Home Hardware Canada Cup champ Brad Jacobs of Sault Ste. Marie, Ont., Brendan Bottcher of Edmonton, Brad Gushue of St. John's, John Epping of Toronto and Glenn Howard of Penetanguishene, Ont.
The winning men's and women's teams pocket $40,000 apiece — a 185 per cent boost over last year.
In addition to the cash and Tim Hortons Roar of the Rings berth, the winning men's and women's teams will also gain entry into the 2020 OK Tire & BKT Tires Continental Cup of Curling, presented by Service Experts Heating, Air Conditioning and Plumbing, Jan. 9-12 in London, Ont.
The teams will play a single round robin, with the top three making the playoffs — the first-place team gets a bye to the final, while the second- and third-place teams will clash in the semifinals.
The runner-up team will take home $25,000 while $15,000 goes to the third-place team. As well, each team that competes in Leduc will get a $7,500 travel subsidy.
Based on the strength of field, ticket demand is extremely high, with standing room only expected for many draws.
Single draw tickets are priced from $19.50, with advance tickets available online at curling.ca/tickets or (833) 219-9444. In-person sales at the Leduc Recreation Centre will begin Nov. 26, from 4-8 p.m. All tickets and packages are subject to standard ticket service fees.
Subject to availability, youth tickets will be available for purchase during the event at a price of $15. This offer is not available for advance purchase.
The full schedule, featuring all of the matchups, is available on the event website, www.curling.ca/2019canadacup.
Some of the highlights include opening-draw tilts between Team Koe and Team Epping, while Team Bottcher is up against Team Gushue.
In the opening -day evening draw, it's a 2018 men's final rematch between Team Koe and Team Jacobs, while the final round-robin draw, on Nov. 29 has Team Koe playing Team Gushue while Team Jones is up against Team Homan.