Homan prevails!
Homan claims first point for Canada at OK Tire & BKT Tires Continental Cup
LONDON, Ont. — Rachel Homan found her draw weight and used it to her advantage in the opening round of the OK Tire & BKT Tires Continental Cup, presented by Service Experts Heating, Air Conditioning and Plumbing.
Ottawa's Homan, supported by third Emma Miskew, second Joanne Courtney and lead Lisa Weagle upended defending world women's champion Silvana Tirinzoni of Switzerland 6-5 in the opening draw of this year's event.
In other first-draw games, Team Europe's Eve Muirhead (Scotland) dominated Team Canada's Tracy Fleury (East St. Paul, Man.) 11-4 and Team Europe's Niklas Edin (Sweden) edged Team Canada's Brendan Bottcher of Edmonton 7-5.
Those results gave Team Europe a 2-1 lead heading into Thursday afternoon's mixed doubles action at The Sports Centre in Western Fair District.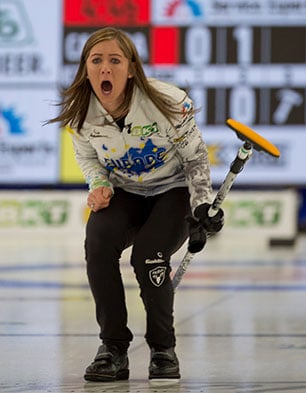 Homan drew to the four-foot facing a pair of Tirinzoni stones to seal the win in the hard-fought game.
"The ice is great and you know where you are for sure," said Homan. "The girls were watching the lines and made the best guess on that last one. We hadn't seen the out-turn all game, so it was a great guess and a great sweep."
Homan overcame Tirinzoni's hammer advantage with a second-end deuce and maintained control, scoring a key deuce in the fourth end after making a testy outside-in draw.
"That wide draw was a good guess," said Homan. "It was pretty far out into the wings but the ice was pretty consistent so it makes it easy to make good guesses out there."
Homan drew plenty of energy from the boisterous crowd of 1,046 that came to watch the opening draw.
"It's fun to be out there with everybody cheering you on," said Homan. "It makes it a fun game and the team played unreal, so it was good."
Since Homan's match was the final one on the ice so Homan was aware of the importance of picking up the point and staying close behind after Team Europe's earlier two wins.
Various iterations of Team Canada and Team North America had their six-event winning streak snapped last year by Team World.
"We're on the board and that's important," said Homan. "We're right behind and we've got mixed doubles coming up."
Ironically, Homan won a World Curling Tour mixed doubles event with John Morris in Banff, Alta., last weekend.
Homan's team has been in just one event since capturing the Home Hardware Canada Cup title in Leduc, Alta., last month.
"We were happy to win the Canada Cup and get that trials spot," said Homan. "It allows us to focus on the rest of the year."
Homan, would like nothing better than to recapture its dominant performance at the Home Hardware Canada Cup as Team Canada and looks to get back on the winning side of the ledger when this event ends Sunday night.
"It was solid out there today," said Homan. "It was nice to get that first win for Canada. We'll be watching the mixed doubles. Emma's in it and it will be fun to cheer her on."
The 2020 OK Tire & BKT Tires Continental Cup continues with draws today at 2 p.m. and 7:30 p.m. (all times EST).
TSN/TSN2 and RDS2 will provide complete coverage of the OK Tire & BKT Tires Continental Cup. CLICK HERE for the complete schedule.
The OK Tire & BKT Tires Continental Cup format pits Team Canada against Team Europe in a series of team play, mixed doubles, scrambles and skins games. Teams earn points by winning games and the first to score 30.5 points is declared the OK Tire & BKT Tires Continental Cup champion.
For ticket information, as well as team lineups, go to https://www.curling.ca/2020continentalcup/
This story will be posted in French as soon as possible at: https://www.curling.ca/?lang=fr