Mixed Doubles in the bubble!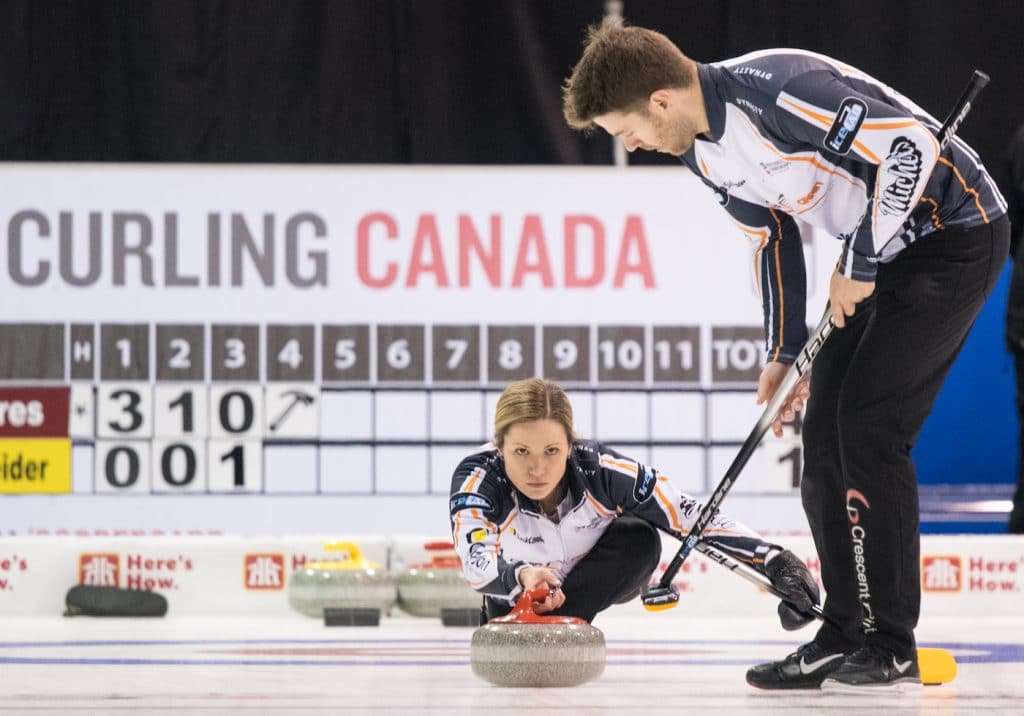 2021 Home Hardware Canadian Mixed Doubles Championship starts Thursday
Canada's best female and male curlers will be under one roof for the first time this season when the 2021 Home Hardware Canadian Mixed Doubles Curling Championship, presented by Nature's Bounty, gets underway Thursday.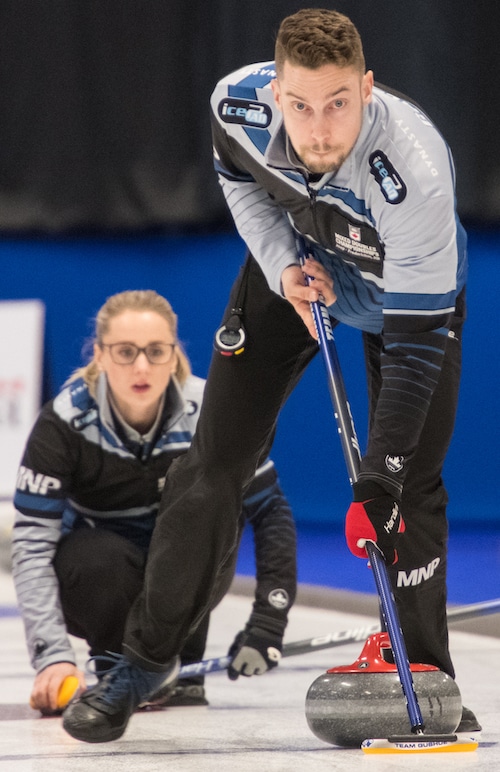 Thirty-five teams will open play Thursday morning in the fan-free bubble at WinSport Arena at Canada Olympic Park in Calgary, chasing not only the biggest prize ever offered at a mixed doubles event — $50,000 from the total purse of $150,000 — but also the chance to wear Canadian colours at the 2021 World Mixed Doubles Championship (dates, location, to be confirmed by the World Curling Federation).
There, seven of the 10 countries that will qualify to send teams to the 2022 Winter Olympics in Beijing will be determined, making it the most important international mixed doubles event of this quadrennial, outside of the Olympics themselves.
There will be no shortage of star quality competing in Calgary, including all five members of the Kerri Einarson team that captured the Scotties Tournament of Hearts title last month in the bubble. Einarson is paired with Brad Gushue; vice-skip Val Sweeting is playing with Marc Kennedy on an all-lefty duo; second Shannon Birchard has combined with Caitlin Schneider; lead Briane Meilleur is playing with Mark Nichols; and alternate Krysten Karwacki has teamed with Derek Samagalski.
Meanwhile, two members of the newly crowned Tim Hortons Brier champions from Edmonton — skip Brendan Bottcher and vice-skip Darren Moulding — will be participating. Bottcher is paired with fiancé Bobbie Sauder, while Moulding is playing with Joanne Courtney.
The teams have been split into five round-robin pools, and the top five seeds in the event are the top-listed teams in each pool.
The teams were determined by the following criteria:
14 provincial/territorial championship teams
14 teams from the Canadian Mixed Doubles Rankings (CMDR) based on results between March 15, 2019, and March 15, 2020 (teams must have played a minimum of two mixed doubles events during the season)
Seven teams who were unable to compete this season due to the COVID-19 pandemic but had committed to play Mixed Doubles together. Rankings are based on each player's best three CTRS point events from the 2019/2020 season combined with their partners. All players must be part of Curling Canada's National Team program.
Here's a look the five pools that will be competing in the bubble:
POOL A
Jocelyn Peterman/Brett Gallant (CMDR)
Kadriana Sahaidak/Colton Lott (CMDR)
Clancy Grandy/Patrick Janssen (CMDR)
Joanne Courtney/Darren Moulding (CTRS)
Melissa Adams/Alex Robichaud (N.B. Champ)
Brittney Tran/Aaron Sluchinski (Alta. Champ)
Angela Dale/Peter Van Strien (Nun. Champ)
POOL B
Jennifer Jones/Brent Laing (CMDR)
Kim Tuck/Wayne Tuck (CMDR)
Émilie Desjardins/Robert Desjardins (CMDR)
Kerri Einarson/Brad Gushue (CTRS)
Laurie St-Georges/Félix Asselin (Que. Champ)
Lauren Wasylkiw/Shane Konings (Ont. Champ)
Bayly Scoffin/Wade Scoffin (Yuk. Champ)
POOL C
Nancy Martin/Tyrel Griffith (CMDR)
Laura Walker/Kirk Muyres (CMDR)
Chaelynn Kitz/Kyler Kleibrink (CMDR)
Briane Meilleur/Mark Nichols (CTRS)
Selena Njegovan/Reid Carruthers (CTRS)
Stephanie Jackson-Baier/Corey Chester (B.C. Champ)
Lauren MacFadyen/Alex MacFadyen (P.E.I. Champ)
POOL D
Shannon Birchard/Caitlin Schneider (CMDR)
Bobbie Sauder/Brendan Bottcher (CMDR)
Val Sweeting/Marc Kennedy (CTRS)
Emma Miskew/Ryan Fry (CTRS)
Krysten Karwacki/Derek Samagalski (Man. Champ)
Karlee Jones/Bryce Everist (N.S. Champ)
Liz King/Landon King (NWT Champ)
POOL E
Danielle Schmiemann/John Morris (CMDR)
Ashley Quick/Mike Armstrong (Sask. Champ)
Kaitlyn Lawes/Connor Lawes (CMDR)
Lisa Weagle/John Epping (CTRS)
Dezaray Hawes/Tyler Tardi (NextGen Champ)
Oye-Sem Won/Trevor Bonot (N.O. Champ)
Mackenzie Mitchell/Greg Smith (N.L. Champ)
NOTES
Danielle Schmiemann is replacing Rachel Homan as John Morris's partner
Kyler Kleibrink is replacing Brayden Stewart as Chaelynn Kitz'z partner
Team Hawes/Tardi is replacing Team Katie Cottrill/Shawn Cottrill, who declined their CMDR berth
After round-robin competition is completed on March 23, the five pool winners, plus the teams with the next seven best records, regardless of what pool they were win, will advance to the playoffs that begin the evening of March 23.
It all will culminate with the gold-medal game on March 25 at 9 p.m. (all times Eastern).
The runner-up pairing will collect $30,000; $20,000 to third place and $10,000 to fourth place. Fifth through eighth place earns $6,500 while ninth through 12th takes home $3,500.
TSN/RDS will be providing extensive live coverage of the 2021 Home Hardware Canadian Mixed Doubles Championship, beginning with the opening draw on March 18 at 10:30 a.m.
You can see the full TSN broadcast schedule for the 2021 Home Hardware Canadian Mixed Doubles Championship by CLICKING HERE.
CLICK HERE to see the full schedule for the 2021 Home Hardware Canadian Mixed Doubles Championship.