Slow start for Canada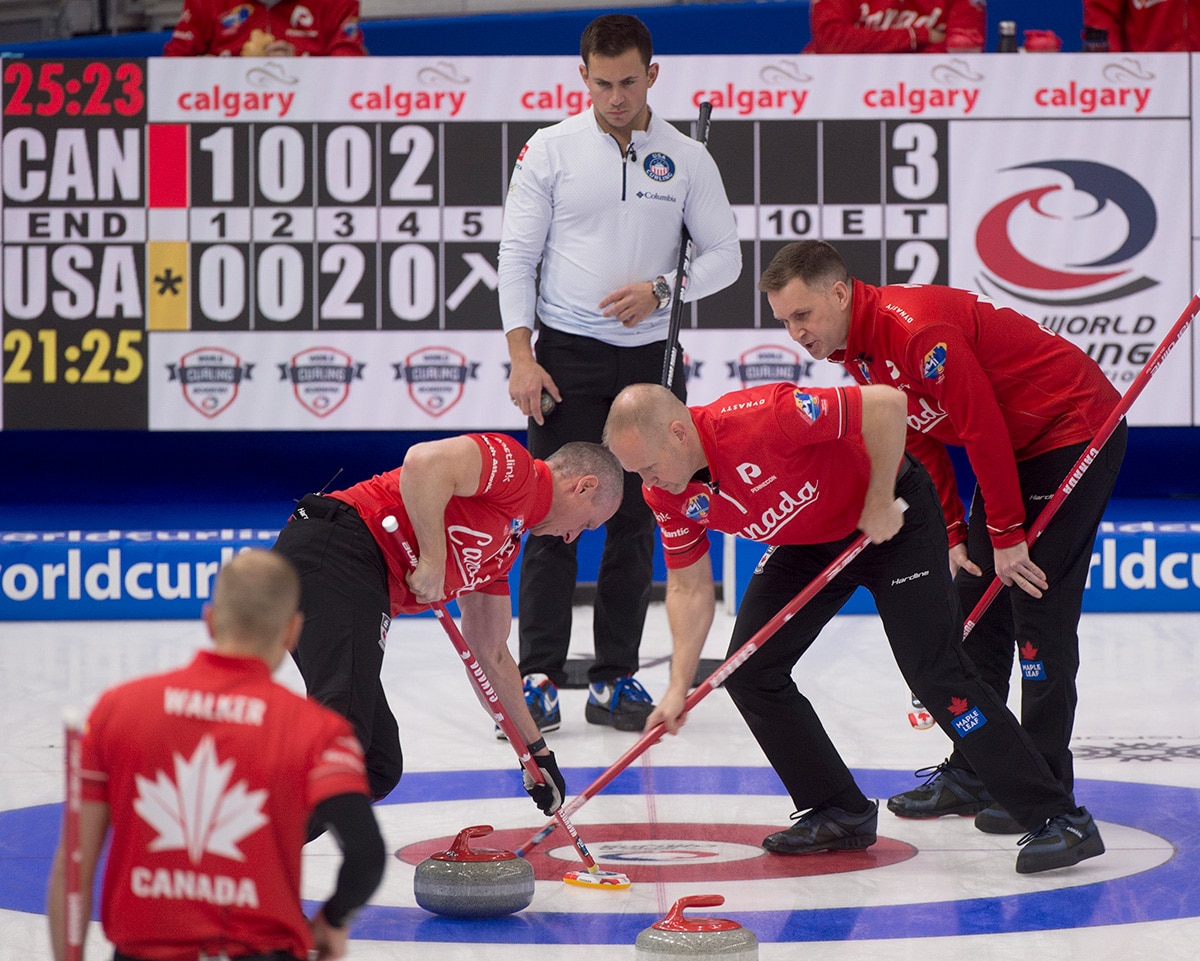 Canada's Team Gushue drops opener at Pan Continental Championships
Shortly after Sunday afternoon's team practice at the WinSport Events Centre, Canadian skip Brad Gushue described his team's hot start to the 2022-23 season (14 wins in 16 games) as being more about making the right shots at the right time; not necessarily consistently stellar performances.
But for one end Monday afternoon in Team Gushue's opening game of the inaugural Pan Continental Curling Championships in Calgary, it was almost the opposite.
Gushue, vice-skip Mark Nichols, second E.J. Harnden and lead Geoff Walker completely and consistently outcurled their opponents, Korey Dropkin's U.S. team, which was only hanging in the game thanks to two desperately needed last shots by Dropkin that pulled points out of the fire.
But that one end — the seventh — would essentially decide the game as the U.S. team would score four thanks to some Canadian misses en route to a 10-8 extra-end win.
"The seventh end — two rocks that we put in the worst possible position and they made their shots and we couldn't get out of it," said Gushue. "But the first five ends — that's the best we've played all year and he (Dropkin) kept them in it. He made some great shots. The game could have got away from them real quick."
Canada had stolen a point in the first end to jump into the lead and, after a blanked second, appeared to have another steal set up in the third, only to see its buried stone on the button removed on a precise raise takeout from Dropkin to score a pair.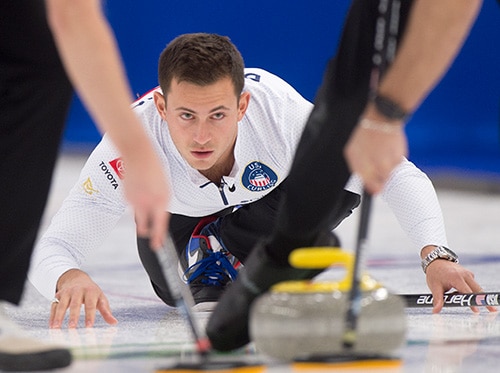 Canada would reply with a pair of its own in the fourth, only to see Dropkin pull another point out of the fire in the fifth. Canada was laying four, but Dropkin made a wonderful double takeout with his final throw to score a single and tie the game, despite Canada holding a 93 to 77 edge in team shooting percentage at the break.
Canada was held to a single in the sixth, setting the stage for the game-turning seventh end. Team Gushue would rally with deuces in the eighth and 10th ends to force the extra end, but Dropkin had an open takeout for the win and was on target.
"We have to get the ends set up a little bit better and give Brad shots for multiple points more often," said Nichols. "But hats off to them; they played a great seventh end and had us in a lot of trouble and we were chasing the rest of the game."
Both Canadian teams have byes Monday night and are back in action Tuesday. Team Gushue faces Brazil's Team Marcelo Cabral de Mello (0-1) at 2 p.m. (all times Mountain).
"It sucks to lose," said Gushue. "We've gotten away with stuff like that all year where we've misplaced some rocks and we haven't got burned. (Today) was a good lesson; we deserved to get burned more than we have all year.
"We'll chat about the game to see what happened. We'll take the positives, but we have to clean up some of those negatives. Those misses were too big and we'll get burned against a good team like Korey's. But one loss won't make or break it at the end of the week. You just have to get yourself in the playoffs and play well on Saturday and Sunday."
In women's play on Tuesday, Canada's Team Kerri Einarson (1-0) faces Kazakhstan's Team Angelina Ebauyer (0-1) at 9 a.m., and Hong Kong's Team Ling-Yue Hung (0-0) at 7 p.m.
In other action on Monday afternoon, Chinese Taipei's Team Randie Shen (1-0) toppled Brazil 9-2; South Korea's Team Byeongjin Jeong (1-0) scored three in the 10th end for a 7-5 win over Japan's Team Riku Yanagisawa (0-1); and New Zealand's Team Anton Hood stole one in the 10th end to defeat Australia's Team Jay Merchant (0-1) 6-5 in the battle of the Southern Hemisphere.
Live scoring, standings and statistics for the 2022 Pan Continental Curling Championship are available by clicking here.
TSN and RDS2 will provide coverage of select games from the 2022 Pan Continental Curling Championships. Click here for the full schedule.
For ticket information for the 2022 Pan Continental Curling Championships, click here.
This story will be available in French as soon as possible here.