Meeting new teams!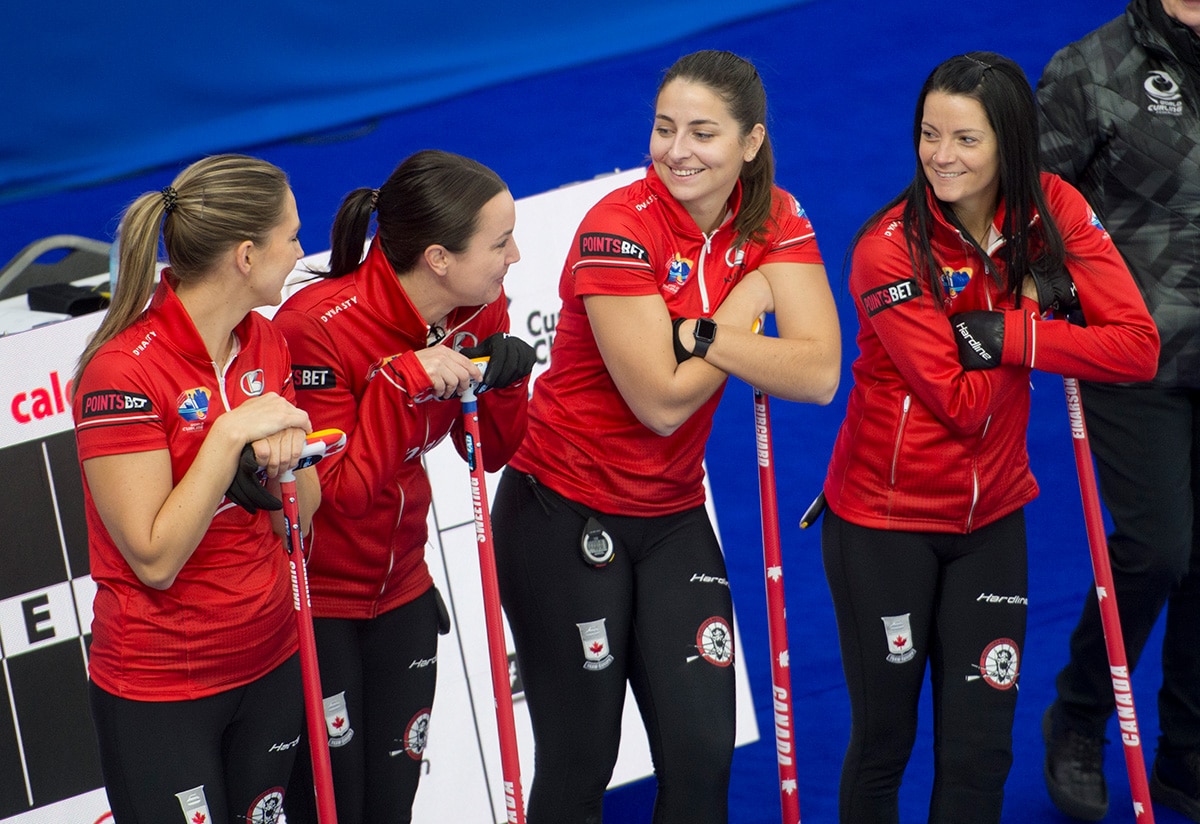 Canada's Team Einarson downs Kazakhstan in first-time match-up at 2022 Pan Continentals
One of the things evident at the 2022 Pan Continental Curling Championships is that curling is truly a worldwide sport, with teams from around the world competing at the inaugural event in Calgary's WinSport Event Centre.
That was displayed during the first two games played by Canada's Team Kerri Einarson of the Gimli Curling Club in the women's division at the event. On Tuesday morning, Canada took on – and defeated – the Kazakhstan team led by skip Angelina Ebauyer (0-3) by a 12-1 score. With the win, the Canadian women's team improves to 2-0.
"It's very exciting, and any chance to get to represent Canada is exciting. We're feeling good, and it's fun to meet new people and see new teams," said Canada vice-skip Val Sweeting. "It's just fun to see some of the excitement. Even seeing some of these teams, they seem really excited just to be here, and we're definitely happy to be a part of it."
The new event is designed to determine the five representatives from the newly created Pan Continental curling zone that will compete in the upcoming women's and men's curling championships while also providing arena ice and a competitive experience for developing curling nations.
Kazakhstan is one of those developing curling nations which received a shot at taking on the Canadian women's team during round-robin play.
Canada's prowess – with skip Einarson, vice-skip Sweeting, second Shannon Birchard, lead Briane Harris, alternate Rachel Brown, coach Reid Carruthers and national coach Renée Sonnenberg – was on display during the first-ever women's match-up between the two curling nations in a World Curling Federation event.
In the first end, Canada crowded the four-foot and looked poised to score a big end with hammer. However, a nicely thrown hit-and-roll to a freeze on the Canadian shot stone by Kazakhstan led to a draw for two for Canada.
"We just wanted to focus on good rock placement and getting a handle on the speed of the ice. I thought it was pretty consistent today, so it was easy to get a handle on it. The ice has been really good, but we know we'll likely be on that sheet later. So regardless of the score, we want to be able to do what we can and work on communication and make sure that it's solid. The teams could come up with a good [end], so you've got to be on your toes for sure," said Sweeting.
Canada continued to apply pressure in the second end, and that – combined with some strategy decisions from its opponents – led to Team Einarson stealing three. On her last, Einarson and the team came up short on a draw that was supposed to be in the top four-foot to sit three. Despite this, Canada sat three after the shot, and Kazakhstan elected to play a runback to give up one at the most instead of an out-turn draw to score one. The runback attempt clipped a Canadian counter, but it remained in the rings for a steal of three.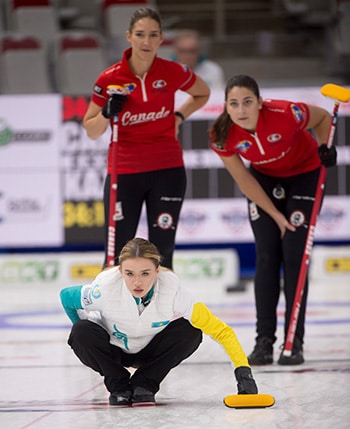 The steals continued over the following few ends. In the third, Canada had a shot stone in the four-foot and another counter in the wings. On her last, Einarson played a top 12-foot guard to sit three. Kazakhstan attempted to draw up to the shot stone to cut Canada down, but it was heavy and led to another three-steal for Canada.
Kazakhstan had an opportunity to draw for one in the fourth end, but it bounced off a Canadian stone for a steal of two. An overthrow on a takeout by Kazakhstan in the fifth end resulted in another steal of two for Canada.
Kazakhstan scored its only point of the game in the sixth end on a takeout before conceding.
In other Pan Continental Curling Championships women's action, South Korea's Team Seungyoun Ha (3-0) defeated Australia's Team Jennifer Westhagen (1-2) by a score of 13-1 in six ends; Japan's Team Satsuki Fujisawa (2-1) bested New Zealand's Team Jessica Smith (1-2) with an 11-1 score; and Hong Kong's Team Ling-Yue Hung (1-1) utilized a score of three in the fourth end and a steal of two in the seventh end on its way to an 8-2 win against Brazil's Team Isis Oliveira (0-3).
The 2022 Pan Continental Curling Championships continues on Tuesday with Canada's Team Gushue (0-1) taking on Team Marcelo Cabral de Mello of Brazil (0-1) at 2 p.m. (all times Mountain). Team Einarson hits the ice again tonight at 7 p.m. for a game against Hong Kong's Team Hung.
Live scoring, standings and statistics for the 2022 Pan Continental Curling Championship are available by clicking here.
TSN and RDS2 will provide coverage of select games from the 2022 Pan Continental Curling Championships. Click here for the full schedule.
For ticket information for the 2022 Pan Continental Curling Championships, click here.
This story will be available in French as soon as possible here.