Gaining speed!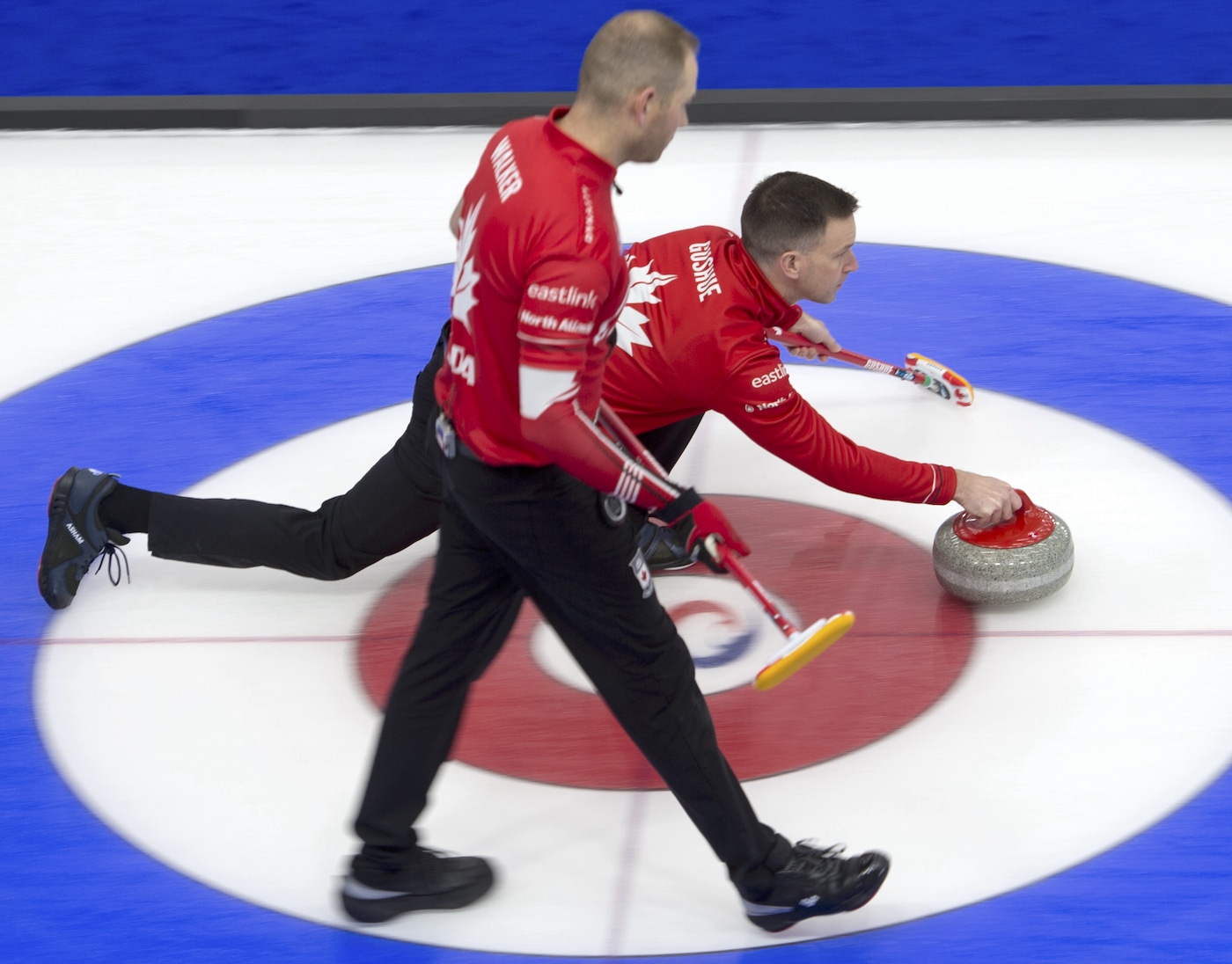 Momentum swinging upwards for Canada's Team Gushue at 2022 Pan Continental Championships
Canada's spot at the upcoming world men's curling championship is guaranteed, but that doesn't mean Team Brad Gushue is taking its role in representing Canada at the 2022 Pan Continental Curling Championships qualification event lightly.
As hosts of the 2023 BKT Tires & OK Tire World Men's Curling Championship next April, Canada receives an automatic entry into the event. However, the end goal remains the same for Team Gushue at Calgary's WinSport Event Centre.
"Winning. I don't think anything other than that will be a success," Gushue said of the expectations this week. "That's the honour and the pressure of wearing the Maple Leaf on your back, and that's the expectation. We've dealt with it before, and we've dealt with it successfully and unsuccessfully."
Skip Gushue, vice-skip Mark Nichols, second E.J. Harnden, lead Geoff Walker, alternate Nathan Young, coach Jules Owchar and national coach Jeff Stoughton took another step towards that goal on Wednesday morning with an 11-2 win against Japan's Team Riku Yanagisawa (0-3). Canada improves to 2-1 at the event.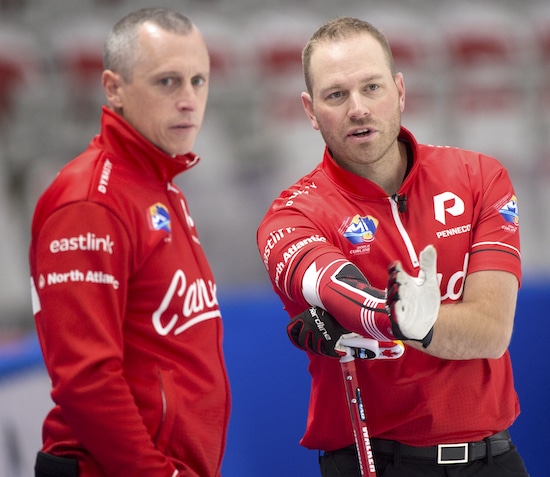 It was a game that was just as much about Canada's excellence in execution as it was about the missed opportunities by Japan. Two key misses by Team Yanagisawa in the first end led to a score of three for Canada.
Japan was making a draw against three on its last shot in the second end. While the draw was excellent and hit the side of the button, it wasn't enough to out-count a Canadian stone just a touch closer to the pin.
Japan settled for one point in the third end with a missed draw. But the final nail in the coffin was dealt by Canada in the fourth end. Gushue arranged a solid end, with Canada dominating the four-foot and in line to score as many as five points late in the end. Team Gushue made a takeout on the last shot for a score of four to take complete control of the game.
"We got a couple of rocks in the top of the four-foot, and they were throwing some guards. So I thought the angles they had weren't great for them, but they also weren't great for us. I thought if we tried to peel them out, it would have done more damage than just drawing in," Gushue said.
There were signs of life by Japan over the following two ends. Yanagisawa made his final draw for one in the fifth end, thanks to some help from the sweepers. The sixth end was relatively open, and Japan managed to force Team Gushue into drawing for a single point. However, Canada stole another two points in the seventh end, and Japan conceded.
By the end of the game, it was evident the two teams were on varying ends of the spectrum. Canada is in control, executing and building momentum, while Japan is feeling the pressure of getting on track to qualify its country for one of the four remaining world championship berths at this event.
"It's important to build momentum. In the first game (against the U.S.) I think we started well and didn't adjust as the ice changed. So we wanted to make sure that in this game and even the last game that we kept it going throughout the game and try to adjust to the ice. Fortunately, the ice didn't change too much in this game, so it was easier. I thought we did a good job of placing rocks," said Gushue. "We wanted to make sure that we didn't slack off and give up a three or a four and let them back into the game. We kept the pedal to the metal this week."
That will be crucial in the next game tonight. Canada takes on unbeaten Team Byeongjin Jeong of South Korea at 4 p.m. (all times Mountain).
In other Wednesday morning action, South Korea's Team Jeong improved to 3-0 following a 10-6 win against Team Korey Dropkin of the United States (2-1); Team Randie Shen of Chinese Taipei (2-1) ran Australia's Team Jay Merchant (1-2) out of rocks in the final frame to win 9-4; and New Zealand's Team Anton Hood (2-1) defeated Brazil's Team Marcelo Cabral de Mello (0-3) in seven ends by a 13-3 score.
The 2022 Pan Continental Curling Championships continue on Wednesday with Canadian women's Team Kerri Einarson (3-0) taking on Australia's Team Jennifer Westhagen (2-2) at noon.
Live scoring, standings and statistics for the 2022 Pan Continental Curling Championship are available by clicking here.
TSN and RDS2 will provide coverage of select games from the 2022 Pan Continental Curling Championships. Click here for the full schedule.
For ticket information for the 2022 Pan Continental Curling Championships, click here.
This story will be available in French as soon as possible here.