Canada downs Australia!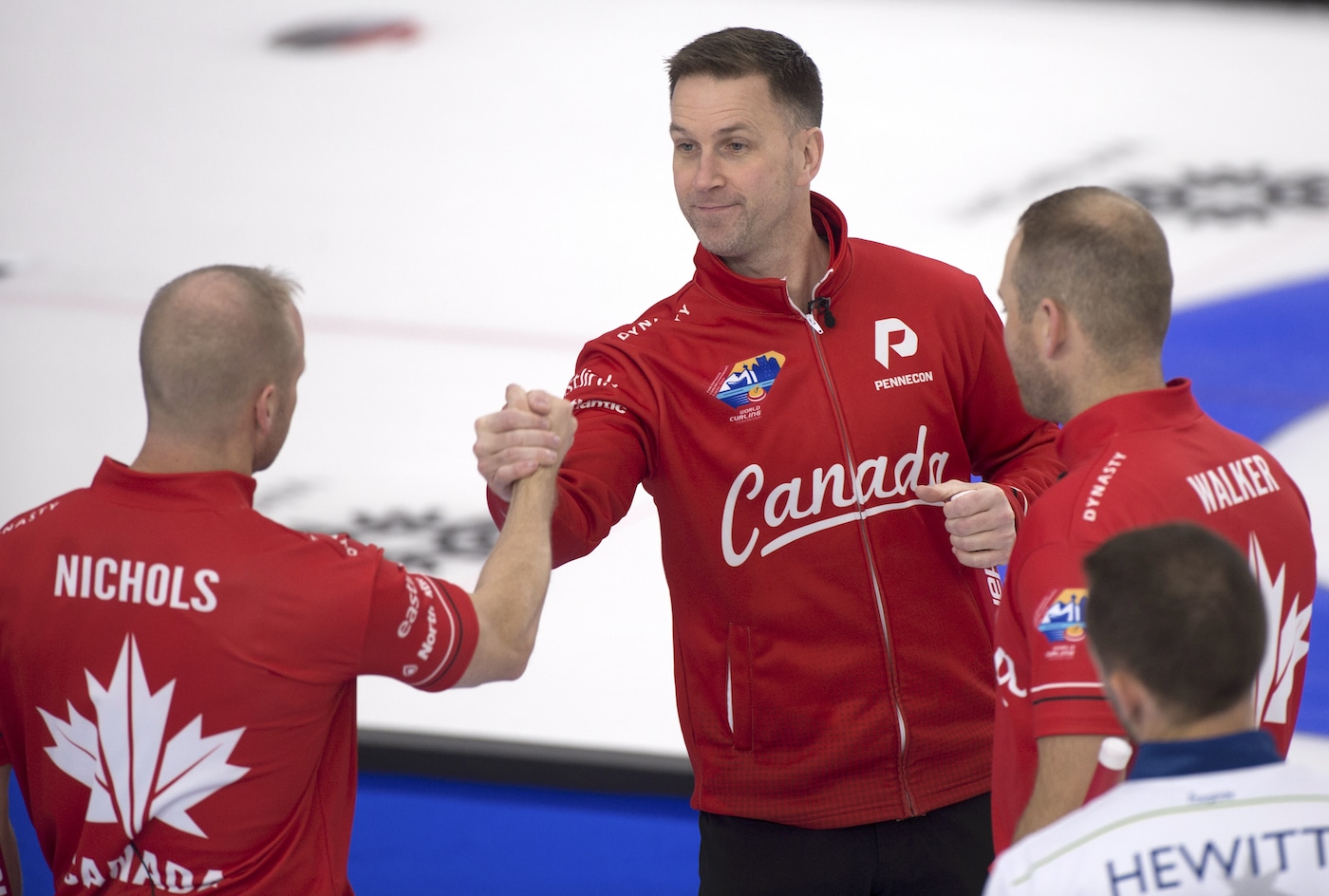 Canada's Team Gushue records fourth-straight win at 2022 Pan Continental Curling Championships
Curling is far from a simple game, but getting a good read on the ice is one of the best ways to neutralize opponents and string together more wins than losses. It is something that Canada's Team Brad Gushue has found success with during the 2022 Pan Continental Curling Championships.
The team from St. John's, N.L., improved to 4-1 following an 11-5 victory against Australia's Team Jay Merchant on Thursday morning at Calgary's WinSport Event Centre.
The win elevates skip Gushue, vice-skip Mark Nichols, second E.J. Harnden, lead Geoff Walker, alternate Nathan Young, coach Jules Owchar and national coach Jeff Stoughton into a three-way tie for first place alongside South Korea and the United States.
It's a strong start for the Canadians, and they're nearly firing on all cylinders, according to Nichols.
"There's still room for improvement. I feel like we're drawing really well, though," said Nichols. "We're putting [rocks] in some good spots and making good freezes. We have a few little things to work on, but when you draw well on this ice, you do typically score well and give yourself good chances. I think we're doing a very good job at that, and as long as we can maintain and keep up on the ice, I think we'll be okay."
With a score of three in the first, Canada extended its streak of opening a game with three or more points to four consecutive games. These jumpstarts on the scoreline have been crucial for the Canadians, who are now riding a four-game winning streak.
In the first end, Canada was well-equipped with plenty of red-handled granite in the house and behind cover. Australia had to play a double run on a pair of locked stones to try and limit damage, but there were still two Canadian counters sticking around, and Gushue made a draw for three.
"We're catching onto the ice a little bit better each game. We're also winning the draw to the button, which gives us an advantage in that first end," Nichols said. "We've been lucky enough to convert a few bigger ends. We're not typically a team that goes super aggressive, so when we get those bigger ends, it is nice."
While the Aussies might not be a commonplace curling nation, there was no shortage of skill and potential on display against the Canadians. Fourth rock thrower Dean Hewitt is no stranger to international competition himself. The 27-year-old made history in curling, becoming one-half of the first-ever Australian mixed doubles team at the Olympics.
In the second end, Australia took advantage of an opportunity after a half-shot by Canada. Gushue attempted to pick an Aussie stone out of the house with his last shot, but it also clipped off a Canadian rock, which led to a hit for two and Australia back in the game.
However, Team Gushue remained in textbook form. It scored a deuce in the third and forced Australia to one in the fourth.
"We do limit the big ends too. Any time you can score two or three and then force to one, you flip the game over pretty quick, and they've got to play a few more finesse shots and a few more risky calls to get back into the game, and we've been able to capitalize on mistakes," Nichols said.
With the hammer in the fifth, Canada put another dagger in Australia's chances to remain in the game. Team Gushue played a complete team shot – from the throw to the sweeping and the line call – to direct Gushue's final stone narrowly by a guard and raise an Australian rock into another in the house. It also left the raised stone just short of some Canadian counting stones. When the dust settled, Canada scored four for a 9-3 lead at the break.
Young again saw some action, subbing in for Harnden prior to the sixth end. In the second half of the game, Australia made a draw for one in the sixth. Canada responded in the seventh with a draw for two. Australia hit an angle takeout for one point in the eighth end and conceded the game.
Australia has made 11 appearances at the world men's curling championships – all led by skip Hugh Millikin – from 1992-1998 and most recently from 2005-2008. Despite the loss to Canada, the nation is still in the running to try and qualify for its first men's championship in 15 years.
In other Thursday morning men's action, Japan's Team Riku Yanagisawa (1-4) earned its first win at the event with a 9-3 victory against Brazil's Team Marcelo Cabral de Mello (0-5); Team Korey Dropkin of the United States (4-1) defeated New Zealand's Team Anton Hood (3-2) by a score of 6-2; and South Korea's Team Byeongjin Jeong (4-1) bounced back from its loss against Canada yesterday with an 11-5 win against Team Randie Shen of Chinese Taipei (2-3).
The 2022 Pan Continental Curling Championships continue on Thursday with Canadian women's Team Kerri Einarson (5-0) in a big battle against another undefeated team from the United States in Team Tabitha Peterson at 2 p.m. (all times Mountain).
Team Gushue is back on the ice at 7 p.m. against New Zealand.
Live scoring, standings and statistics for the 2022 Pan Continental Curling Championship are available by clicking here.
TSN and RDS2 will provide coverage of select games from the 2022 Pan Continental Curling Championships. Click here for the full schedule.
For ticket information for the 2022 Pan Continental Curling Championships, click here.
This story will be available in French as soon as possible here.