Streak stopped at seven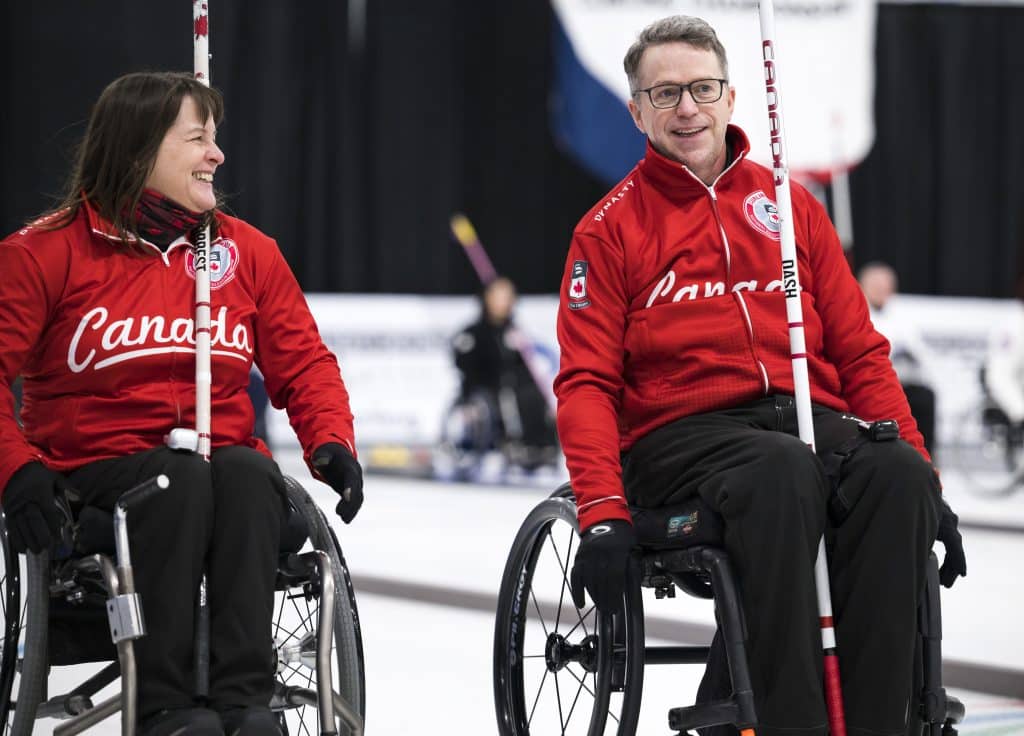 Despite loss Canada has qualified for playoffs at World Wheelchair Curling Championship
Canada's win streak at the 2023 World Wheelchair Curling Championship ceased at seven Wednesday but despite a 7-3 loss to South Korea the Canadians clinched a playoff spot.
The victory by South Korea, skipped by Hyeonchul Lee, put them in a second-place tie with the Canadians – skip/lead Mark Ideson (London, Ont.), fourth Jon Thurston (Dunsford, Ont.), third Ina Forrest (Spallumcheen, B.C.), second Gil Dash (Wolseley, Sask.), fifth Marie Wright (Moose Jaw, Sask.), head coach Mick Lizmore and team leader Kyle Paquette – at 7-2 behind China (8-1). All three teams have qualified for the playoffs with two games remaining in the 12-team round robin. The top two teams will advance directly to Saturday's semifinals while the third-place finisher plays sixth place and fourth and fifth face off in qualifying matchups Friday (1 p.m.).
"We're in a good spot, and at the beginning of a gruelling, long round robin the goal is to make the playoffs," said Ideson. "So, so far it's going OK."
Canada will play Sweden (5-4) later today (8 p.m.) and finish up the round robin against Denmark (2-7) on Thursday (1 p.m.).
"We've got two round-robin games left and we can only control what we can control, and if we get two more wins on the board we'll let the chips fall where they may," said Ideson.
The loss to South Korea could be costly because in the event both teams are tied for second it will be the South Koreans that will advance directly to the semifinals.
"(South Korea is) a really strong team and gave us everything we could handle. We didn't think we were going to go through the round robin only losing a couple so when you play against a hot team you've got to bring your best and just a couple of key misses that went their way," said Ideson.
The dagger for Canada came in the sixth end when Thurston faced four South Korean counters and had to draw the button just to score. He came a centimetre or so from cutting down South Korea to a steal of one but Canada surrendered two to give the South Koreans, skipped by Hyeonchul Lee, a 6-3 lead.
"Really good rock placement, they made some excellent shots that put us in some difficult situation. You know what, that's curling and we'll regroup and come back rested this evening," said Ideson. "We had some opportunities, we'll just keep working our way through (the schedule)."
Canada had held a 3-2 lead at the fourth-end break before giving up two to South Korea in the fifth and the steal of two in the sixth.
The Canadians ran their win streak to seven Tuesday night by stealing five points in an 8-1 victory over Scotland, skipped by Gregor Ewan, in just six ends.
Norway, Sweden, Scotland and the United States are in a four-way tie for fourth at 5-4.
Earlier in the day, Canada's wheelchair mixed doubles team of Collinda Joseph (Stittsville, Ont.) and Dennis Thiessen (Winnipeg and supported by head coach Dana Ferguson and team leader Kyle Turcotte) clinched a playoff spot with a 9-1 win over England to run their record to 6-0 with two games left in the nine-team Pool B round robin. A win against either Sweden (1-4) Thursday (6 p.m.) or Japan (1-4) on Friday (9 a.m.) would clinch first place and a direct berth in the championship semifinals.

Both of Canada's teams are supported by Dr. Steven Macaluso (Physician), Sari Shatil (Physiotherapist), Erin Brennan (Mental Performance Consultant), and Wendy Morgan (Leadership Support).
Live scores can be found at https://worldcurling.org/live-scores/ and results at https://worldcurling.org/events/wwhcc2023?pageType=results.
There is free entry to watch the event live. The World Curling Federation will provide coverage of select games at the World Wheelchair and World Mixed Doubles Wheelchair Curling Championships. Watch live games on The Curling Channel in partnership with Recast.

For non-feature games, Curl BC will provide an international live stream of static camera footage on its YouTube channel. Canadians can watch feature games on the CBC Sports YouTube channel.