Young Scholarship Winners Give Back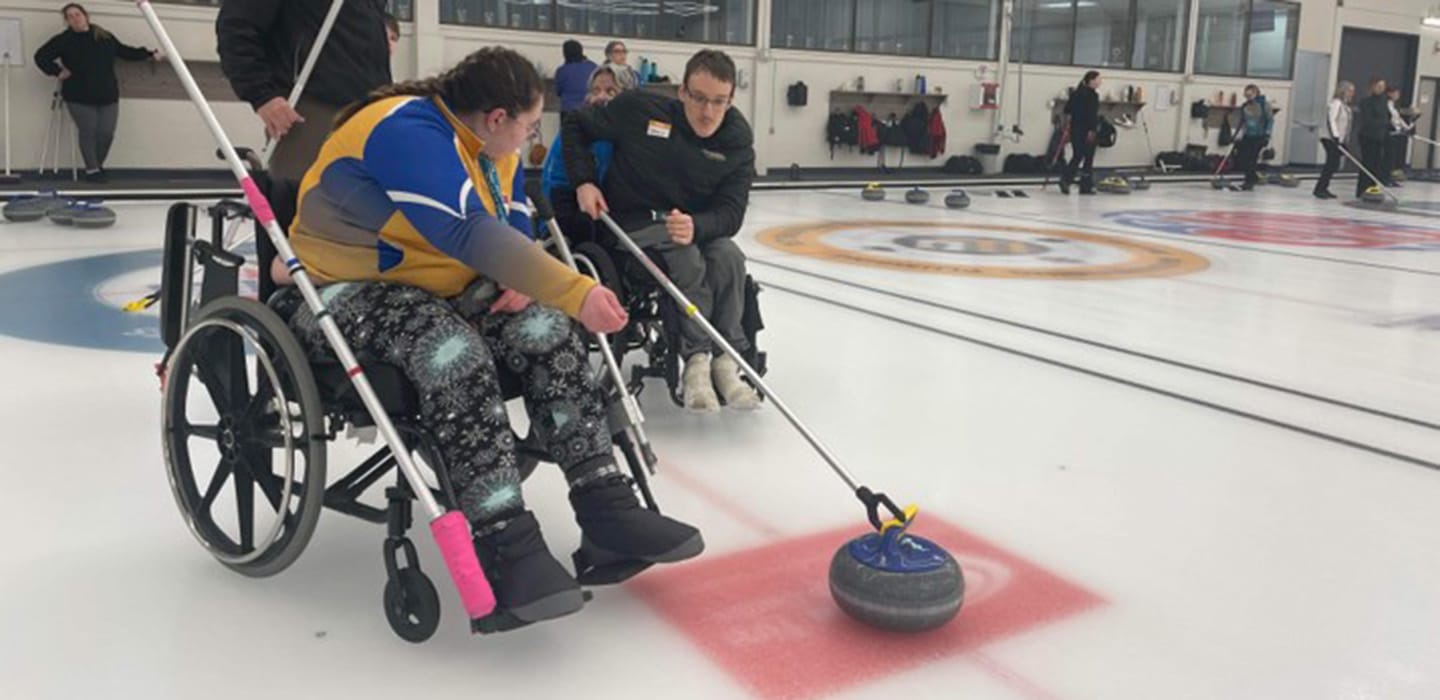 Previous winners of the For the Love of Curling Scholarship Program raise funds for the next year in the Scholars for Scholars Initiative
By: Jillian Kent
For nearly 10 years, Curling Canada has been running the For the Love of Curling (FTLOC) scholarship program, which currently provides 11 junior curlers from across the country with $2,500 to help support them as they progress in both curling and scholastic efforts. Submissions for the 2023/24 program are now open and more information about the program can be found in this article posted earlier last month.
While the FLTOC program is well known, the "Scholars for Scholars" initiative that goes hand-in-hand with the program often goes under represented. Each year the recipients of the FLTOC scholarship are asked to run their own fundraisers, the proceeds of which are given back to the FLTOC program. Many generous donors contribute to the $27,500 that is awarded each year, and Scholars for Scholars plays only a part in that. However, through the ingenuity and passion of the scholars, the 2022/23 initiative saw a record amount raised. With over $8,000 collected, the group, which included Brianna Cullen, Carter Parenteau, Cassie Rogers, Cate Fitzgerald, Emily Deschenes, Emma Nagel, Isabelle Ladouceur, Jackson Dubinsky, Kibo Mulima, Rachel Jacques, and Sean Beland, raised enough money to fund more than three of the 2023/24 selectees.
It's important for the FTLOC scholars to play an active role investing in the program because they are each taking on a leadership role in their community. By becoming involved in the fundraising process and giving back to the program that supported them, they are modelling the behaviour that they want seen in younger curlers. This promotes a curling community that will grow and support one another with each generation.
FTLOC and Scholars for Scholars also gives each winner a platform in which to promote their own stories and the messages that are important to them. Emma Nagel is the first FTLOC recipient for wheelchair curling, and while all the winners are role models, she feels an extra sense of responsibility to make wheelchair curling more prominent.
"I wanted to show differently abled youth that it is possible to succeed in a sport where the majority are able bodied and the adapted counterparts are not widely known in communities." Emma went on to say, "I was hesitant to apply for the scholarship as I did not have a lot of experience with higher level competitions, as there are just not the same opportunities as in able bodied curling. I would like to see more representation in all aspects of the sport. Everything from seeing it televised, to junior programs being available, having more showcases during elite events (i.e. Scotties/Brier), and more bonspiel opportunities."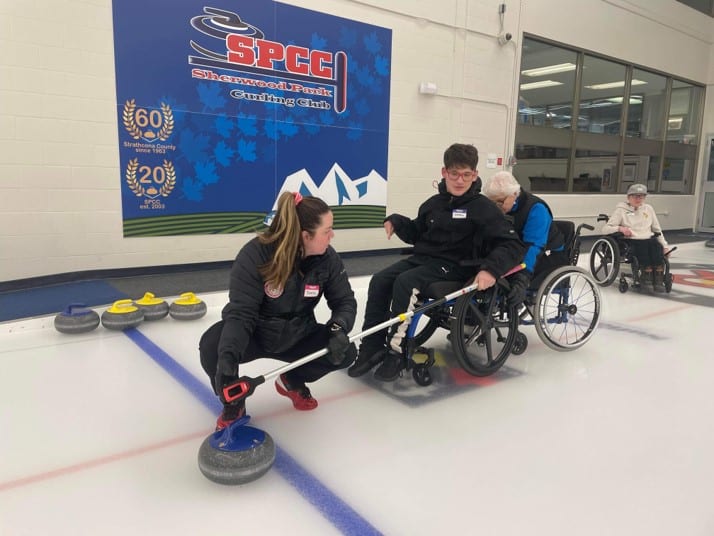 For her fundraiser, Emma created a youth adapted curling "Try-It" event, which was held at an accessible rink, and included both stick and wheelchair curling. The event got a great response, and Emma's only regret is not holding it earlier so she'd have had time for a second event.
For Emma, "Representation means we can grow the sport to be more diverse and inclusive to all that love curling. It means more inclusivity in communities, where people who enjoy watching the sport can get involved in playing when they were previously unable to. It means belonging to a team and bringing together a diverse group of individuals."
Emma may have been the only wheelchair curler, for now, among the group but all the participants felt the call to give back to their own community. Sean Beland wanted to do a fundraiser at the CFB Halifax Curling Club because it had been his home club for 10 years; it was part of his formative years in the sport. "The [youth] program is very welcoming and tight-knit, and has been a big part of my life, so I wanted to run my fundraiser there. I chose ice bowling as the primary activity because I thought it would be a fun and unique twist on regular curling. I chose to hold a breakfast afterwards to bring everyone together."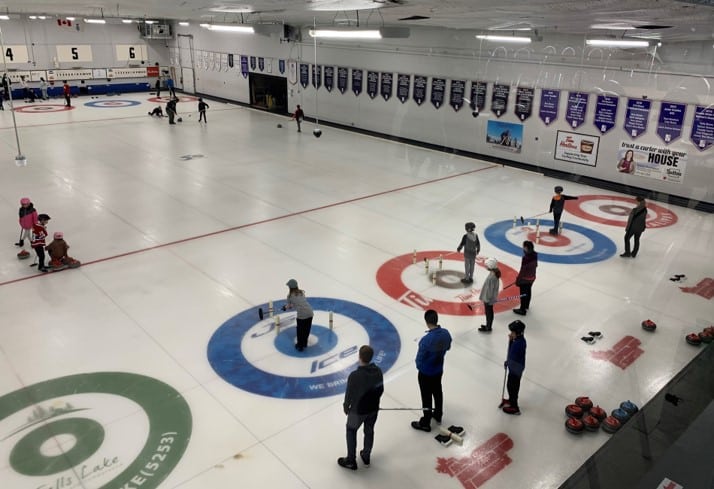 Sean is aware of the confidence and motivation that the scholarship gave him, and the responsibility that came with it to continue to give back, "I owe a lot of my success in curling to volunteer instructors, team coaches, and other people that have helped me along the way. This is why it is important to give back so that as many people as possible can be given similar opportunities to me. I would love to see the sport grow, especially at the youth level, and this takes the efforts of many people."
Though it is not just local communities that showed support. Emily Deschenes hosted an online silent auction that raised over $3000. She chose this means to raise money as she wanted something that fans from across Canada and even internationally could participate. It worked as prizes were shipped to Nova Scotia, New Brunswick, Ontario, Alberta and yes, two to the United States.
Emily enjoyed the experience, taking the initiative to reach out to many of the men's and women's teams, as well as individuals on the tour, really stepping into her role as a leader and role model for the community. In response, Emily found, "It was so amazing to see how much the players wanted to support my fundraiser and supporting the program. It truly meant a lot to me."
In the end, regardless of their chosen fundraiser, each scholar expressed a desire to give back to the community that supported them. They felt an honour to be involved in the curling community and expressed an intention to continue to make the best use of their position as a role model in the community.
When asked to give advice to future Scholars for Scholars, Emily had this to say, "I would advise future scholars to not be shy in connecting with other athletes or local businesses to assist them with their fundraisers. They have been in their shoes at one point. No matter the size of your fundraiser, just remember that you are giving back to future scholars and to the curling community."