Doubling down on triples!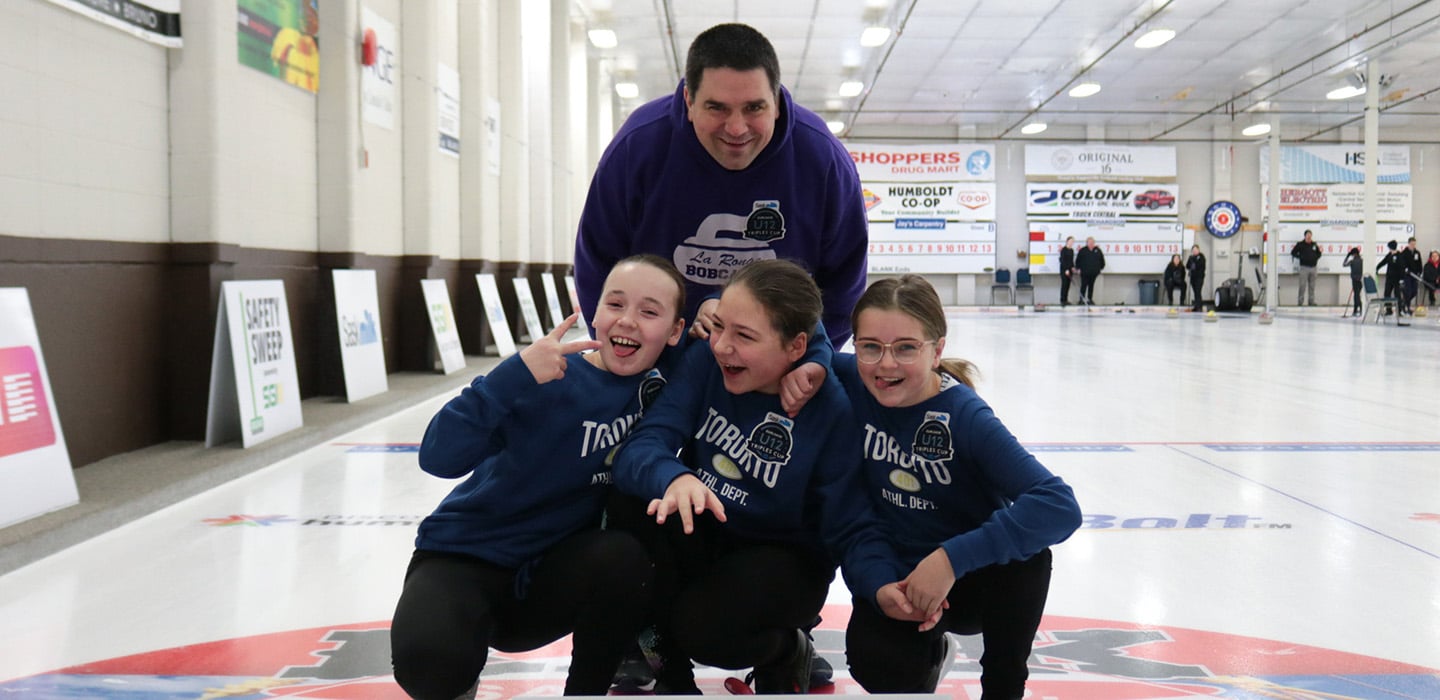 Saskatchewan doubles down on youth engagement with triples curling, as new discipline gains momentum across Canada
Thirteen-year-old curler Mckenna Hogemann, of Muenster, Sask., was playing in a Tier 2 final event and she felt there was plenty to prove as she settled into the hack for her final shot of the game.
A season chockfull of throwing curling rocks, sweeping, calling line and strategizing honed her skills for this moment: a pressure-filled draw to the button. Mckenna released her rock and soon jumped in to sweep as it passed the far hog line. As her rock slid and stopped right over the pin, she started feeling the excitement of all her practice coming to fruition; first with jolts of excitement that soon lit up her face with a smile that was shared with her mom and coach Amy Hogemann, nearby.
Triples curling is a new discipline sweeping up plenty of enthusiasm in Saskatchewan. Mckenna was one of nearly 50 Under-15 curlers trying out the new discipline at a provincially-run event by CURLSASK last season.
Three-person teams, made up of any gender, compete against each other with modified rules, including:
Six rocks thrown per team each end (two thrown per player);
Games consist of three sets of two ends each. Each set is a mini-game, and the team with the highest cumulative score after two ends wins that set. If teams have the same number of points, the set is tied and points are split;
Two points are available in sets one and two and four points are available in set three;
Tied games result in a team shootout, with all three players throwing a draw to the button and earning points based on where the rock lands in the house;
Players rotate through the lineup after each set and play every position: lead, middle and skip;
One sweeper per shot until the far hog line when the broom holder or thrower can join.
Triples modifies how youth play curling to bring out their best and maximize their skills. Rotating through the lineup to play all three positions – lead, middle and skip – is one of the most appealing aspects for many young curlers taking up triples curling.
"You get to call shots and if there's a difficult shot at the end, like trying to get through a bunch of rocks, then it's cool to throw it if you've never thrown it before," said Mckenna, who plays third on her four-player team.
She played in two provincial-wide events called the Triples Cup last season with her team Curl Power. The event, essentially an open-entry provincial championship, puts less focus on the competition itself and more on developing skills, meeting new curlers from around the province and having fun both on and off the ice. With music playing on the ice throughout the day and plenty of chatter and excitement from the young curlers, triples curling has become a hot commodity all across Saskatchewan during the year's coldest months.
11-year-old Luke Branvold feels the same about his Triples Cup experience. He enjoyed competing against kids from around the province on the ice and getting to know them off the ice during laser tag, ice cream/pizza parties and more.
As a lead on his four-player team, he enjoyed seeing how he fared at other positions and learned tons about skipping and playing in the middle of the rotation.
Luke and Mckenna both learned something new about themselves this past season too. While they don't play as the skip in four-player curling, they both enjoy playing the position in triples.
"Being able to call the shots on the team," Luke said of what he liked about being skip. "If I thought something would work and the others [on my team] didn't, then I'd be able to prove it to them."
It's that kind of confidence in play-making and technical ability that CURLSASK Community Development Manager Dustin Mikush loves to see. Since the start of the pandemic, he and his team are finding new ways to introduce kids to curling, develop their skills and increase event registrations. Triples curling is a way to achieve all of those goals.
Mikush noticed a drop in registrations for youth curling during the 2021-22 season and had to cancel some events. It posed him with the question of how to get youth back in the sport and keep them engaged as they develop their skills and abilities so they can one day either play competitively at the U-18 or U-21 levels or decide to become lifelong recreational curlers at their local facility.
He was one of the curlers who piloted triples curling while a student at the University of Alberta and had first-hand experience with the discipline. With one less curler needed to form a team and no specific gender requirements, Mikush believed triples curling could solve the problems CURLSASK was experiencing. 
During the 2022-23 season, CURLSASK took a bold approach. It mandated all U-15 bonspiels in the province would be played in the triples format. The Member Association also put in extra work by allowing youth to register as a single curler and help them find a team in their region.
In all, 10 one-day triples bonspiels were held across the province. The events were regionalized to ensure teams didn't have to travel far for an event. The main goal of the regional events was to get five or six young teams out for a day of curling and have a chance to meet new teammates and competitors.
The events crescendoed with two U-15 Triples Cup events with the first running alongside the Under-18 provincial championship in December at Regina. After a largely successful event, CURLSASK organized a second Triples Cup hosted at Humboldt in March. The Triples Cup events run for two days and brought together youth from all around the province. There were 16 registered teams at the first Triples Cup, followed by 15 teams at the second one.
Compared to last season, CURLSASK nearly tripled its participation in youth aged 15 and under. Throughout the one-day regional events and both Triples Cup events, there were 37 different three-person teams at the U-15 level. CURLSASK only had around 10-12 registered four-player teams for the same age category the year before.
"The big thing for us in implementing triples was for participation and numbers. Our registrations were so low that we had to become innovative in what we were doing. In the future, when they move up into U-18 [and are looking for teams], these kids will have met others from all across the province and made those connections and become more well-rounded players," Mikush said.
Mikush believes the networking, the ability to bring kids together from across the province for fun championships, will aid curling in long-term development and growth at both the high-performance and recreational levels. There's a name for such development, Long Term Curler Development (LTCD), and it's not just about developing athletes to win medals on the international stage. It's also about providing young curlers with the skills and abilities to play recreationally and make curling a sport for life.
Mikush, a competitive men's curler himself, wonders how his development could have progressed as a curler had he not been mostly limited to playing one position his entire career.
"Now we're going to have kids from ages nine to 15 who have played all the different positions. They know and understand a bunch of the different roles and responsibilities of a front-ender and back-end player: from shot calling, learning to call line, knowledge on ice conditions and becoming more comfortable, which will be important as they continue on. At the end of the day, the best curlers are able to play all of the positions," Mikush said.
It's a notion that Mckenna's mom Amy, also thinks about.
"I think as I came up in the four-person game you kind of get pigeon-holed into a position and you end up playing that position your whole life in curling sometimes. For them to have every opportunity to play those positions in every game and to be able to switch it up as well is valuable," Amy said. "It's been a really wonderful experience for them, really fun. And to give them an opportunity to dip a toe into the experience of competitive curling at such a young age, I think it's going to be really wonderful for the young players in this province."
Increased involvement in rural areas
Mikush grew up in Wadena, Sask., a small rural town, and knows first-hand the importance of youth playing the sport in rural areas. By only needing three team members, smaller communities had an easier time compiling teams and registering because they could look to other neighbouring communities for outreach. He attributes the three-player makeup of a team as one of the reasons CURLSASK saw an increase in registrations.
Luke lives in the rural municipality of Cymri and curls out of the Midale Curling Club. That's about a 160 km drive northwest to Regina and isn't necessarily a drive that his family makes often. In December, he was thrilled to travel to Regina and compete in the first Triples Cup event with his brother Hudson and friend Olivia.
They are the Cymri Barn Sweepers, a team name the three of them came up with and references their home community. Since all curlers play as the skip once per game in triples, the team isn't named after an individual player. Instead, the team name can encompass the location, personalities and traits of the curlers on the team.
As much fun as Luke had on the ice, everything that happened around the curling made for a memorable event.
Being welcomed onto the ice with bagpipes during the opening ceremony was his favourite memory from the event. It was so memorable that he later wrote a speech about triples curling for 4-H. His speech highlights everything from learning the rules, forming his team, practising and travelling to Regina for the event.
"Small town farm kids in the big city against others who started years before us, some practised since August and played with the same team for years, and we rocked it!" Luke said in his speech. "The opening ceremonies took place that night. Bagpipes played and it was such a cool experience. All teams entered the ice, holding their team names on signs. I was pretty proud to be there when they said our team was representing the Midale Curling Club. It gave me goosebumps."
With a greater emphasis and need on making the sport available to all youth, particularly in rural areas across Canada, the story of the Cymri Barn Sweepers is a trend in the right direction. Triples curling makes it easier for young curlers from rural areas to form teams and compete against others across the province, all while being proud of their roots and where they come from.
Coaching, rules adjustments and the future of triples
Triples curling had been piloted on a small-scale, but CURLSASK's decision to organize and sanction the events means it was the first time the discipline would be tested on a larger, provincial-wide scale. Mikush watched the regional and Triples Cup events unfold to see what rules worked and which rules needed to be changed. It led to some rules tweaks throughout the season, including in the middle of some events.
There was some resistance to the changes, but Mikush was able to rely on the buy-in from the majority of youth, parents and coaches by focusing on the LTCD of youth and how the system is designed to help young curlers thrive whether they have aspirations of winning a medal at the Olympics or wish to make curling a lifetime hobby.
For Under-15 games, teams still play three sets of two ends, with the highest cumulative score winning the set. However, the maximum number of points earned in a single end is capped at three (i.e., any score of four points or more in an end will be a score of three on the scoreboard).
If games are tied, the teams still compete in a shootout, but the points are modified with the scoring system changing to include points scored for landing a rock in the free guard zone. In the standard triples rules for adults, no shootout points are awarded for landing in the free guard zone and extra points are scored by landing on the pin.
Under-12 competitions are typically slower paced with the youngest curlers involved, so triples games are modified to three ends in length. Each end is a set and players switch positions each end.
"We've got the rules in a good place where there's an in-set cap for points for U-15. We really want to keep the games close, from a development perspective. So that in-set score cap is set to three to keep the game close," Mikush said.
Another aspect of triples curling, which is also being implemented in the standard junior game, is on-ice coaching. Mckenna's mom Amy and Luke's mom Beth Vandenhurk coached their teams at the Triples Cup. Both parents and youth curlers found benefits to the on-ice coaching, as opposed to having a coach behind the glass.
"The coach on the ice was extremely helpful with different plays and just having another set of eyes to have an opinion," Luke said of his mom's involvement in the game as a coach. "If we're set on doing something but she saw another way then she'd be able to teach us."
Triples was also a new experience for Beth and she was learning on the fly. But it was comforting for her to know other parents and coaches were in similar situations and were supporting each other through the process.
"It was new to me, I had never done anything like that and I was learning as well. So it was very helpful that they were guiding us on the directions as they go and as they changed, because they did change a couple of times. It was really good to be able to say to the other coaches 'hey, can you explain this to me because I'm new at this too.' It wasn't as intimidating because there were so many coaches out there that we could reach out to and say 'what next?'," Beth said.
That instant feedback leads to better decision-making on the ice, helping youth become more sound at strategy.
"It was definitely an adjustment even for myself going from the four-person game to the triples format, but I can see such an amazing growth that's come out of our team this year," Amy said. "My other daughter plays on a younger team as well and for them to get the opportunity to play a three-end game has been wonderful and built up their confidence."
Triples curling isn't just for youth. It's being played at the adult level too. Some centres in Saskatchewan have already implemented triples curling into their leagues. While there can be challenges in implementing a new discipline into leagues that many may not have heard of, Mikush believes the growth and potential is limitless. It's fast-paced play, has a fun and social aspect, smaller numbers for registration and shorter games are appealing. Triple curling has the potential to be one of the most popular leagues in any curling facility.
Mikush will continue his involvement in youth curling and development, but he will be moving from the provincial to national level. He'll be involved in introducing triples curling to Canada as he takes on a new role within Curling Canada as the Youth & Program Development Manager later this month.