Measuring up to challenge
Measure gives Team Europe's Silvana Tirinzoni a tie at the OK Tire & BKT Tires Continental Cup
LONDON, Ont. — Sometimes the competition is so close, teams are fit to be tied at the OK Tire & BKT Tires Continental Cup, presented by Service Experts Heating, Air Conditioning and Plumbing.
The final game in Friday morning's draw at The Sports Centre at Western Fair District proved to be about as close as possible.
Team Canada's Tracy Fleury of Sudbury, Ont. – along with third Emma Miskew, second Liz Fyfe and lead Lisa Weagle – held a one-point lead heading into the final end of the scramble event with Team Europe's Silvana Tirinzoni, Sara McManus, Esther Neuenschwander and Sofia Mabergs of Switzerland holding hammer.
As the end developed, it became impossible for the human eye to see which team had shot rock.
The measuring stick was brought in and it was determined that Team Europe had salvaged a tie on the game and the draw since their rock was five ticks — or five one-hundredths of an inch — closer.
Gaining a 6-6 tie, combined with a win split by each zone meant an even split of 1.5 points each as Team Europe took an 8.5-3.5 points lead over Team Canada.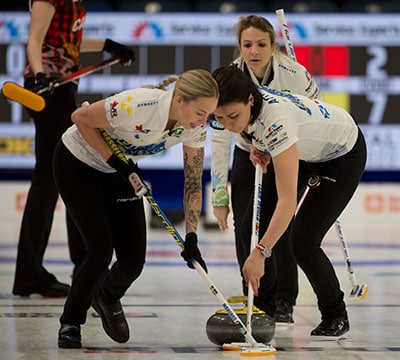 In other scramble games, skip Rachel Homan (St. Paul, Alta.) edged Scotland's Eve Muirhead 6-5 and Sweden's Niklas Edin trounced Edmonton's Brendan Bottcher 7-3.
"We couldn't tell," said Tirnizoni. "Both teams were thinking the other one had shot. It's hard when you don't know which team is shot, so you have to play with a little more risk. We probably wouldn't have tried the last one if we knew we were shot."
The game proved to be a nerve-wracking back-and-forth battle before the dramatic ending.
"It was not our best-played last end, but we still had our chances," said Tirinzoni, whose team was denied a chance to score a game-winning deuce. "It came down to the last rock. I would have loved to win it, but it was close. That point may prove to be important at the end of the week."
Fleury missed her chance to put even more pressure on the defending world champion skip when her final draw in the seventh was heavy, denying a chance to score a deuce.
"We thought we had shot rock [for the steal and win]," said Fleury. "Close one. It was a battle back and forth. There was lots of good shots made by both teams.
"They're all really great players on that team. It was a really competitive game with lots of shots made."
"They were amazing out there," said Fleury. "It made my job easy. Emma's played really well as well as Lisa. It's a lot of fun playing with people you usually don't get the opportunity to play with. It's a way to learn new things and try new things."
After Team Europe's Day 1 domination, the fact Team Canada has emerged from Day 2's first draw with split gives the home side some momentum.
"I think we're finding our groove here, Team Canada," said Fleury, who's foursome is making its first appearance at a OK Tires & BKT Tires Continental Cup. "Hopefully, it'll go down to the wire. It's a lot of fun. I'm really enjoying it."
The 2020 OK Tire & BKT Tires Continental Cup continues with draws today at 2 p.m. and 7:30 p.m. (all times EST).
TSN/TSN2 and RDS2 will provide complete coverage of the OK Tire & BKT Tires Continental Cup. CLICK HERE for the complete schedule.
The OK Tire & BKT Tires Continental Cup format pits Team Canada against Team Europe in a series of team play, mixed doubles, scrambles and skins games. Teams earn points by winning games and the first to score 30.5 points is declared the OK Tire & BKT Tires Continental Cup champion.
For ticket information, as well as team lineups, go to https://www.curling.ca/2020continentalcup/
This story will be posted in French as soon as possible at: https://www.curling.ca/?lang=fr