Growing the sport!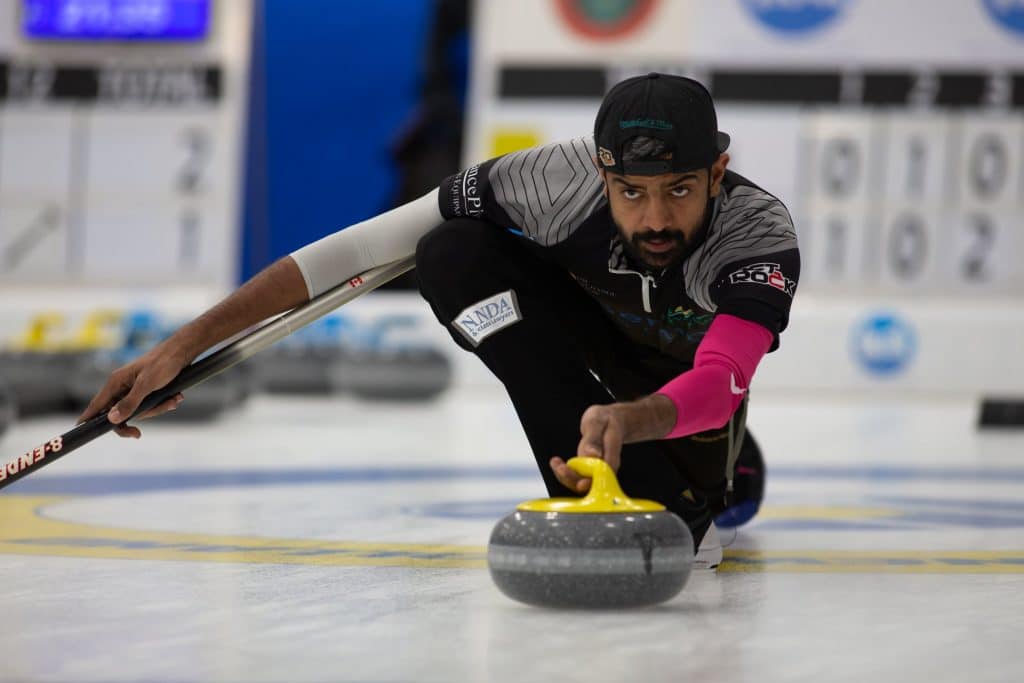 How to embrace change and create new opportunities for BIPOC Canadians in curling
Curling is no stranger to change.
As the sport has progressed forward, the curling community has seen countless instances of the roaring game evolve to greater versions of itself. The days of chattering your teeth while throwing irons on outdoor frozen bodies of water are thankfully over. And when was the last time you heard the slapping of a rink rat echo through the frantic yelling of a line call?
Curling remains a game of evolution: straw brooms to push brooms; 12 ends to 10 ends; post-game beers to pre-game energy drinks. But the most significant, most important, change is still taking place.
It's no secret that curling will need to continue to grow and recruit new members to ensure the future of the sport. Still, curling remains predominantly Caucasian as far as participants go. This goes entirely against the demographics of Canada as a whole.
Canada's largest cities undoubtedly boast the glut of curlers, and the demographic profile of these cities has changed substantially in the last 20 years. According to Statistic Canada, Toronto, Canada's largest and most densely populated city, boasts a 54.5% total Black, Indigenous and Person of Colour (BIPOC) population. Canada as a whole has a 23% BIPOC population, with the average age of a BIPOC individual being 33 years old, a premium target market for curling facilities across Canada.
By contrast, rural communities in Canada account for only 18.9% of the general population, with some communities having a >2% BIPOC population. This particular segment of the Canadian population has continued to shrink, solidifying that most new Canadians and second-generation Canadians are landing and living in Canada's largest urban centres.
These are Canada's biggest potential markets for new curling, and yet, even in major urban areas, the vast majority of curlers are not a member of Canada's BIPOC population.
It begs a simple question: where does the disconnect exist? Why are new Canadians, second-generation Canadians and members of the BIPOC community skipping out on the sport of curling?
For most curlers in Canada, curling has been hereditary. If you're a curler, odds are someone in your family, or a close acquaintance has already been a curler for some time and introduced you to the sport. And though this trend is slowly dwindling with Curling Canada engagement programs readily available to curling facilities to boost their memberships, the process takes time. Many of these programs are still in the early adoption stages. They have not been universally adopted by curling facilities Canada-wide, so you won't be seeing instant results as the echo of these engagement programs begins to reverberate.
There are two sides to this coin as well. Some facilities aren't looking to grow their membership beyond what members they naturally inherit through word of mouth, but these facilities are mainly rural and volunteer-run. Ultimately, every facility has the right to operate as they see fit.
And while concluding that BIPOC individuals haven't "found" the sport of curling yet is an easy conclusion to make, it isn't correct in 2021. Curling has never been more prominent or accessible, especially after the success of the 2021 Calgary Hub City bubble, which featured seven world-class events and hours of media coverage across several platforms. Nearly every curling facility that has adopted a membership growth strategy has a prominent online presence complete with targeted messaging and demographics. Every campaign may not be perfect, but facilities have never had more affordable, more effective and more accessible methods of procuring new members.
With that, we've cycled back to the core question at hand: why are BIPOC Canadians curling in vastly smaller numbers than other comparable demographics?
Simon Barrick, an Experiential Studies in Community & Sport lecturer at Cape Breton University and Ph.D. candidate, is one of Canada's leading minds regarding race relations in sports. As a lifelong curler himself, he recognizes curling's shortcomings when it comes to matching Canada's demographics.
"The challenges that curling is facing in this regard are not unique to just curling," said Barrick. "This isn't just a winter sports issue either. BIPOC people are facing the shortcomings of the system, and broadly speaking, there's a sound argument that sport in Canada has been quite exclusionary for a long time."
Barrick explains that exclusion, whether intentional or not, has been bred into sport as a regular facet of participation.
"To preface modern ideas about sport, we need to go all the way back to our ideas about sport, especially coming out of the Industrial Revolution. Sport used to be a way to prepare young men, or young bodies rather, for war. These systems existed to ensure that only those fit and well enough to be prepared for an imminent threat could be welcomed. As time marched on, this oppressive nature grew to include cultural and societal roles including men who didn't present traditional masculinity, girls and women, different gender and sexual identities, all the way to race and ethnicity, language, culture and further on."
These exclusionary ideas didn't cease to exist once the need for sport changed from a method of survival to a recreational activity.
"Modern sport in the western context has never been particularly welcoming either," states Barrick. "Curling exists within that reality. The sport originated in Scotland, which gives it its colonial roots, and how the sport is structured today is not by accident. These are all symptoms of how people in Western culture are organized and, particularly, how power is organized. These are all 'top-down' authoritative structures which, historically, have never treated racialized minorities very well."
Even if modern era leadership has worked to make changes, Barrick explains that it's difficult for BIPOC Canadians to rebuild the trust that society will welcome them into a particular sport.
"These are socially constructed concepts perpetuated not by outward disdain for racialized minorities in sport, but rather by more implicit subtle means. Many of these have become norms in Western culture, and they're easy to miss should you not be on the receiving end of them," explains Barrick.
Curling may have the reputation of being a welcoming and inclusive environment, but how much of that is true? Could it be that curling, a sport that so gallantly boasts its community as a pillar of the game, has been subtly pushing BIPOC Canadians away?
Speaking to Punit Sthankiya, a lifelong elite curler in Ontario of Indian descent who boasts several Ontario Tankard, mixed and mixed doubles accolades, he confirms that these types of subtle segregation happen.
"When I graduated University and came back home to stay with my folks. I joined a nearby curling club," said Sthankiya. "They hosted a mixer for new incoming members to help guys find each other and create teams for the upcoming season. As soon as I walked in, I was directed to the tennis section of the club."
And while it's easy to think that this type of action should be shrugged off, it can take an emotional toll, explains Sthankiya:
"The underlying tone was, 'this tall brown guy doesn't curl for sure, must be looking for tennis.' I laughed about that moment for a long time, but as you unpack the situation, you realize how much further we have to go in allowing us to accept anyone to play this beautiful game of ours. It can be intimidating and uncomfortable to try a new sport, let alone one where you don't see yourself represented."
Sthankiya does count himself lucky as he seldom sees any resistance to being a BIPOC Canadian in curling but has concerns for his parents, who are immigrants from India.
"I felt pretty insulated from the lack of diversity and discrimination," said Sthankiya. "As for my parents? I feel they had to deal with more discrimination and prejudice than I did. I was busy worrying about my game and competing, but my parents had to sit in the lounge watching our games. They probably never shared everything with me, but I know they had to have faced some discrimination. And the lack of diversity now is still glaring. it's so obvious since I'm the only Indian guy at Ontario Curling Tour events."
Though isolation helped Sthankiya stay in the game and excel to a competitive level that many Canadians never achieve, he hopes change comes soon for curling. He believes that change comes from the top.
"I think we can do a lot to move the inclusivity and diversity of this sport forward," said Sthankiya. "I think there should be more of a focus to hire and grow minorities into management positions in this sport. From the WCF to curling club presidents, having, for example, a visible minority in a management position can help motivate, inspire the following generation to join and grow the sport."
Unfortunately, experiencing exclusionary behaviour based upon racialized factors is not unique to the Sthankiya family.
Sabena Islam has had similar experiences. She is a curler, curling parent, coach, volunteer, former Greater Kingston Curling board member and all-around member at large in the curling community whose family also has experienced unwelcome behaviour based solely upon their last name.
For context, Islam identifies as Canadian of Pakistani descent who inherited the last name Islam through marriage and has experienced discrimination.
"Ignorance causes a lot of problems in our society, but some people don't realize they're discriminating against because they don't know how to strike up a conversation with someone who may be different from you."
Islam's experience in curling is largely positive but says the negative experiences hit much more than the collective weight of the positive ones.
"My kids have brown skin, which makes them stand out in a curling club. I've had experiences as a parent where an adult at a curling club read the last name on my son's curling uniform and was asked if his last name was a political statement and was belittled. It wasn't even my son who brought it up to me – it was his mixed doubles partner, who is unrelated but felt the need to step in."
It's clear that this adult would never engage a white curler in the same way, concludes Islam.
"There are so many other ways you can learn to talk to someone. I'm often asked, 'where are you from and I reply 'from Northern Ontario,' which usually ends up with the follow-up 'where are you really from.' If you're interested in my family heritage, you can phrase it that way or ask about which club we represent and expand from there. Learning to speak to someone who may have a different life experience than you goes a long way."
Islam won't let her experiences deter her or her family from curling but is concerned about those new members in curling who haven't cemented their roots in the sport yet.
"Our family lives and breathes curling. A few bad experiences won't stop us. But to someone who is new to a club and has this kind of experience may think twice about becoming part of that community. It can make you really uncomfortable, and if you're not comfortable? You won't be coming back.
Though these actions may seem subtle or small to some who have never experienced discrimination, they occur because of factors that a BIPOC person cannot control. To argue that their experiences aren't valid or that they should "shake it off" is to engage in their oppression actively. To be ostracized based upon who you are is not acceptable in curling or community in general. These types of actions must be highlighted and squashed should curling achieve its goal of becoming more inclusive.
"Through my research, I can tell you that telling people to 'suck it up and deal with it when it comes to oppressive action is not productive. A lot of these opinions boil down to a lack of education," said Barrick.
Barrick confirms that these types of experiences are directly related to why there are so few BIPOC star curlers who regularly garner media attention and why the few young BIPOC curlers who play the sport fail to have relatable role models.
"To someone who is unfamiliar with the sport, curling is already perceived as closed-natured. There's a growing body of research that confirms that creating these meaningful relationships with ethnocultural groups takes time before adoption can take place. There has to be a long-term solution that a simple learn to curl program is just one small part of," said Barrick.
This long-term solution is on Curling Canada's radar. With new programs and resources rolling out, curling can lead other winter sports and transition towards a fully inclusive sporting culture in Canada.
Curling Canada has already launched a series of resources for facilities in Canada, which include educational tools on the importance of diversity, how to mitigate unconscious biases, targeted approaches for membership curation, program ideas and marketing resources that extend beyond just targeting BIPOC individuals. These resources apply towards differently-abled curlers, LGBTQ+ spaces, low-income communities and more.
A diversity council has also been created to directly facilitate access to Curling Canada's board of directors and staff for marginalized community representatives. Dissolving exclusionary language like "club" in lieu of words such as "centre" or "facility" in Curling Canada's dialogue are subtle but essential steps in creating a more inclusive environment for the sport of curling.
Even with much work to do and a fully inclusive sport still in the stages of infancy, the barriers that currently exist can be overcome, says Barrick.
"There's no hard brick wall stopping curling. The sport has a lot of advantages over others in that it's affordable, social, and the rules are codified and self-officiated. On the other hand, the perceived culture of alcohol consumption may limit some religious groups from engaging in the sport. We'll need to think critically about curling's roles and why, for the same reasons, you've probably never set foot on a cricket pitch, for example."
Manitoba's Kerri Einarson, a Métis woman who skips the reigning 2021 Scotties Tournament of Hearts champions and the 2021 Home Hardware Canadian Mixed Doubles champion alongside Brad Gushue, agrees that curling has many advantages over other spots in creating a more inclusive environment.
"You don't see a lot of diversity among elite curlers, but curling is one of the most welcoming sports. There are already lots of BIPOC people in curling, but not on the world stage yet, which will change as curling becomes more popular. There is lots of potential for that to change in the future," said Einarson.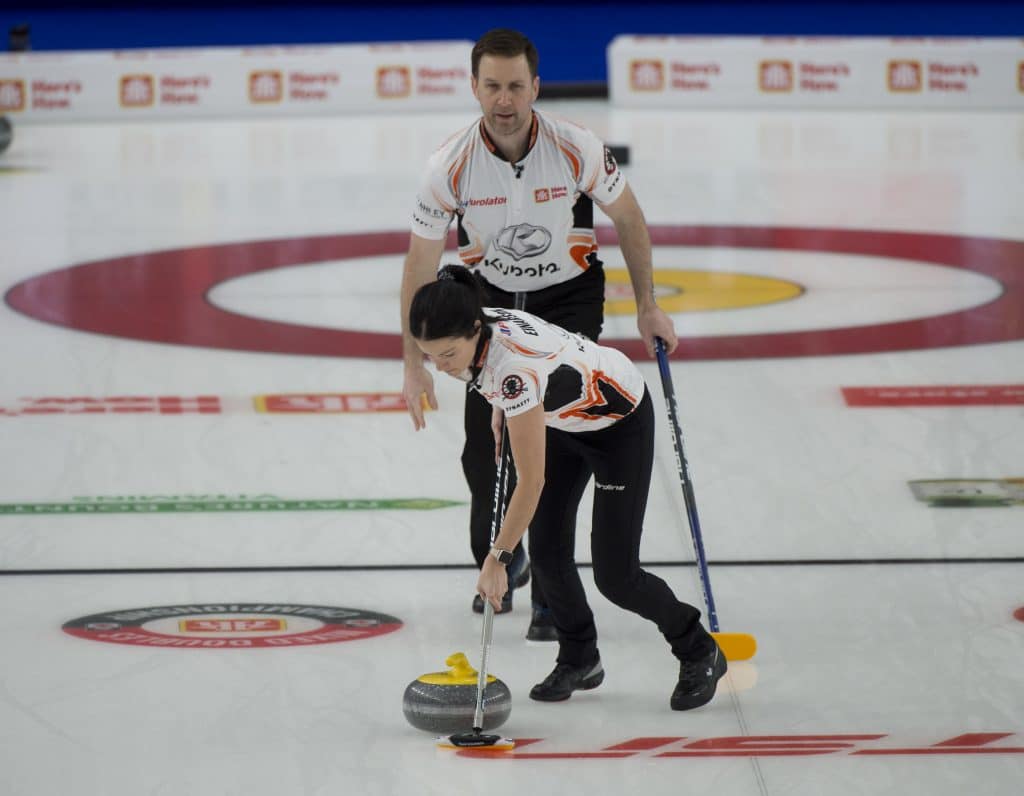 As far as being a leader in the sport for BIPOC curlers, Einarson maintains that it's a dream come true to compete and represent her community simultaneously.
"As a Métis woman, I decided to learn Métis culture and carry representation through that. It means so much to me. I hope to encourage other Métis women to chase their dreams as well. I've been curling since I was eight years old and dreamed of being a champion since I was 12, so I hope to inspire others."
She isn't alone in her leadership role and representation either. Colin Hodgson of Team Mike McEwen (MB) identifies as Métis while Kevin Koe (AB), Jamie Koe (NT), Kerry Galusha (NT) also identify as Indigenous Peoples.
Community support is not lacking for Einarson and her team either as the Manitoba Métis Federation is one of their main sponsors.
"The support we receive from the Manitoba Métis Federation means a ton to us. We're proud to wear the logo," said Einarson.
And while the seeds of growth may be sown, there is no grand solution that can be opened and pulled out of a box when it comes to creating a more inclusive environment in your curling facility. Odds are your facility is already aware of the issues at hand and is conceiving some best practices that allow members to be themselves and participate comfortably in the sport. With any systemic change, it will take time, empathy, and a lot of listening to find an applicable and appropriate solution for the sport of curling as a whole. For the individual, being aware of the problem, internalizing that these sentiments exist outside of your perceived reality and understanding how you can become a better member of the curling community is a significant first step. All it takes is an open mind and a willingness to listen.
In some cases, the work has already begun. Though they are few, there are already BIPOC leaders in curling's community, like Andrew Paris, who are working hard to speak on behalf of BIPOC communities as well.
CEO of Curling Canada Katherine Henderson sees sport, especially curling, working to be a leader in pushing for a more inclusive environment.
"At its core, sport is highly aspirational and should showcase the best qualities of human beings. Sport highlights what we're capable of achieving and often creates heroes that inspire others. As a national sport organization, Curling Canada has a fundamental role to play in leadership and inclusion, and we will not shy away from that responsibility," said Henderson.
Leadership aside, Henderson sees inclusion initiatives as a multi-faceted plan.
"Diversity initiatives aren't just about recruitment either. It's about how we do business, about where we make our investments for development programs and youth, about how we bid for events and more. As we move further down from just how our organization operates, Curling Canada already provides policies, education, business cases and influences the direction of our Member Associations. Ultimately, the curling facilities at the grassroots level hold the most power and have been provided with the structure to create the change we all want to see. We'll continue to support every curler in an effort to see these positive effects," said Henderson.
To ensure curling facilities in Canada are receiving the correct resources, Henderson adds that Curling Canada will be making significant investments in community resources to ensure the success of these programs, including a new youth funding opportunity which includes young, BIPOC Canadians.
"By working in partnership with our Member Associations with a set of best practices that are imbued through the entire structure of curling in Canada, we can begin to see movement on the subject. Much of this begins with investing in subject matter experts that know how to bring the right initiatives to the community. We often aren't the experts in diversity and inclusion, so we work directly with members of our community who have had these experiences in curling first hand. We implement and support the programs that they've already created with funding and resources so they can teach us and guide us along that pathway," said Henderson.
Henderson knows that without the aid of community leaders, progress wouldn't be possible.
"We really can't begin to share our gratitude enough to those BIPOC community leaders who are working alongside us. Their contributions ensure that the folks on the receiving end of these programs have vetted the content and ensure that it is relevant and applicable to their experiences. It is a significant investment of time and effort on their part, and there's still more to come," said Henderson.
As a leading governing body in the sport's global community, Curling Canada has made it clear that a commitment to growth means inclusivity for everyone through its actions and programs. Every Canadian has the right to access recreation and to feel secure in doing so. Curling is positioned to be a community champion in that regard, similarly to how curling leads by example in the fight for equal pay among men and women's sport.
With change implemented today, we can see the fruit of our labour tomorrow. More representation in curling will mean more curlers, helping secure the future of the sport we all love. A more diverse, inclusive sport also promotes better competition and creates opportunities for the next generation of young fans who will now see curling as a viable option.
And as we've seen before, there are no losers when curling changes and grows – only more winners.
This story has been edited from its original version with updated language.
>